Caramel Popcorn Balls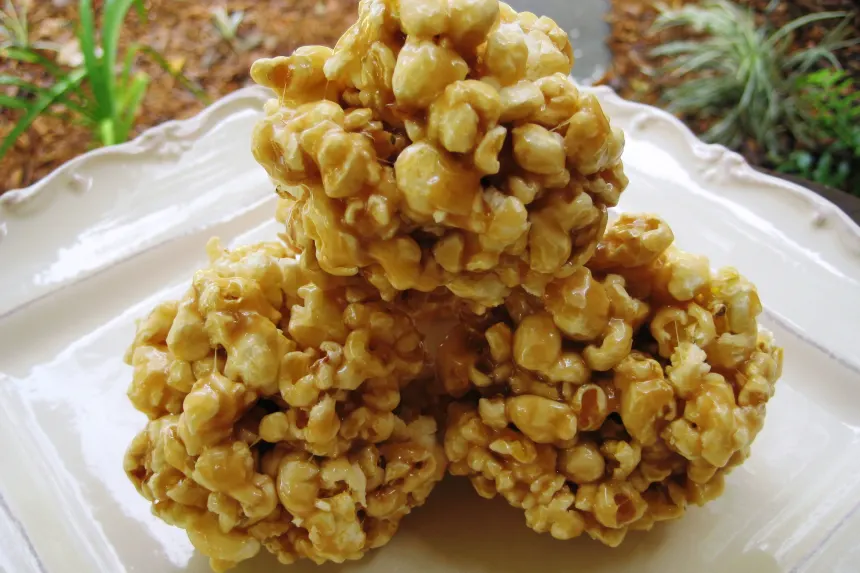 photo by gailanng

Ready In:

30mins

Ingredients:

8
directions
Put popped corn in large bowl. Combine sugars, syrup, water, vinegar and salt in a 2 quart sauce pan. Heat to boiling over medium high heat, stirring frequently. Once it starts boiling stir constantly until small amount of mixture dropped into very cold water forms a ball (hard ball stage). Reduce heat to low and stir in butter until melted. Pour syrup over popcorn in bowl, stirring until well coated. Let cool slightly. Butter hands and shape into balls.
Questions & Replies

How did I mess this up?? As soon as I poured the caramel onto my popcorn, it shrivelled up to almost nothing. I made a whole new batch of popcorn and it just did the same thing. We tried to just make the balls anyway, and they just fell apart. How did I fail at caramel popcorn balls?? Super disappointed. Anyone know what I should've done? Thanks..

 
Reviews
I made these today and even though I made a mistake, they turned out great! My mistake was that I put in the butter with all the other ingredients BEFORE it reached the hardball stage. I panicked when I realized I'd done this because I had used up all my brown sugar and these were supposed to be for a birthday today! Thinking of a "plan B" should these fail, I dug up my old Betty Crocker popcorn ball recipe (not caramel) and reading it over I discovered the BC recipe does have you put in the butter with all the other ingredients before it reaches hardball stage. So I patiently waited and stirred the pot waiting to see if the caramel recipe would still work. I am happy to report, they STILL turned out great! One other note, I didn't have the white vinegar so substituted rice vinegar and again, it turned out great! I will make these again (the correct way). ALSO, because I'd made popcorn balls before, I knew it's always good to have extra popcorn popped. I think I ended up using about 12 generous cups of popped corn. I yielded 13, 3" popcorn balls and one 1 1/2" very gooey small one with the scrapings at the end.

 

These were REALLY easy! Somehow I missed the water in the recipe, but they came out perfect without it. The key to getting them to stick together was to wait until the popcorn/syrup mixture was almost room temperature. Like other reviewers, I was able to add additional popcorn (I had made too much, anyway). When I made my second batch, I spooned it into muffin tins until it cooled down, then they were a snap to form into balls. Also with my second batch, I ran out of corn syrup so I used a little molasses and they came out well, too.