Caramel Crumb Bars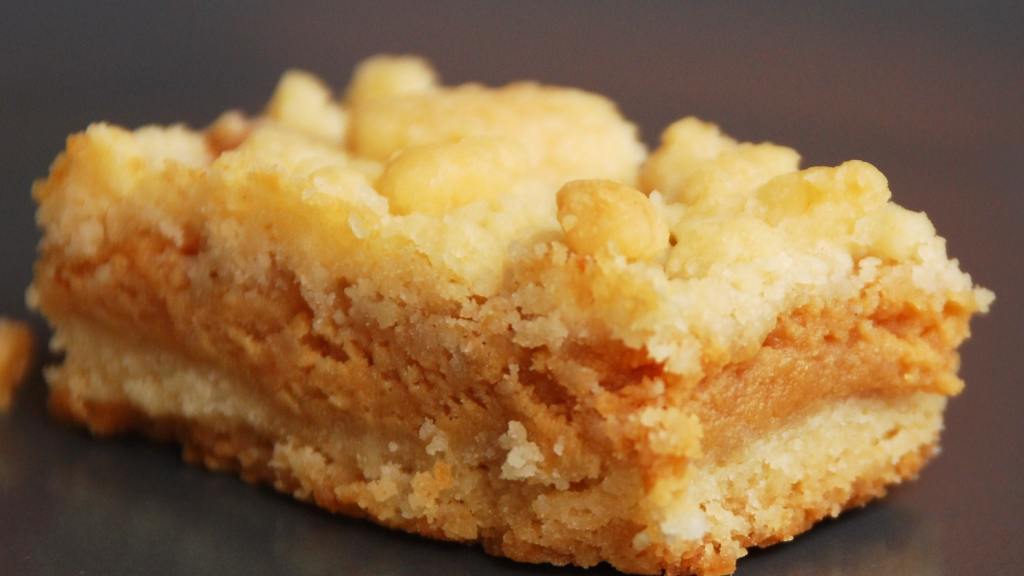 Ready In:

55mins

Ingredients:

9
directions
Position a rack on the lowest level of the oven; preheat to 350 degrees. Line the bottom and sides of a 9-by-13-inch baking pan with parchment paper, then use a little butter to lightly grease the paper.
For the dough: Combine the 16 tablespoons of butter, the sugar and salt in the bowl of a stand mixer or hand-held electric mixer. Beat on medium speed for 2 to 3 minutes, until the mixture is soft and light. Add the vanilla extract and mix to incorporate.
Reduce the speed to low, then gradually add 2 1/4 cups of the flour and beat until well incorporated to form a smooth dough. Use a spatula to scrape down the bowl and paddle.
Remove the bowl from the mixer; transfer three-quarters of the dough into the prepared pan. Use the palm of your hand to press the dough down lightly and evenly. Chill the dough-lined pan while you make the topping: Work the remaining 1/4 cup flour into the remaining dough with your fingertips so that it forms small crumbs. Set aside at room temperature.
For the filling: Combine the butter, corn syrup, brown sugar and condensed milk in a medium saucepan over medium heat, stirring occasionally. Allow the mixture to boil gently, stirring often, for about 10 minutes, until the mixture starts to thicken and darken slightly. Pour into a stainless-steel bowl to cool for 5 minutes.
To assemble: Pour the cooled filling on top of the chilled dough, then scatter the crumb mixture evenly over the top. Bake for about 30 minutes, until the filling bubbles gently and is a deep caramel color and the dough and crumb topping are baked through.
Cool in the pan on a wire rack for 15 to 20 minutes, until lukewarm. Use the parchment paper to lift the slab of baked dough out of the pan and onto a cutting board before it has cooled completely. Cut the slab into roughly 2-inch squares.
Join The Conversation
THESE.ARE.AWESOME. I loved these, in fact my whole family loved them. They were super rich (just how I like my deserts). I would say to watch the carmel sauce like a hawk becuase it started to burn really quick, so I poured it on top of the crust even though it barely changed color and hoped for the best. It turned out awesome. I had a mishap taking it out of the pan and dropped it on the floor, it shattered but stayed on the foil....so we ate it anyway. I used the really mashed up bits to top my Husbands vanilla ice ceam. like I said AWESOME.