Caprese Pasta Salad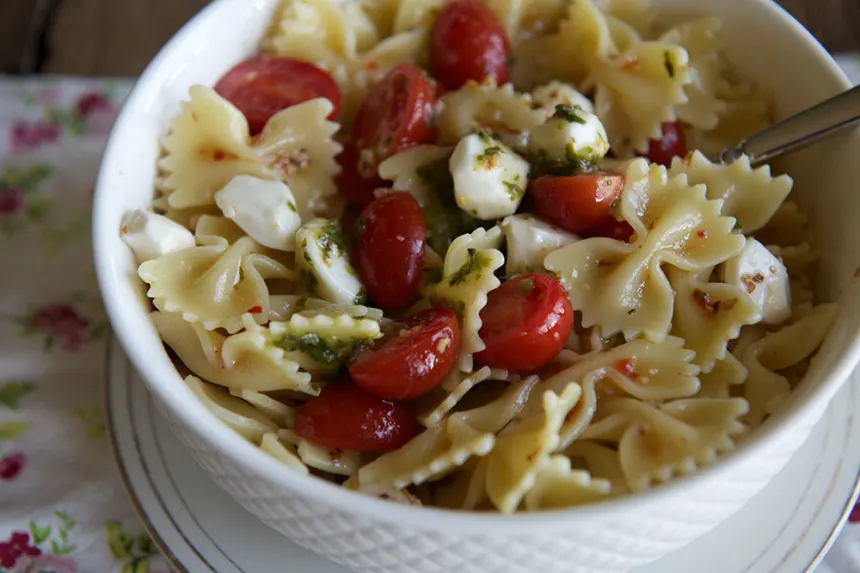 photo by Dine Dish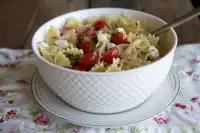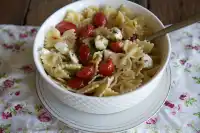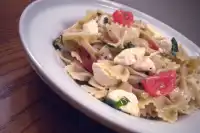 Ready In:

1hr 10mins

Ingredients:

9
directions
Toss the mozzarella and cherry tomatoes with the Italian dressing. Cover and refrigerate. If I'm making this for dinner, I usually get the cheese and tomatoes in the fridge to marinate a few hours before I plan to assemble the salad.
In a skillet on low heat, heat the olive oil, garlic and crushed red pepper. Cook on low for 5-10 minutes allowing the garlic to soften (but not brown) and infuse the oil.
Meanwhile, boil the pasta. Add the drained pasta to the skillet and toss to coat. Set the pasta mixture aside to cool.
Once the pasta is cooled, add the cheese and tomatoes along with the dressing marinade. Season the salad with salt and pepper and top with 3 tablespoons fresh basil.
Questions & Replies

Got a question?
Share it with the community!
Reviews
Super easy to make. I would personally add some more tomatoes, probably double the tomatoes. Other than that, delish. I just popped the cheese and tomato mixture in freezer while i made the other stuff. I also baked some italian bread with olive oil, parmesan and garlic seasoning to go along with and it was delish!!!!

 

Needs more tomato, and adding torn up pieces of FRESH basil, take it to another level, and your house will smell like heaven. I use 16 oz., brie cheese torn into small chunks, 4-5 chopped tomatoes, FRESH chopped basil, 4-6 garlic cloves minced, 1/2 cup olive oil, salt & pepper. Let that sit in a large bowl, for a few hours, so the brie softens. Your home will smell like heaven. When you pour the drained hot pasta, over the brie, it just melts to perfection. Adding grilled chicken and or shrimp, is another addition to this great summer meal! I gave it 4 stars, because sauteing the garlic is not necessary.

 

I should have reviewed this long ago, as I make it fairly often, and it's always a hit. I do love a pasta salad without mayo! I agree with Demandy that more tomatoes and cheese are nice. And as a confirmed salt and pepper addict, I grind these liberally, but that's personal preference not a criticism of this lovely recipe!

 
RECIPE SUBMITTED BY
I'm a twenty something, alright, late twenty something woman living on Long Island and working at a publishing company in the ever stressful NYC. Food makes me happy. What's not to love about a cheeseburger and fries with a huge chocolate shake on the side? Come on, it's a match made in heaven that would put a smile on even the grumpiest face. Unfortunately, I've been battling a pesky weight problem for what feels like an eternity. To make matters worse, I recently found out I have a blood sugar condition that will likely lead to diabetes. Doesn't that sound like a recipe for disaster? So, I desperately needed to find a way to still love food, but also squeeze into a pair of skinny jeans. The solution, you ask? That's a little tricky. I don't believe in surviving off the frozen food aisle's never-ending supply of frostbitten chemical concoctions. And the thought of eating a strict lettuce and water diet makes me want to throw myself off a building. So, what's a gal to do? I learned to Diet-It-Up. I love to cook and I'm always finding ways to take my favorite recipes and shave off a few calories, eliminate some of the processed ingredients and overhaul it in a way that makes it healthier. I've mastered every diet under the sun and while Weight Watchers© and The South Beach Diet© can be very successful, they're tough to stick with when you just want to eat something that tastes good. I don't have any fancy formal credentials and I'm not going to preach to you about carbs or fat grams. I just want you to enjoy tasty, delicious meals without the next-day calorie guilt. Mix in a jog or two at the gym and you're on your way to a healthier life. I'm beginning to collect some of my recipes here. I invite you to Diet-It-Up with me. If we're good all week, maybe we can even sneak in a few sips of that chocolate shake, wink wink.
View Full Profile