Caponata ' Eggplant and Lots of Good Things!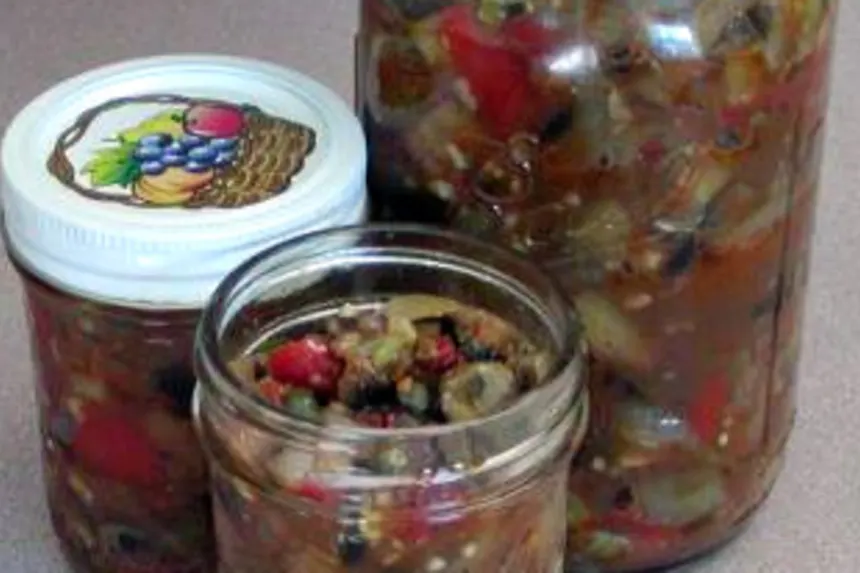 photo by Rita1652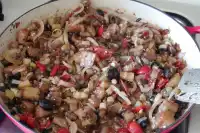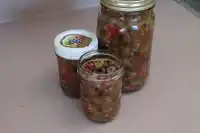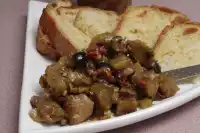 Ready In:

50mins

Ingredients:

15

Serves:

50
directions
In a large hot pan heat oil and stir fry eggplant till golden brown about 10 minutes add celery, onions, garlic, and tomatoes cook till tender about 5 minutes.
Add remaining ingredients and simmer for 15 minutes.
Stirring occasionally!
Jar or place in a sealed container and refrigerate over night.
Serve cooled.
Season with salt and pepper if needed.
Questions & Replies

Got a question?
Share it with the community!
Reviews
Thank you, Rita! Apologizing for not rating your recipe for several years. Every time I see eggplant in the market, I do a mental calculation of how many bags of it I have in my freezer. You see, I use it for a 'cooking" sauce for fish filets and chicken breasts. It freezes well. I've also used it with pasta as a salad. Even when on a diet, I figured how to make this without olive oil and the results are nearly the same when baked on mild fish or chicken. Really jazzes up a dish. Many ears ago I found the canned commercial variety which is really more like an appetizer spread and loved it. This recipe is much looser than the canned variety and thus more versatle. Love you for posting this recipe.

 

Oh sooo delicious! I used 1/4 cup of basil (it's coming outta my ears) & doubled the capers but left out the salt & sugar (my balsamic vinegar is very thick & syrupy). I did also add a twist or two of coarsely ground black pepper. This stuff is great! I am packing up a 1/2 pint to include in a summer garden bounty package for a friend - I know she;ll love it. Thank you Rita, this one is a keeper!

 

I am not sure why it has taken me so long to review this recipe. It is one that I make once to twice a year and can so that I have some when ever I want. This stuff is deeelicious! I like to serve it room temp on toasted baguette slices. Though it is just as good warm as a side dish or mixed into pasta. I do think it gets better and more complex with time. I usually do not use the sun dried tomatoes. I have a garden and use the eggplant and tomatoes from there. You won't miss the exclusion if you don't have any in your pantry! Thanks Rita for a family favorite!

 

Friend gave me some eggplant. I really want to love the stuff, so I keep trying recipes. This one is a winner. I had it one day for lunch with some leftover pasta. Also shared with some friends on crackers. One of them said it would be very good as a pizza topping. Hmmmm - I will have to try that & get back to you. Bottom line, I love this recipe. Now I will have a difficult time using eggplant for anything else. And after I picked out a bunch of other recipes to try... Thank you very much for sharing this.