Cannelloni Brassica - Jamie Oliver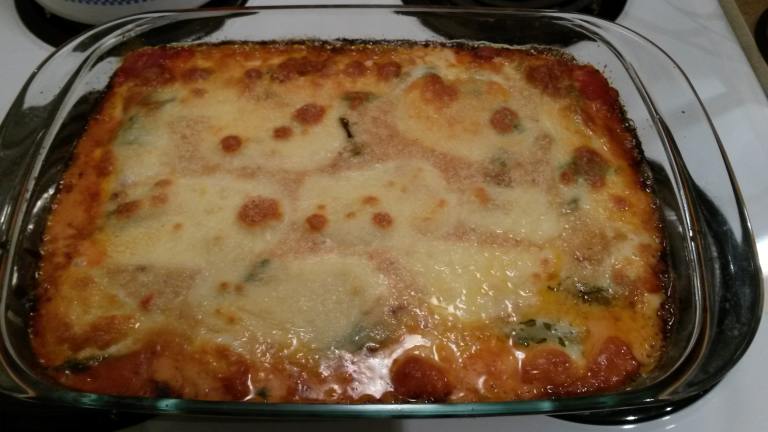 A delicious vegetarian cannelloni recipe.
Ready In:

1hr 20mins

Serves:

Units:
directions
Break broccoli and cauliflower into small pieces and boil in salted water for ~6minutes to cook them through.
Slice 7 cloves of garlic & dice 4 hot chili peppers.
On medium heat in a frying pan, add 3 tbps of olive oil. When the oil is hot, add sliced garlic to pan to saute. Add thyme leaves, diced chili peppers and 3 anchovies.
Drain broccoli & cauliflower. Once garlic has begun to turn golden add broccoli and cauliflower to the pan. Stir all ingredients and cook for about 15 minutes until the broccoli and cauliflower has broken down. Assist the process by occasionally breaking it down with a wooden spoon.
Take the pan off of heat to cool down.
Prepare the béchamel sauce: grate 1.5-2.5 cups of good parmesean into the crème fraiche. Add a pinch of pepper. Set aside for assembly of cannelloni shells.
Once the broccoli & cauliflower have cooled down, you need to mash them up together. You can do this a few ways, but the easiest is to bring out a hand blender and quickly give it a whiz or use a food processor until smooth. Once this is done (and it's cool enough!), scoop filling into a piping bag. (Here you can actually use a plastic bag and cut a corner if you don't have a proper piping bag - it works just as well.).
Prep pan for cannelloni shells: in a large baking tray (large enough for 24 cannelloni shells), put 1/2 centimeter of tomato sauce on the bottom with a pinch of salt and 2 tbsp red wine vinegar.
Squeeze filling (via the piping bag) into each of the shells. Place in the pan once filled.
On top of the cannelloni shells, place basil leaves - as many as you'd like.
Top shells & basil with Béchamel Sauce & season with more black pepper.
Top with slices of mozzerella and remaining parmesean cheese.
Bake at 190C for 30-40 minutes or until the cheese is golden brown.
Submit a Recipe Correction
RECIPE MADE WITH LOVE BY
"A delicious vegetarian cannelloni recipe."
these were amazing! yes they take a bit of preparation, but they are sooooooooo worth it. at first, i was wondering how 24 of these would only feed six, but then i took my first bite and i seriously probably could have eaten half a tray by myself. i needed two trays to fit all the manicotti in. i was a little concerned about all the hot peppers, as i am the only one who likes spicy in my family -- however, they were a hit all the way around -- will definitely be making these again