California Roll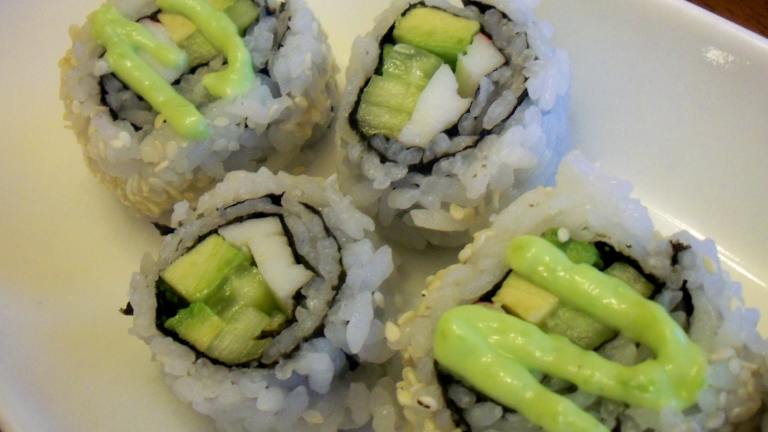 Every step to making the perfect California Roll!!!
Ready In:

27mins

Serves:

Yields:

Units:
directions
Use "Sushi Rice" only, also knows as "Kagayaki" or"Koshihikari" rice.
Put rice in a bowl and fill with water you will notice the water is cloudy. Drain water out and repeat the process until the water is clear.
Bring 1 cup of rice and 1 cup of water to a boil.
Reduce to a simmer and cover.
Cook about 15minutes. Just until all the water is adsorbed, could be more or less time. Stir occasionally to prevent sticking.
Remove the rice from the heat and let sit, still covered, for 10min.
Spread rice on a flat surface. You want it to spread out as much as possible to cool quickly.
Sprinkle on 1 Tbs of SEASONED Rice Vinegar.
If you have just "Rice Vinegar" combine 1Tbs Vinegar with 1Tbs Sugar and 1tsp Salt and it is the same thing. Put mixture over heat in a sauce pan or in the microwave to dissolve sugar and salt.
Work vinegar through rice by pushing around with a spoon, also start fanning your rice. You want the rice to cool as quickly as possible.
The rice should have a sheen all over, if it does not add a little more vinegar.
Wet your hands and form the rice into a ball, it should stick together and still pull apart into individual pieces.
Place a piece of plastic wrap on your bamboo mat and put Nori on top of it with the rough side up.
Spread out 3/4 to 1 cup of cooked rice per sheet of Nori (seaweed paper). Use wet hands and spread around the whole sheet leaving a 1 inch border on the bottom.
Turn the sheet over so the rice is facing the plastic wrap and the nori with nothing on it is facing up. Make sure the 1inch rice free border is on the bottom.
1/3 of the way up from the bottom lay down the crab meat across the nori.
Cut Avocado into strips and lay on top of crab meat.
Cut Cucumber into small strips and lay beside the avocado and carb.
Using the bamboo mat fold the bottom of the sheet over the filling and continue rolling into a log.
Cut with a wet serrated blade.
The rice is the hardest part, search "Nikki Dinki Cooking Sushi" on youtube for a how to video.
Submit a Recipe Correction
RECIPE MADE WITH LOVE BY
"Every step to making the perfect California Roll!!!"
I think most people know what goes into a Californis Roll, but you have to have a high level of appreciation for this recipe because of the well-written, spot-on directions. Of you follow these directions to the letter (especially for the rice preparation), you will have perfect California Rolls. I made these exactly as written, then rolled about half of the pieces in sesame seeds and drizzled with wasabi sauce. Thanx so much for taking the time to type out such precise directions! I have a new sushi-making hobby!