Cajun Style Dirty Rice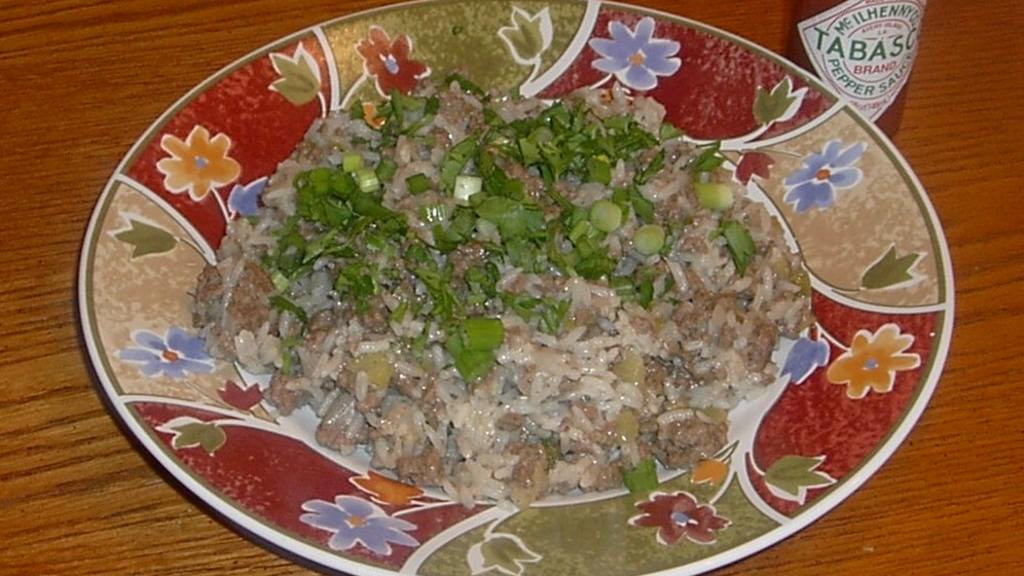 Ready In:

1hr 15mins

Ingredients:

16
directions
Spray a large non-stick pan with vegetable oil spray.
Brown meat in pan along with diced onion, pepper, celery and garlic.
Drain fat and season with cayenne pepper, onion and garlic salt.
Add water and simmer for about 20- 30 minutes, until the vegetables are cooked down. (You may need to add a little water during the simmer time to keep from sticking.)
Add Worcestershire sauce, Tabasco sauce, cream of mushroom soup and mirliton.
Simmer for 15 minutes.
Add cooked rice, stir gently, until all rice is moistened.
Add mirliton (optional).
Top with green onion and parsley, stir lightly and serve.
Join The Conversation
This was great! I made a dirty rice recipe a few months back with chicken livers and gizzards that seemed to take forever to make. It was wonderful-- if you like gizzards and liver, which my husband does not. I made this tonight as a concession to him, and I'm really glad I did. I did cut the celery back to 2 stalks, the ground beef to a pound, and I had to use dried minced onion rather than fresh. This was a little wetter than the other recipe I made, but not in a bad way... it was almost creamy. We added extra tabasco to our bowls. I didn't use the mirliton, and in place of onion and garlic salts, I used powders and added a half a teaspoon of salt. Cooked the rice in beef broth cause we like it that way. I will definitely make this one again. Thanks for sharing a great recipe.

Very tasty! I used a little less of the veggie so my children wouldn't complain so much, but i htink I would have LOVED the zucchini in it as well. I did add a touch of garlic and a generous splaash of milk along with the soup as it was very, very thick and didn't want to incorprate with the rice too much. I also only used 3 cups of rice and still had a TON of food. I can imagine this being a highlight at a pot luck dinner. As always a perfectly wonderful PanNan recipe!