Buttery Yeast Rolls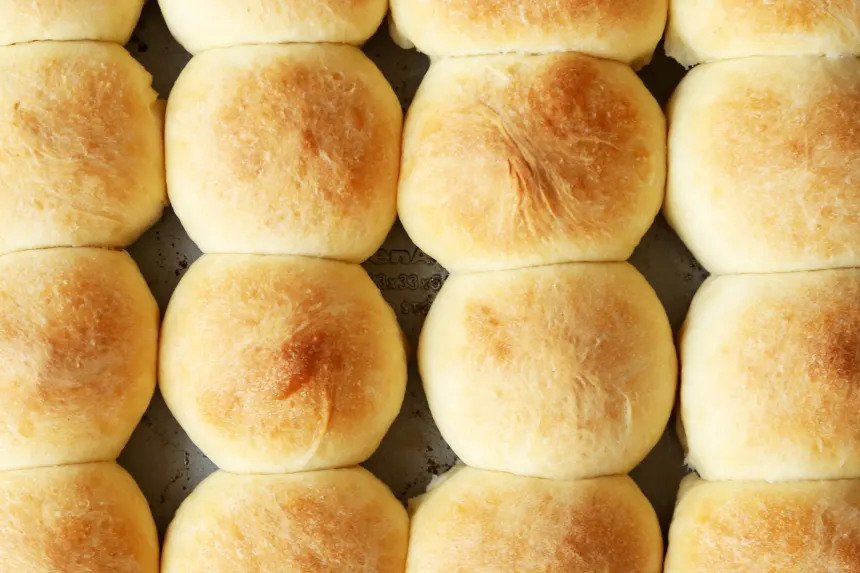 photo by Jonathan Melendez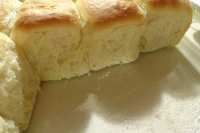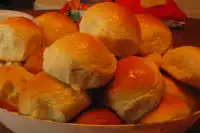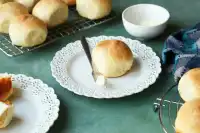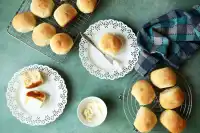 Ready In:

2hrs 18mins

Ingredients:

9
directions
Place all ingredients except the 1/4 cup butter into bread machine in the order recommended by the manufacturer.
Select the dough cycle and start machine.
Shape dough into 20 to 24 balls and place in buttered pan (s).
Melt the 1/4 cup butter and brush it over the tops of rolls, saving the excess for brushing on after baking.
Cover and let rise in a warm place about 1 hour, or until double in bulk.
Bake at 375 degrees F for 15 to 18 minutes.
Brush baked rolls with remaining butter.
NOTE: This dough can also be divided into two portions and each rolled into a 12-inch circle; spread each circle with softened butter, cut into 8 wedges and roll up starting with wide end, to make crescents OR use this dough for cinnamon rolls or sticky buns.
Questions & Replies

Reviews
I have made these twice now, one batch for Thanksgiving and one today, just to make today special. The first time, I used the Gold Medal flour I had around and the rolls were met with much pleasure. Fresh baked breads and rolls are always special, so that wasn't too hard to accomplish, the smell alone is enough to make one drool. This time I used King Arthur's All Purpose Flour, which is standardized and not prone to regional fluctuations in content. Although it is higher in protein somewhat and very well suited to yeast bread making, it produced very light and fluffy Buttery Yeast Rolls, with just a slight chew to the outside to give them a little substance without overtaking the lightness at all. I don't use a bread machine, but the Kitchen Aid mixer with a dough hook attached, to mix and knead the dough. First, I heat the milk and water together until it's very warm, a bit warmer than the "baby bath" test, more of a "tired mommy bath" temp. I combine the liquid with the yeast and sugar in the bowl and allow the yeast to get it's job started and get activated. Add the egg, at room temp or warmer, the butter that is slightly melted, and the salt, but don't bother to stir. The flour is then unceremoniously dumped into the bowl and the mixer is started on low speed, to allow the flour to slowly combine into the liquids. I allow it to knead the dough until I see it is looking very elastic and stretchy. The dough is on the sticky side but improves after the first rising, which I do in a greased bowl in the warming drawer of the oven. It doesn't take long that way. After it is risen, I roll small balls out of the dough and place them in a greased 11x7 pan, spray the tops with non-stick cooking spray, cover with a towel and put back into the warming oven. Using this size pan seems to be about ideal, a little room for the rolls to spread out, but some force to make them rise upwards. This is a very easy easy, uncomplicated recipe that even a totally inexperienced bread baker shouldn't have too much trouble with and will convince the masses you are a master baker. Thank you, Donna, for sharing with us.

 

This is the best roll recipe I have ever used! I made them one year for Thanksgiving and now anytime we have an occasion where we are needing to bring a side dish I am always told I have to bring the rolls! I do not make them in a bread machine as I do not own one. So this is how I do it! Proof yeast in 1/2 cup of warm water with 1 tsp. sugar (I usually add 2tsp. I like it sweet). Heat the milk, add the sugar, butter, and salt, remove from heat, and stir till dissolved. Then add the beaten egg once the milk mixture is slightly warm. In a large mixing bowl combine the yeast, milk mixture and add the flour gradually. Knead for about 8 to 10 minutes and let rise for 1 hour in a covered bowl. Punch down and form balls. Let rolls rise again for 1 hour. Bake @ 375 for 15 minutes and brush with melted butter. Delicious!!

 

These were very good. Had to add a bit more flour due to sticking but thankfully I cook breads by hand a lot and know what signs to look for in regards to dough using my bread machine. You want it to do just like the Pillsbury Boy dough when he is poked..haha. Very fluffy and tasty and reminds me of the rolls from childhood holiday gatherings. The outside was nice and buttery crust. I would personally do a bit less sugar for using as dinner roll next time. This is definately a keeper and will use for Thanksgiving. I do find this agreeable to use as the base for all sorts of other breads..sweet or not. I did 15 with 5 rows and 4 across so they rise vs spreading. In a 9x13 glass pan. Cooked for 20 mins in an electric stove. The last 5 mins finished on the lowest rack so the bottoms will get done.

 
Tweaks
I made these the first time for Thanksgiving dinner for 18 (doubled the recipe)and they were a huge hit. I was asked to make them again for Christmas and I also made cinnamon rolls with this recipe for Christmas morning. It has been nearly two months now since I found this recipe and I make it at least once a week! It is so easy to tweak this and get perfectly delicious results every time. Last night I made dinner rolls and used 3/4 c whole wheat flour instead of all white. I didn't have as much time as I would have liked to let the rolls rise, they could have been twice the size they were but they were still wonderful. I made them into 12 rolls instead of 20. I use this recipe now to make my French bread loaves for garlic toast and I have also made it adding 2 T fresh rosemary into the bread machine and 3 packets of Parmesan cheese left over from Pizza delivery it was very tasty. I cant wait to make focaccia out of it. If I want softer rolls I use all white flour if I want more texture I use up to half whole wheat, I like the way the crust turns out using olive oil instead of butter in the machine I also don't brush the rolls with the butter before and after baking always and it doesn't seem to matter. I think the sweetness and saltiness of these rolls is just perfect. No more bread recipe hunting for me. Thank you Donna M. for posting this wonderful recipe. added note- Last night I asked my son to please take the dough out of the machine and form into loaves (I knew they would be ready to bake when I got home....well he baked them immediately! So when I got home they had eaten over half of the bread! LOL The loaves were only half of their usual size but they still tasted wonderful! So it goes to show you that it is really hard to mess this up.

 

Donna, these rolls were excellent! I used half and half cream in place of milk...... I mixed the cream, water egg and the butter together in a pyrex measuring cup and warmed slightly in the microwave (the butter was not completely melted, but very soft), then added it to the baking pan, and I used quick-rise yeast for these, and then set to the dough cycle. I am always on the lookout for good a good bun recipe that I can make on my bread machine, and this one happens to be one of them. I will definately make these again and again, I am very pleased with the texture and the taste of the finished buns! Thank you so much for posting....Kittencal:)

 

I made these yesterday, and decided to be brave and substitute the flour with whole wheat flour. I was worried they'd be too heavy, yet they turned out beautifully (making sure I gave them plenty of time to rise)! Even made a few hamburger bun sized for burgers, and they worked wonderfully! I highly recommend it:)