Buttery Roasted Crushed Potatoes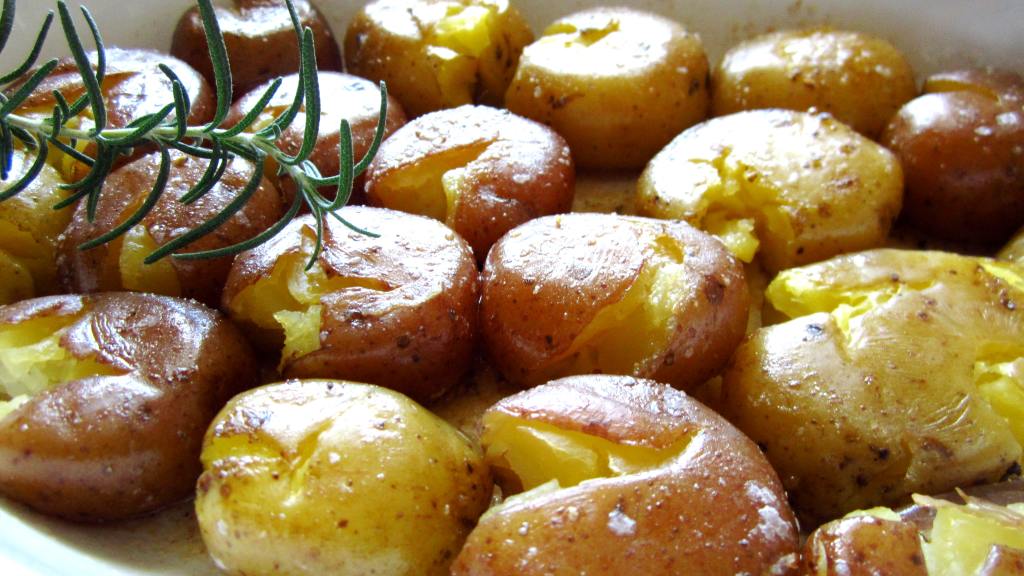 Ready In:

50mins

Ingredients:

6
directions
Preheat oven to 375°F.
Place potatoes in a large pot, and fill pot with enough hot water to cover potatoes.
Bring to a boil over high heat. Add salt and boil for 15-20 minutes or until potatoes are fork-tender.
Once tender, drain water from potatoes. Set aside to cool slightly.
Place butter in a 9 x 13 inch baking dish and place in oven for 1 minute or until butter is melted. Remove from oven and stir in pepper, garlic powder and onion powder.
Using the curved back side of a fork and a cutting board, gently press potatoes to "crush" them. The "crushed" potatoes should break open but not apart too much.
Gently dredge both sides of each crushed potato in butter mixture in pan and arrange in one layer.
Roast for 15-20 minutes or until crisp and golden brown.
Join The Conversation
Didn't have small potatoes (using up leftovers before shop tomorrow) and only cooking for 2. Used 3 medium sized spuds cut into 1/4s. Boiled with skins on until soft then crushed slightly and tossed in the hot butter, sprinkled with salt and pepper and only had garlic powder. They were fab. I roasted them on 180'c fan for about 30 mins with some small chunks of courgette (zucchini) which I seasoned the same These were equally delicious. Will definitely be doing again!