Buttery Bread Machine Rolls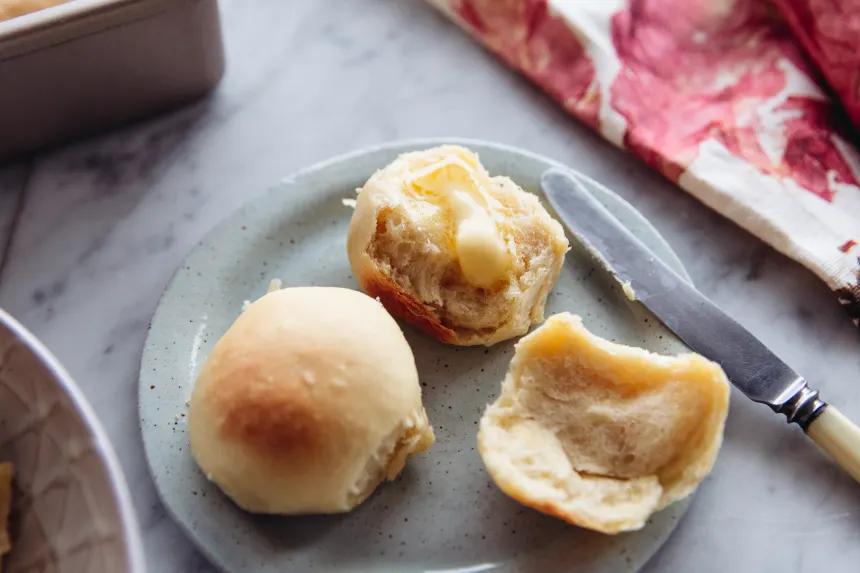 photo by Izy Hossack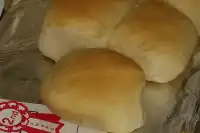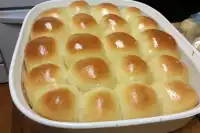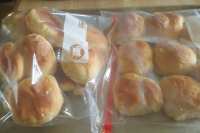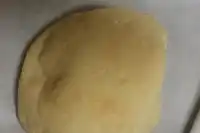 Ready In:

2hrs 10mins

Ingredients:

7
directions
In bread machine pan, put all ingredients in order suggested by manufacturer.
Select dough setting.
When cycle is completed, turn dough onto a lightly floured surface.
Divide dough into 24 portions.
Shape dough into balls.
Place in a greased 13 inch by 9 inch baking pan.
Cover and let rise in a warm place for 30-45 minutes.
Bake at 350 degrees for 13-16 minutes or until golden brown.
Questions & Replies

Good Autumn morning from the foothills of North Carolina. I am new to the 'bread making' family. My sister gave me a Cuisinart bread maker she wasn't using, and now I'm determined to figure out how to duplicate a few recipes. For years I have purchased the frozen Sister Schubert's Parker House Yeast and Cinnamon Rolls in the round pans. I tried your recipe a few weeks back, and 'presto,' they were almost identical to SS yeast rolls (minus I will add a little extra sugar next time...it's a Southern thing). When I tried the recipe (in addition to the pan I HAD to bake once the dough had risen), I made the decision to freeze 2 pans. I let them rise approx. 20 mins. first, then off to the freezer. A week later, I removed them, let them thaw overnight in the fridge, then onto the island for a while the next day, no more rising occurred. The taste was still very good, but they were more dense and compact. Here are my questions...... 1) I believe letting the rolls rise in their pan first before freezing is the best idea, but for how long? 2) Does dough rise after freezing, or does freezing alter the rising effect? 3) If I attempt Cinnamon rolls out of this recipe and want to add more sugar to the dough itself (minus the cinnamon sugar filling), will that alter the rising effect? Thanks so much.... A grateful NC beadmaker!

 
Reviews
Not like this recipe NEEDS another rave review -- but oh my goodness these are amazing -- I will NEVER buy rolls again! I had to force myself to stop eating them after I had two! I made the whole recipe for just the two of us! Next time I will half it so I don't gain ten pounds :) I made as directed -- except let them rise about 2.5 hours (so they would pop out of the oven with dinner) and they were just perfect! :) Thanks so much! UPDATE JANUARY 2010: I have made these many times -- but I felt I should add that these freeze very very well. I bake fully, then freeze, then bake at 425 for about 7 minutes and they are perfect! :)

 

I ABSOLUTELY LOVE THIS RECIPE! I don't heat the milk, and it works just fine for me. Sometimes its cold, right out of the fridge. I have even used powdered milk. My machine calls for wet ingredients first, then dry. I put margarine, eggs (fresh eggs) salt, sugar in first. Then I add the flour, put a little dent in flour and add 1 Tablespoon of yeast. 375 is too hot for my oven. 350 degrees is plenty and I cook them for about 15 minutes until they are golden brown on top. I've made these for dozens of family events, public events, potlucks, and EVERYONE has loved them. I do NOT turn them and knead or do anything to them! I take them from the machine and put them right into the pan. Take a piece of dough and shape a ball, then make an "O" with your them and pointer finger. I press the dough through that hole and press the back of ball together to make a beautiful roll. Learned this from my mother. Then, put in a greased 13 x 9 pan and spray the tops as well. You can also make the clover type rolls, by making three small balls and pressing them carefully into muffin tins. I have also made fry bread with this recipe. Roll out dough and fry. I have also made bread sticks. Just add garlic salt instead of salt. Then shape how you wish, and brush butter on top. I accidentally figured out how to make hamburger buns tonight. I didn't put enough flour so the dough was very sticky and hard to work with. I did it anyway and shaped my "rolls" the best I could. After they rose I put them in the oven and they had sort of "melted" is what I call it, to form hamburger buns.. They were AMAZING.. Needless to say, this recipe is easy to use, (my first bread machine recipe) and very versatile. Just follow your directions on your bread machine and have fun with this!! :) Thanks for posting Jean, this will ALWAYS be a family favorite!

 

By far, the best roll recipe I've ever found. I made dough on the rapid-rise cycle of my Zo bread machine...increased rapid rise yeast to 3 teaspoons. I cooked 1/2 the dough on Sunday & refrigerated the other half. Took it out of refrigerator on Tuesday morning, formed the rolls, let rise for about an hour (maybe little less, dough was very cold), & baked off. Delicious, huge hit a work!! This is the closest recipe that I've ever found that's close to the rolls served at Logan's Steakhouse & Ryan's restaurants.