Buttermilk Brownies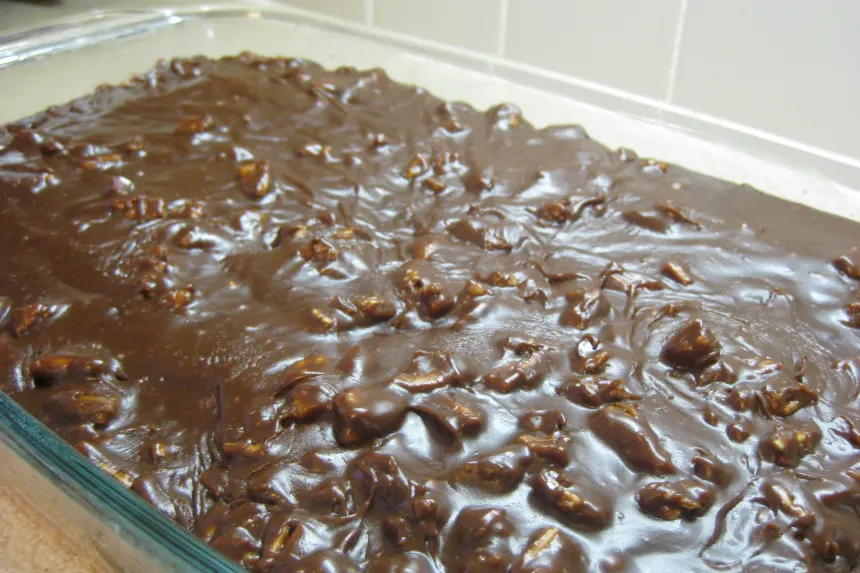 photo by *Huntergirl*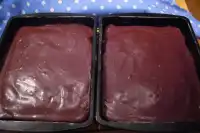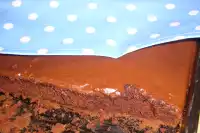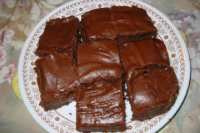 Ready In:

55mins

Ingredients:

16
directions
Brownies: In saucepan combine butter, cocoa, 2 cups sugar and 1 cup water (first four ingredients).
Bring to boil; stirring constantly.
Remove from heat and set aside.
In large mixing bowl, blend together flour, soda and salt.
In small bowl combine buttermilk, eggs and vanilla; whisk lightly with a fork.
Pour buttermilk mixture into dry ingredients; mix until smooth.
Add cocoa mixture gradually with mixer on low setting.
Mix until well blended (flour and buttermilk mixture will be thick and likely need to be scraped from sides of bowl to blend thoroughly).
Pour into greased 10 1/2 x 14 3/4 x 2 1/4 baking dish.
Bake at 375 deg F for 25 minutes; test with toothpick.
Immediately pour Frosting over brownies; spread evenly.
(Brownies will be very tender so spread gently.) Cool; cut into bars and serve.
Frosting: In saucepan, mix 1/4 cup butter, 3 tablespoons cocoa and 3 tablespoons buttermilk.
Cook and stir till boiling (mixture will be slightly curdled); remove from heat.
Beat in 2 1/4 cups powdered sugar and 1/2 teaspoon vanilla.
Fold in English walnuts.
Questions & Replies

Got a question?
Share it with the community!
Reviews
Oh my gosh!! These are so decadent! It's my first attempt at brownies from scratch, so I was a bit intimidated by all the steps - but it really was a snap, once I got all the ingredients lined up. The brownies are more cakey than fudgey, which I love, and the frosting is nice and fudgey - as it should be! :) Thanks, Cindy Lynn

 

OMG, Cindy Lynn, these brownies are magnificent!!!!! I thought your chocolate cake was TOP-DOG, but these run neck-in-neck with it! They are just soooooo good! Followed your directions, and BTW, used your buttermilk recipe, of course! They're real easy to mix up and bake, and the taste is just wunnerful, wunnerful, wunnerful!! Can't thank you enough for sharing such a great recipe. Laudee C.

 

I can't give this a rating because they did not turn out for me,, and I'm hoping for some feedback as to what I might have done wrong. I'm middle-aged,, I've cooked and baked plenty in my time, but I think they ended up being a disaster and I'm not happy about all those ingredients wasted. I'm not here to bash the recipe at all, but to try and figure out what on earth I did wrong.<br/><br/>For one thing, the batter was not thick as mentioned in the directions, but that's the least of my problems with the recipe. <br/><br/>After baking, most (but not all) of the brownie has a pebble like texture. Very weird, and I've never seen anything like it. I thought it was just a surface issue, and I could kinda scrap it off, but this very weird pebble consistency is not just on the surface, but goes deeper into the brownie. I tasted it,, and there's really no particular taste.<br/><br/>If you're wondering if I've eaten a piece of the brownie,, I haven't. I tasted the batter,, (which was not thick but did taste good),, and I tasted a bit of that pebble-like area I mentioned, and now I have a bizarre,, (and nasty) stomach ache. <br/><br/>Does anyone have any ideas??<br/><br/>The only thing I can think of is that the hot coco mixture that gets added to the flour/buttermilk/egg mixture curdled/cooked the eggs. <br/><br/>(The recipe does not state to completely cool the coco mixture or to tempura the egg mixture).<br/><br/>Any ideas?? (I'm not sure if I'm going to even let my family try the baked product. I think once they taste the bizarre pebbles, they're not going to like it anyway). <br/><br/>If I ever try this recipe again,, I will make the coco part well in advanced,, and make sure it's 100% cool before adding it to the rest of the ingredients.<br/><br/>Thank you!<br/><br/>I also ended up with a nasty st

 
RECIPE SUBMITTED BY
I am currently a stay at home Mom and wife (aka: homemaker, domestic engineer, chauffeur, etc.). My husband and I made this choice about 2 1/2 years ago. At the time I was averaging 72 hours/week +. Our kids were complaining that they never saw me, and one of them was even getting in trouble (too little supervision apparently). We got the troubled teen through high school, and she is currently preparing for college. Things have improved a lot so I am considering going back to work part-time while the kids are gone to school (if the right opportunity presents itself). <br> <br>I love to cook, especially trying new recipes. I get tired of the same ol', same ol'. I also love reading cookbooks and the history of recipes. I always hated doing all the dishes afterwards, so I did a lot of one dish meals whenever possible. Recently, my husband bought me a new dishwasher, so now I am cooking up a storm! Everyone is loving it. <br> <br>I look forward to making new friends in Recipezaar, trying out new recipes, and hope some of you will try some of mine. Please, if you try my recipes, take time to post a little note telling me about your experience and any modifications you may have made. I just love to experiment and try new things in the kitchen! :-))
View Full Profile