Brooksters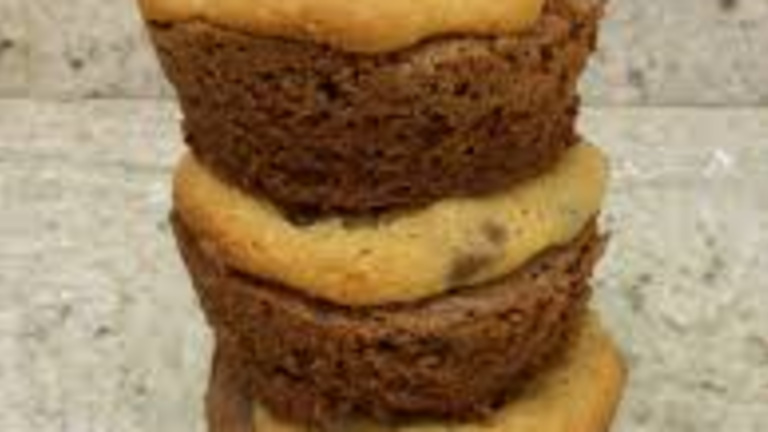 This recipe comes from KitchenKonfedence web site and is by Brandon Matzek. This is a copycat recipe from the Brooklyn bakery Baked. This is the marriage of a brownie and a chocolate chip cookie and is fantastic. This was featured on the Food Network Channel.
Ready In:

38mins

Serves:

Yields:

Units:
directions
To make the chocolate chip cookie dough:

Add flour, fine grain sea salt and baking soda to a large bowl, whisking to combine. Set aside.
In the bowl of an electric mixer fitted with the paddle attachment, mix together butter, white sugar and dark brown sugar on medium speed until smooth and creamy. Using a spatula, scrape down the sides of the bowl. Add the egg and beat until light and fluffy. Add vanilla and mix until just incorporated. Add half of the flour mixture to bowl. Mix for a few seconds on low then increase the speed to medium. Beat until just combined (15 – 20 seconds). Add the remaining flour mixture and repeat the process above. Do not over mix here. Gently fold in the chocolate chips.
Cover bowl, transfer to the refrigerator and chill for at least 3 hours before using.

To make the Brooksters:

Using butter or nonstick spray, grease the bottom and sides of a 12 cup muffin tin. Set aside.
Add flour, fine grain sea salt and cocoa powder to a medium bowl, whisking to combine. Set aside.
Bring a large pot filled with 2 inches of water to a simmer. Set a heatproof bowl on top of the pot, but make sure the bottom of the bowl is not touching the simmering water. Add butter and chocolate to the bowl, stirring until melted and combined. Turn off the heat, but keep the bowl on the pot. Whisk white sugar and light brown sugar into the chocolate mixture. Remove the bowl from the pot and let cool to room temperature.
Add eggs to the chocolate mixture, whisking until just combined. At this point, switch from a whisk to a spatula. You want avoid adding extra air to the batter. Add vanilla and stir until just combined. Gently fold flour mixture into the chocolate mixture until just incorporated. Do not over mix here.
Fill each well of the muffin tin halfway with batter. Transfer muffin tin to the refrigerator and let chill for at least 1 hour. Both the cookie dough and brownie batter must be well chilled before baking to ensure even cooking.
Preheat your oven to 375°F and place a rack in the center of the oven (please see notes above regarding cooking times and temperatures).
Once thoroughly chilled, take the muffin tin from the refrigerator. Using a small spoon, scoop out a small amount of chilled cookie dough. Using your hands, shape dough into ball then slightly flatten it into a disk. The disk should be a bit smaller than the top of the muffin tin wells. Gently press the disk into one of the wells of batter. Repeat this process with remaining 11 wells.*.
Place the muffin tin in the oven and bake until the cookies are golden brown ( 17 – 19 minutes), rotating the muffin tin halfway through.
Notes.
*You will have extra chocolate chip cookie dough leftover. Don't throw this out. Make cookies. Roll remaining dough into balls. Slightly flatten the balls into disks and place on a cookie sheet lined with a silpat or parchment paper. Bake in a 375 oven until golden brown (9 – 11 minutes depending on the size of your disks). Let cool for a minute on the baking sheet then transfer to a wire rack to cool completely. Or enjoy warm.
Submit a Recipe Correction
RECIPE MADE WITH LOVE BY
"This recipe comes from KitchenKonfedence web site and is by Brandon Matzek. This is a copycat recipe from the Brooklyn bakery Baked. This is the marriage of a brownie and a chocolate chip cookie and is fantastic. This was featured on the Food Network Channel."
I got this recipe from another site - Martha Stewart - and although I don't have the exact webaddress, the recipe is titled "Brookie" instead of Brookster. Brookster is actually the name given to it by Williams-Sonoma for a kit that WS sells in their store, which includes all of the ingredients. WS sells a muffin-looking pan that has bigger diameter wells to cook this particular recipe.<br/><br/>before you begin, note that this recipe, as written actually takes much longer than 38 minutes because as written, it directs you to refrigerate the dough for 1 hour for the chocolate chip dough and 3 hours for the brownie dough once you've placed the dough in the pan. I followed these directions as far as refrigeration was prescribed.<br/><br/>I didn't want to buy a new pan. I could have used my ceramic ramekins, which are roughly 3-4" for the diameter of the brim, and slightly narrower on the bases of the ramekins; but it would take longer to do bake all of the dough. instead, I used standard muffin pans.<br/><br/>Knowing I would have to refrigerate the chocolate chip dough, and based on a tip I saw somewhere else for similar recipes, I made the chocolate chip dough into 3 long logs and wrapped them in waxed paper, lying them flat in the frig.<br/><br/>brownie batter: I still greased my "non stick" muffin tins, and i'm glad I did, because the brownie dough will stick to the pan. <br/><br/>I used a mini cookie scoop, which is roughly a little bigger than a tablespoon, to scoop the brownie batter into the prepared muffin tins. in this recipe, that was enough to cover the bottoms of 27 muffin wells. that was 2, 12 muffin tins and 3 from a 6 muffin tin, if that makes sense. wrapped saran wrap around them and threw them into the frig.<br/><br/>when the chocolate chip cookie dough was ready, I cut them into equal sized chunks using a steak knife. having it in a log allows you to plan out the dough for each of the 27 muffin wells. I fashioned each chunk into small flat discs with my clean bare hands.<br/><br/>I have a thermometer in my oven - check to make sure the oven is at 425 degrees.<br/><br/>I set the timer for the lower end of the bake time range, at 20 min. they came out slightly darker on the bottom, so for the next round, I set it for 18 min, which was better. your oven may vary!<br/><br/>they came out cake-like instead of harder like a cookie, the reason for a 4-star. although they were delicious, I was expecting something more cookie-like. next time, I think i'll try to use a brownie cookie for the bottom recipe and mold them into slighter larger diameter discs, use this recipe's chocolate chip cookie dough, and cook them on a cookie sheet so that they can be thinner and harder (cookie-like).<br/><br/>also, I didn't have dark chocolate so I used semi-sweet chocolate morsels. I have a digital kitchen scale, and the 6 oz for the chocolate chip recipe is about 1 cup + maybe 2-3 T. of morsels. the 5 oz for the brownie batter is about 1 cup of morsels. I included this detail in case you don't have a kitchen scale..