Brined Sweet and Spicy Pork Chops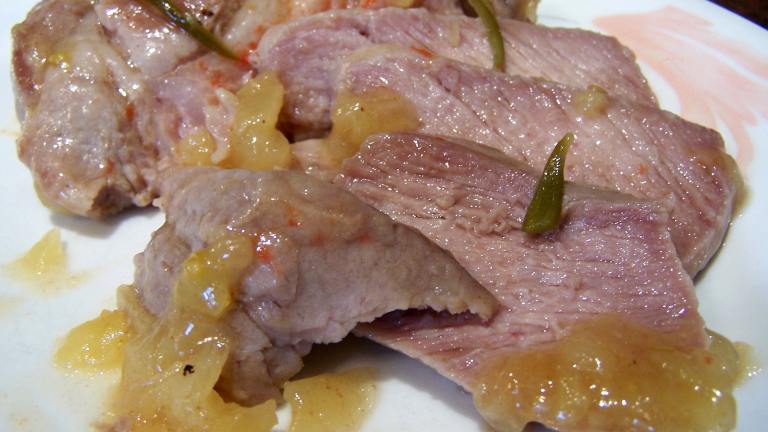 My DH does not really like pork chops because he feels that pork always comes out too dry. That is why it is necessary to use the brine, and leave the meat in it for at least 4 hours (better results overnight). I've found that if you let the meat rest in the brine before cooking it, it really adds a lot of moisture and flavor to the meat. ---
Ready In:

4hrs 25mins

Serves:

Units:
directions
Mix all ingredients for brine in a large non-reactive container, making sure salt and sugar are dissolved well. Place pork chops in brine and place in refrigerator overnight.
Once you are ready to cook, rinse pork chops and pat dry. Season with salt and cracked black pepper (make sure not to add too much salt because the pork chops absorb salt from the brine as well.).
Heat a skillet and melt the butter. Once the pan is hot, add pork chops and cook until done, adding more butter if needed. Once pork chops are done, remove from skillet and set aside.
Add jalapeño strips and cook for about 2 minuted to release the flavor. Add more butter if needed.
Add pineapple chunks, reserving the juice. Add grape tomatoes. Cook for about 1 minute.
Add half the pineapple juice to the skillet. In a mixing bowl, combine the cornstarch with the remaining pineapple juice. Once the mixture in the skillet starts to lightly simmer, add the cornstarch mixture and let the sauce thicken.
Serve and enjoy!
Submit a Recipe Correction
RECIPE MADE WITH LOVE BY
"My DH does not really like pork chops because he feels that pork always comes out too dry. That is why it is necessary to use the brine, and leave the meat in it for at least 4 hours (better results overnight). I've found that if you let the meat rest in the brine before cooking it, it really adds a lot of moisture and flavor to the meat. ---"
Tender! Pork is a great choice of meat to be brined and was happy to see it use in this contest. I made 1/2 the brine which was more then enough and used fresh out of the garden herbs. Cut back on the peppercorns to 1 tablespoon. I brined for 4 hours using 1 1/2 pounds of pork making 5 chops. Used only 1 tablespoon butter found absolutely no need for more. I used crushed pineapples with nice results. I browned my chops on one side flipped then added the peppers and the drained crushed pineapple and cooked for 2-4 minutes adding the juice mixed with the cornstarch stirring in and topped with tomatoes and cooked till done. My chops were over an inch and took about 12 minutes total. I would love to post 5 stars for this recipe But amount of ingredients was off and cooking time could have been clarified for those that need to know. Delish! Great work!

My DH does not really like pork chops because he feels that pork always comes out too dry. That is why it is necessary to use the brine, and leave the meat in it for at least 4 hours (better results overnight). I've found that if you let the meat rest in the brine before cooking it, it really adds a lot of moisture and flavor to the meat. ---