Brigadieros(brazilian Candy)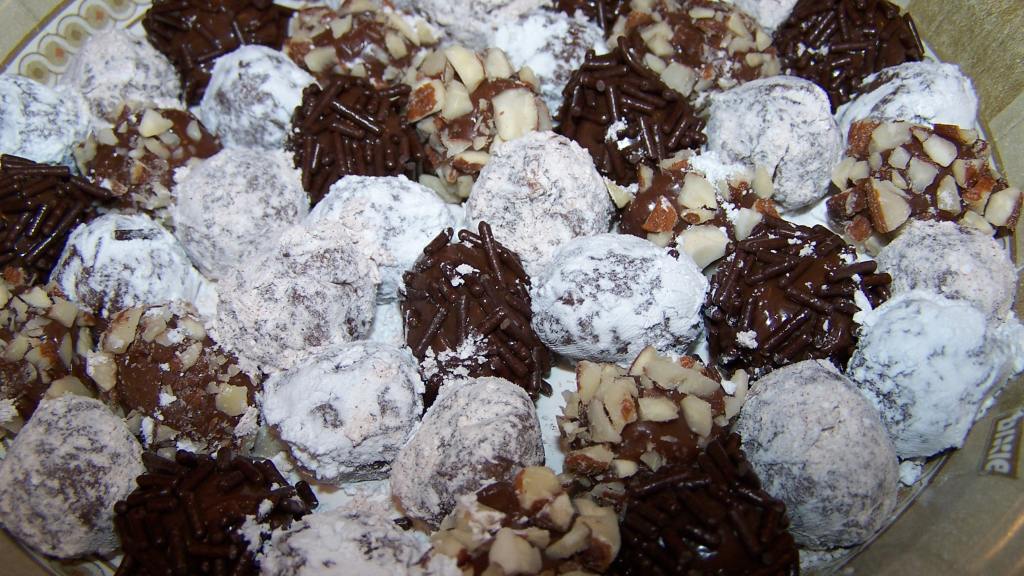 Ready In:

25mins

Ingredients:

6
ingredients
1

(14 ounce) can sweetened condensed milk

1

tablespoon butter

3

tablespoons unsweetened cocoa powder

2

tablespoons chocolate-flavor Nestle Nesquik powder

1

tablespoon sugar

chocolate sprinkles, to garnish
directions
in a heavy saucepan,over medium-low heat, stir all ingredients constantly.
cook till mixture thickens enough to show bottom of pan while stirring.
pour into greased dish and cool to room temperature.
take small amount with a teaspoon and roll into ball shape.
roll in jimmies to garnish.
*****hint*grease hands to prevent stickiness.
if balls do not hold shape return to saucepan and cook additional 5 minutes.
Join The Conversation
This was made by my grandmother when I was a child, always present in my birthdays! You can use just one kind of chocolate--Nestlé being always my choice. AuntTom, I've never heard of them being rolled in sugar with cinnamon--and I lived in three different States in Brazil for 37 years... Now, the VERY politically incorrect information: in some States in Brazil it's called "Negrinhos," or, Little Negroes. No Blacks in Brazil get offended with the name, by the way! ;-)

These really are wonderful. I coated some with the jimmies, some with plain confectioners sugar, some with cinnamon confectioners sugar and some with chopped almonds. The cinnamon sugar and nuts were the hands-down favorites, with friends, family and colleagues. You could use pecans, walnuts or macadamia nuts. This recipe is easy to make, and you can wait a day or so to roll and coat them if necessary. Just cover the dish with plastic wrap. Next I'll try rolling some in cocoa powder and dipping some in melted chocolate. Make these - you'll like them. Thanks for a great recipe, kimbearly.

I'm originally from Brazil, and brigadeiro is a staple at every child's birthday. I made this recipe today (although I left out the sugar; condensed milk is sweet enough!). Heat this up in medium heat and when the mixture begins to boil you know you are close to being done. Also use a wooden spoon so you know when cooking is complete (the mixture will loosen from the pan when you scrape the bottom with the wooden spoon). Although it may still look soft it will harden slightly when you transfer it to the greased plate. This recipe can also be used as frosting or filling for any cake. You just have to take it off the stove a little bit before its done "point", so it will be spreadable. Also, I do prefer to use the "La Lechera" condensed milk brand, because it is much less sweet than the regular brand we find at the supermarket (and it is closer to the texture and closer to the color of condensed mil in Brazil). You can buy La Lechera at any market that sells hispanic foods. This candy is like dolce de leche meets chocolate.....yumm-o!