Breton Breakfast Galette With Cremini Mushrooms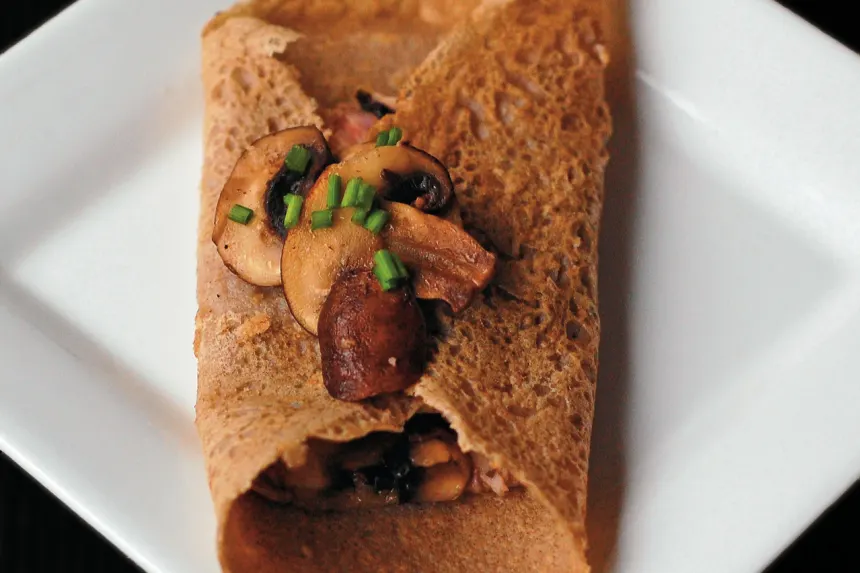 photo by Mary Jenny

Ready In:

40mins

Ingredients:

7
directions
1. Mix the flours together, making a well in the centre. Add the egg yolk and mix until combined. Slowly add first the milk, then the water, incorporating with a whisk until you have a smooth batter (it will still be a little thick at this point but as long as it's smooth, you're good).
2. In a separate bowl, beat the egg white and salt until it forms stiff peaks and then fold into the batter with a rubber spatula. Cover and refrigerate for an hour or overnight.

Ingredients for the filling for one galette (just make as much as you need):

4 large cremini mushrooms, 2 tbsp (25 mL) butter, 1/2 tsp (2 mL) herbes de Provence **, 1/4 cup (50 mL) mushroom stock (ideally mushroom or you could use whatever you have on hand).

Directions:

1. Melt the butter over a medium heat in a heavy bottomed skillet. Add the herbs de Provence and sauté for a minute or so.
2. Add the mushrooms and coat with the butter and herbs. Sauté over medium heat until softened – a couple of minutes.
3. Turn up the heat slightly and add the stock. Simmer until the liquid has mostly evaporated, a couple more minutes.
4. Drain on paper towels and set aside.

Other fillings:

1 thin slice of Black Forest ham.
1/4 cup (50 mL) shredded Emmenthal cheese.
sprinkle of chopped chives for garnish.

Assembly:

Notes:

1. When you take your batter out of the fridge, you might need to add some more water or milk. The batter should be fairly thin – think smoothie consistency.
2. You will probably have a couple of galettes that don't work out the first time. Usually I find it takes a couple to get into the technique!
1. Heat a large non–stick frying pan over medium heat. You might like to melt some butter (about 1 tablespoon) to start with and after every 2–3 galettes, depending on how "non stick" your pan is. One of my pans does not require any butter, some of my older ones do.
2. Using a half–cup measure, pour batter into the centre of the pan and immediately swirl the pan to spread the mixture – you're looking for a galettethat's about 8–9 inches across so it will be very thin.
As the edges begin to crisp up a little, make sure the galette is not sticking, especially in the centre. I use a large, thin plastic spatula to keep this in check.
3. You'll know the galette is ready to flip when it's completely dry looking on top. It might bubble and look a little "lacy" but that's fine – in fact that's perfect!
4. Flip the galette carefully and immediately add the cheese in the centre. Once the edges of the cheese have started to melt, add the mushrooms, saving a couple for garnish. Press them into the cheese. Cook a minute or so then add the ham.
5. Fold in the sides of the galette to slightly cover the fillings. Traditionally thegalette is served in a square shape with all four sides folded in but I kind of like with just two sides folded over (oh, and it's pretty hard to make it stay folded when it's all four corners!).
6. Top the completed galette with the mushrooms you set aside and a sprinkle of chives.
Bon appétit!
Questions & Replies

Got a question?
Share it with the community!
Reviews
Have any thoughts about this recipe?
Share it with the community!