Breaded baked Pork steak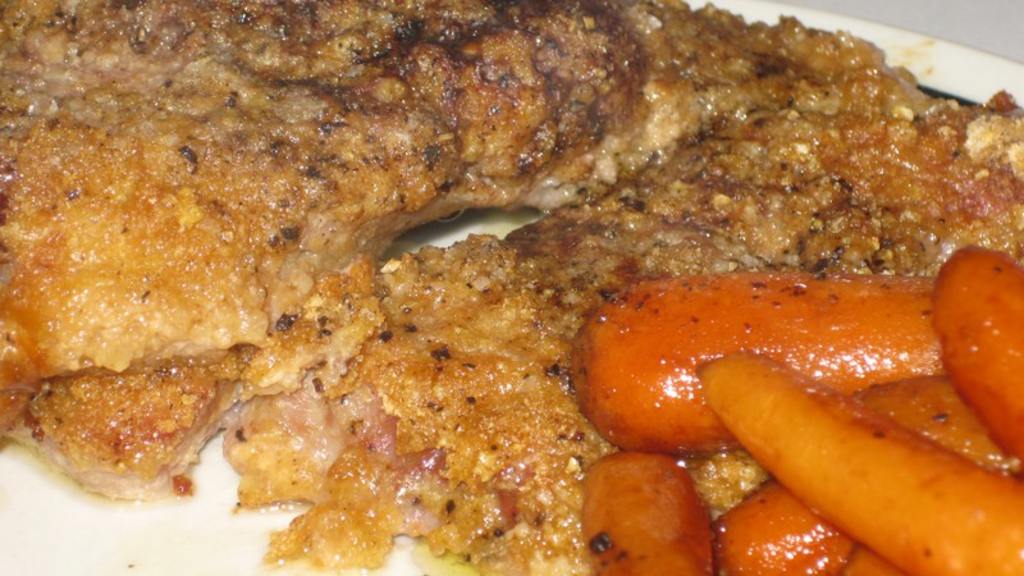 Ready In:

55mins

Ingredients:

7
ingredients
3 -4

pork steaks, bone in

2

cups corn flake crumbs

1

cup sour cream

4

tablespoons milk

2

tablespoons cooking oil

salt, pepper,garlic powder
directions
Preheat oven to 375 degrees.
Put 2 tablespoons cooking oil in baking dish.
Tip dish to disperse oil.
Mix milk with sour cream.
Dip pork steaks in sour cream, covering both sides.
Place in corn flakes, and cover meat completely.
Put in baking dish.
Spread melted margarine or butter over meat.
Lightly season with salt, pepper and garlic powder to taste.
Bake 45 minutes.
Join The Conversation
AWESOME! I made these for dinner last night. I love pork and I'm always looking for new ways to prepare it. This was a winner. I was a little skeptical that there wouldn't be much flavor because there was no seasoning on the meat itself but boy, was I wrong. I did find that there was quite a bit of grease in the bottom of the pan when they were done baking but I didn't measure anything so I could have doubled the amount and not even realize it. I will be making this again soon. THANK YOU, THANK YOU!!!
RECIPE SUBMITTED BY
After being Milwaukee, Wi. residents all of our lives, my husband and I retired to the Lake of the Ozark area in central Missouri, two years ago. The "Lake" as everyone in Missouri calls it, is located in the heart of the Missouri Ozarks. The area is just beautiful, and the people are so friendly. We have made so many new friends, and they have welcomed us into their lives. Even a trip to Walmart, brings smiles from everyone. Every day we take in a lake sunset, or look at the beauty around us, and are so happy we made the move. The winters are so much milder than the harsh ones, we left behind in Wisoonsin. Though, we have had to learn to deal with black ice. Spring comes early and is just beautiful. We still run away to Northern Wisconsin for the cooler summers, and quiet northwoods, as tourism here during the summer months, can put as many as 50,000 boats a weekend on our 92 mile long lake, and northern Wisconsin is peaceful and beautiful. I really miss having a garden, but it is almost impossible, as we are gone for the summer, and the ground here is all bedrock. I try to put some things in up north, but the growing season, sometimes shuts me down as early as mid August, in northern Wisconsin. We do miss the good Wisconsin fish fries, and the better quality of beef, available in the stores. You can find Amana and Black Angus beef in most stores, but it doesn't even compare to the plain old choice beef we got back home. One butcher, told me there are different grades of Angus. Makes you need to re-think your cooking. People here, will have a really dry piece of meat, and say its great. The entire area is very big on BBQ foods, and some are outstanding, but some of the other local fare, just isn't up to Midwest standards. We miss some of the good Italian and German places back home, and a really good, thick, juicy steak, but we easily trade that away, for having the chance to live in such a wonderful area. I still love the Old Red Betty Crocker cookbook, and Taste of Home Magazine, but have to admit, that since I joined Recipezaar years back, most of my new favorites come from there. There are some great chefs on this site, and sometimes, I read a review, where someone will try a recipe, and completely change it, and then complain, that the recipe was not right, and give it a low rating. This is a pet peeve. If you make it the way it was printed, and don't like it, okay, that is understandable, but if you change it, don't blame the chef. My biggest fear is that Recipezaar will disappear one day, and all of my favorites will be gone.
View Full Profile