Bread Bowls for the Bread Machine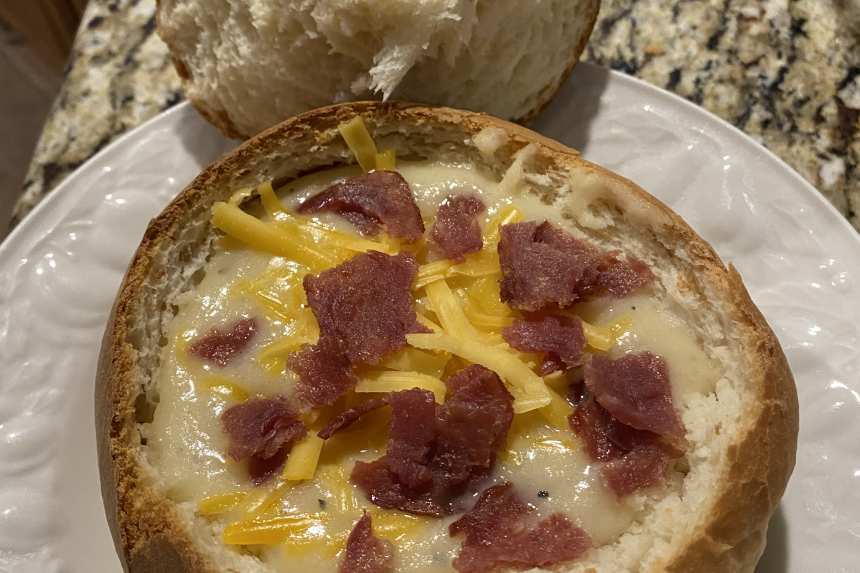 photo by Cynthia H.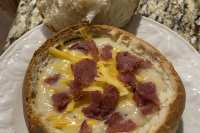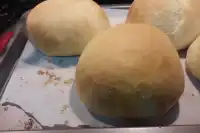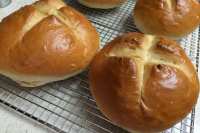 Ready In:

2hrs 20mins

Ingredients:

9

Serves:

4
directions
Beat the egg and place along with milk and water in microwave container. Microwave for 40 seconds on high. Or you can warm the milk & water how you prefer and bring egg to room temperature. Place in bread machine in accordance to your machine, or follow ingredients as I have listed.
Add remaining ingredients and set on dough cycle. This is a 1.5 pound recipe.
Once cycle is complete, take out dough to a floured surface & cut into 4 equal sizes. Don't work the dough too much, just enough to shape into rounds. Spread a thin layer of cornmeal on baking pan. Place all four dough rounds on pan and cover with thin towel to let rise in non-drafty area for about an hour.
NOTE: I've come to find this recipe works best on dark pans rather than regular cookie sheets. It browns better on the bottom and gives the bowls a better dense texture to hold the fillings better.
Once doubled, bake in pre-heated oven at 350º for 20-25 minutes. If you are a higher elevation, bake 325º for 15-20 minutes. Or until golden brown.
Remove from pan and place on cooling rack.
For the bowls, cut a thin layer across top and hollow out to about 1/4-1/2 inch in thickness. Fill with your favorite chili, chowder, or stew.
Questions & Replies

Reviews
I cannot speak highly enough of this recipe. I doubled in and made 7 large bowls and made croutons with the leftover dough. The dough was a pleasure to work with (and I am no good at shaping dough.) I let the dough rise uncovered in the oven that I had slightly heated with a pan of water. Instead of scraping out the insides, I pressed the middle into the sides and bottoms for reinforcement. Then I sprayed the insides and outsides of the bowl with cooking spray and retoasted the bowls for 15 minutes after my company arrived. They were beatiful as well as delicious and the talk of the evening! This dough was absolutely perfect. I am so pleased that I used this recipe and will use it again and again. Thank you so much for posting it!

 

These didn't really work for me. Although I am not a novice bread maker, I've never attempted homemade bread bowls before, and I was really looking forward to these. However, the dough was very wet in my bread machine and I had to add more flour just to keep it from being on the soupy side. Once the dough was done, it looked and felt great and shaped well, but then rather than rising up they just sort of smooshed out to the sides and I had what looked like large hamburger buns rather than bread bowls. If I had put them in a smaller pan with sides I'm sure they would have risen like they should have, but I wanted crispier sides instead of the soft kind you get like when dinner rolls stick together in a pan. That said, the flavor of these was outstanding and I think I will try this recipe again and see if I can't get it to work correctly.

 
RECIPE SUBMITTED BY
My Mom didn't like more than one cook (herself) in the kitchen at any given time, so I taught myself to cook after I lived on my own. I never liked the same old stuff so I had started to experiment with recipes. I found loads of recipes to play with throughout the years, even before the internet (grin). 15 years ago I met a man who loves to cook as much as me. We have been having loads of fun with the recipes that we find. We only post what we find a delight to make and eat.
View Full Profile