Bosnian Pita (phyllo pie) with Spinach Filling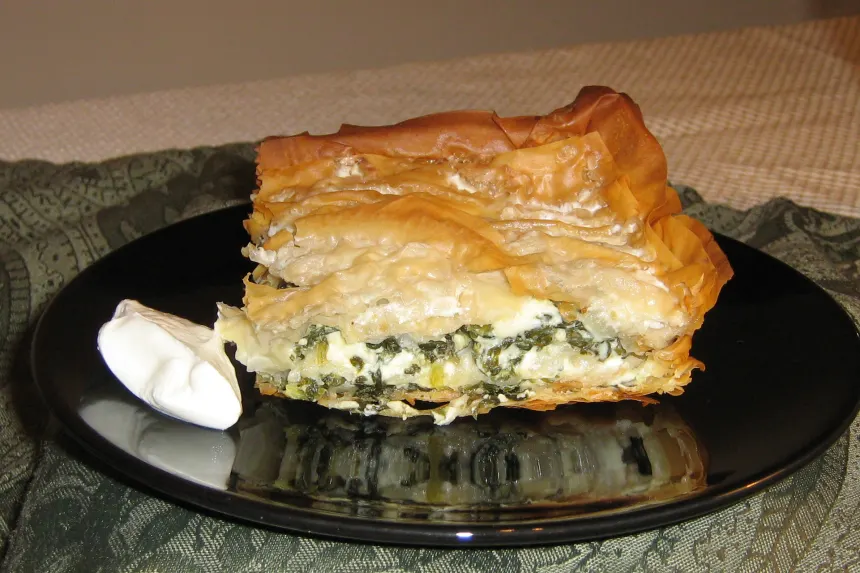 photo by tamilivesforchrist

Ready In:

1hr 45mins

Ingredients:

10
directions
WASH HANDS (This recipe requires you to work with the food directly with your hands).
Preheat oven to 350.
Wash and drain spinach.
Chop spinach and put in a big glass bowl.
Add salt and mix with hands.
Leave the spinach to sit for about 10 minutes to allow the salt to draw out the water from the vegetable.
The water in spinach will make the filling bitter so do not skip this step.
Drain the spinach by either sqeezing it bit by bit with your hand over the sink or by spinning several times in a salad spinner.
Transfer drained spinach into a new bowl.
Add egg, and sour cream.
Fold in feta and cheddar cheese.
Put some olive oil in a small bowl.
Grease a 9"*13" glass or metal baking pan.
Take your phyllo dough sheets and lie the sheets, stacked, on a dry surface.
TIP: (While adding the filling, you may wish to cover the dough with a dry towel and then a damp one to keep it from drying out or flaking) Place one sheet of dough into the pan and cut away excess.
Brush with oil, using either your hands or a pastry brush.
Repeat until dough is 6 or 7 layers.
Add a skim of filling with hands and spread evenly.
Repeat steps 16-18 until the pie reaches the top of the pan or you run out of ingredients.
Just make sure you finish with the dough on top, sort of like lasagna.
Place pie in the oven, uncovered, about 45 minutes.
The top becomes flaky.
Pour on top of the pie while it is baking, 1/4 cup sour cream blended with 0.125 cup of milk.
Bake for 15 more minutes.
This dish can be served warm or room temperature.
It is traditionally served with a yogurt beverage which is easily replicated by mixing the plain yogurt with milk, in equal parts.
Questions & Replies

Got a question?
Share it with the community!
Reviews
this was my least favorite recipe. All I could taste was salt and oil from the cheddar cheese. i feel the cheddar cheese was too heavy for this dish and needed a cottage cheese to balance out this heavy flavor or either use 1/4 of the amount of cheddar cheese. I only used half of the ingredients and used 3/4 of the phyllo and still I took away about 3/4 of the filling out after I tasted and still this heavy cheddar taste makes it inedible, in my opinion. This recipe would be best without cheddar and just add cottage cheese ,egg, and spinach, maybe the feta cheese.

 

I have to disagree with the recipe. If you're trying to make actual Pita with spinach, you never put cheddar cheese in there. We don't even have cheddar cheese over there. Also sour cream?No. You use cottage cheese and spinach as the filling, phyllo dough will work just fine if you don't have the time (or the skill since it's somewhat difficult) to roll out Pita. <br/><br/>-An actual Bosnian woman.<br/><br/>Note: I asked my mother who is far more experienced with this, you can use sour cream but it would be 1 tablespoon of sour cream to half a container of Cottage cheese. However that's only if you really, really like sour cream.

 

No wonder this is delicious. In eastern Europe pita is one of the best and most frequently made dish, my family makes pita at least once or twice a week. I'm talking about the real Pita made with hand made dough, phyllo sheets are a good substitute for those who don't know how to make the dough but nothing tastes like Pita if it is not made all from scratch >> try a cabbage filling (the sauerkraut kind), boil a little to soften and add some milk and it will be delicious.

 

Pitas can be made with a lot of things: spinach, cottage cheese, potatoes, or meat. In Bosnia and Herzegovina the word burek refers only to the meat variant, while the one with cottage cheese being called sirnica, one with spinach and cheese zeljanica, one with potatoes krompiruša, and all of them are referred as pita (trans. pie). They can also be converted into a dessert dish, using apples and cinnamon as filling... but they can caramelize easily and than burn. The phyllo dough is a good substitute but it's not the same as making and stretching your own dough... I can't do it because my dough always breaks. The pouring of sour cream with milk (or just milk) is a characteristic step in making pita since it makes the food very soft. Pita it's not supposed to be crispy.