Boiled and Roast Ham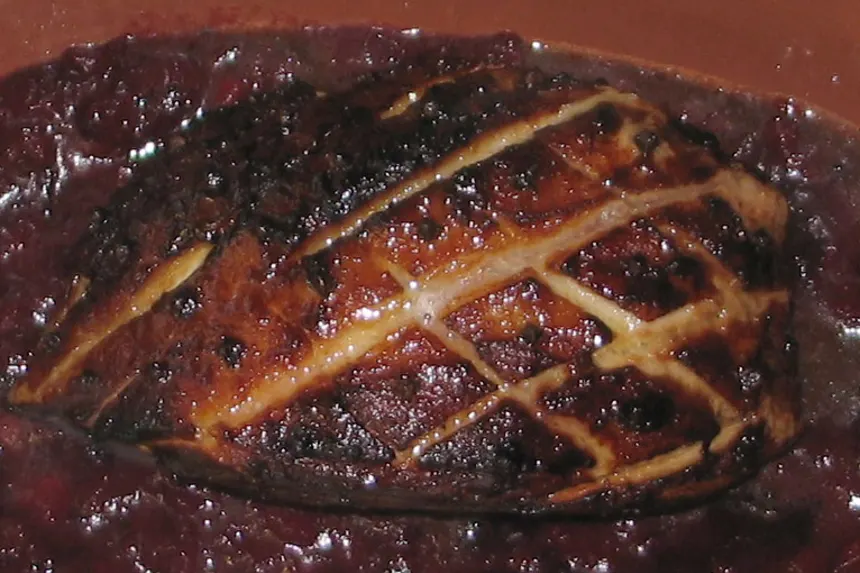 photo by DoubletheGarlic

Ready In:

1hr 45mins

Ingredients:

6
directions
First bring a large pan of water to the boil there should be enough water to cover the ham and the pan should be big enough so that the ham does not touch the sides.
Lower the ham into the boiling water and reduce the heat to a simmer with just occasional bubbles breaking the surface (unless the ham is very salty there should be no need to skim the scum from the top).
The ham should be cooked for 15 minutes to the pound.
If you need to top up the water to keep the ham covered, use boling water.
Meanwhile preheat the oven to 200C (hot, place in it an open roasting tin lined with foil'coz the honey really bakes on) with 4 tablespoons of oil and prepare a mixture of 2 tablespoons of honey to 2 teaspoons of wholegrain mustard.
Remove the ham from the boiling pan and drain it.
Remove any skin and score the fat underneath into diamond shapes with a sharp knife.
Stud each diamond with a whole clove pushed through the fat.
Spread the honey-mustard mixture over the ham and place into the roasting tin.
Bake for 5 minutes the pound or for a maximum of half an hour, basting every 10 minutes.
Remove from the heat and leave for 10 minutes to set before carving or leave to cool before wrapping in foil or clingfilm.
Reviews
I am re reviewing this recipe as I liked it so much last time I thought I would try it again using smoked ham. Again I would say use half the cloves ( but thats prob my taste), but overall this has to be the best and easiest way to cook ham .And oh so tender. Thats why I now rate it, higher than last time.

 

I got lots of praise for this pork at Tgiving this year. I actually did steps 1-9 the night before, refrigerated it, and baked it Tgiving morning. My baking time was therefore longer (I went by the thermometer), and it was baked in a fan oven, so I put a tent over it, but the drippings for basting got pretty dark and made the pork look quite dark (though not unattractive). (See photo; ham is in a sea of cranberry sauce.) I would like to try this again, next time exactly as Andy writes it. His quantities were perfect for a 3 lb ham.

 

Not rated this yet. Trying this one for crimbo. Every year I try a different method always wanting to get it better each year. If this turns out good, will stick to it. Will let you know just after Christmas and with photos. Its been nearly a year now, and wanted to say that this method goes down great with all the family. Its easy to follow and turns out great. Will be making this again this year on Christmas Eve.

 
RECIPE SUBMITTED BY
I live in the English Midlands, very close to Stratford upon Avon - Shakespear's birthplace. One of my grandfathers was a butcher and the other was a baker and so I had no alternative but to learn how to cook. Cooking is my passion and the collection of cook books forms part of my obsession.
View Full Profile