Blue Crabs Steamed Maryland Style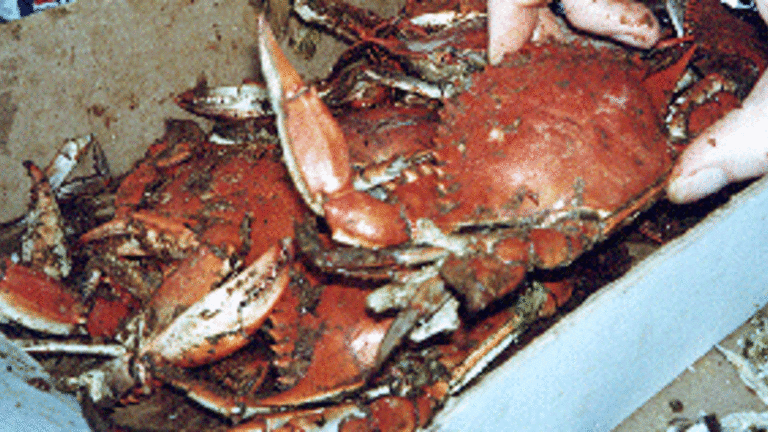 Ready In:

2hrs 30mins

Serves:

Yields:

Units:
Nutrition Information
directions
Also need 1 Large Pot with a raised rack at least 2-4 inches.
Over high heat in a large crab pot with a raised rack bring equal ammounts of Cider Vinegar and water or beer to a boil.
(The total ammount should be just below the raised rack about 2-3 cups of each Vinegar and water or Beer.) Mix equal ammounts of"Old Bay" seasoning and"Kosher" Salt (About 2 cups of each to start) Add 4-6 LIVE JUMBO male crabs for each layer and add the combined "seasoning" on top of the crabs.
Continue with Crabs and a layer of seasoning until at least 12- 14 crabs are in the pot, cover and steam 25- 30 minutes.
with the lid on!
(Chop off anyones hand that tries to lift the lid too soon!) When done use tongs to lift out steamed crabs to a table covered with newspapers or brown paper.
Repeat until all Crabs are Steamed, changing the vinegar and water and adding new "seasoning" to each new batch.
Serve at once with extra "seasoning" and "crab mallets" to break open claws.
Or store in brown paper bags in the fridge until needed 4-5 days (NO LONGER!!!).
Submit a Recipe Correction
Join The Conversation
As a Chesapeake Bay life-long resident, we have layered the LIVE crabs and seasoning as you fill the pot. A crab steamer is a large pot with colander style holes in the botton, which fits into a solid pan - into which you add the liquid. A rack in a REALLY large pot will work for a small # of crabs, at a time. If you have JUMBO crabs, (now @ $60/dozen ) - you can estimate 6 crabs per person. Smaller crabs will need a few more. The most important accompaniment is as the late, great Chuck Thompson would say -"Ain't the beer cold !!" ! Also, you don't need high quality beer, you won't taste it, with the hot seasonings -- but PLENTY of it! YUMMMM!