Blue Cheese and Bacon Bread Twist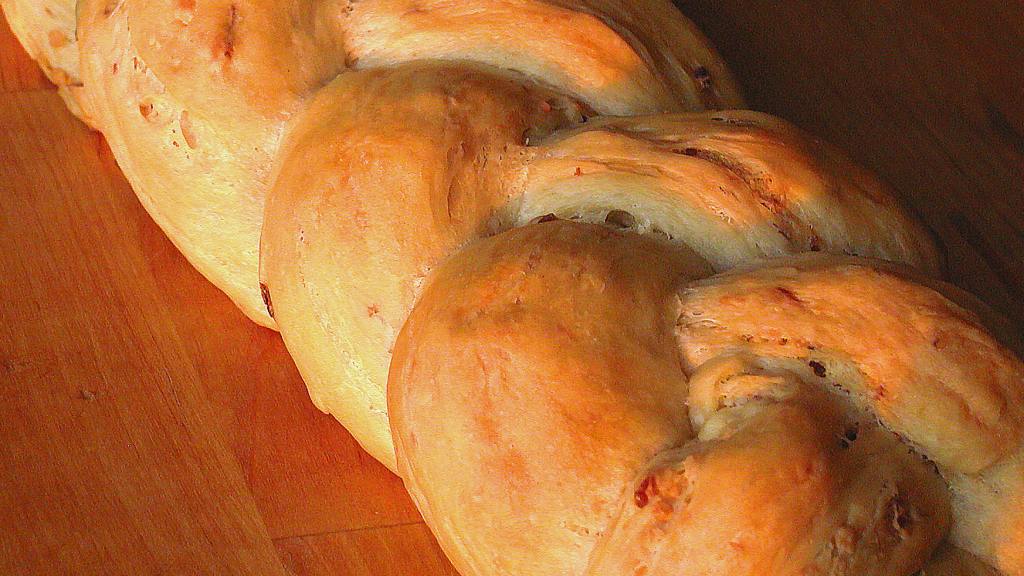 Ready In:

24hrs 30mins

Yields:

Units:
Nutrition Information
directions
The day before you want the bread, make a sticky paste by mixing together 1/2 cup of the flour, 1/2 cup of the water and two teaspoons of yeast in a bowl.
When the ingredients are combined, cover the bowl with cling film and leave in the fridge overnight.
The next day, the mixture will have bubbles on top and smell fermented.
Add remaining flour, yeast and salt to the bowl, and start adding the remaining water a bit at a time, until you get a sticky consistency.
Flop the dough onto a floured work surface, sprinkle more flour on the dough and knead for 3-5 minutes or until smooth.
Put the dough in a large bowl, cover with cling film and leave to rise until doubled, between 1-2 hours.
Meanwhile, fry the bacon until crispy and then cut into small pieces.
Crumble the cheese into a small bowl and mix with bacon.
Take dough and turn onto a floured work surface again, working bacon and cheese into the dough this time and kneading for another 3-5 minutes until smooth.
Put back in bowl and leave for another hour to rise by about a third to a half.
Take dough and split into three equal pieces.
On a lightly floured surface, roll each piece into a sausage shape, about 20 inches long.
Take the three "sausages" and lay them out in front of you, each at a slight angle to the other.
This part is hard to describe, but just imagine you are braiding hair.
You will need to pinch the three pieces together at one end and then, once they are attached, take the piece on the left side and bring it over the centre piece.
Then take the right piece and bring it over the centre piece.
Repeat until all the dough is braided and pinch together at the end.
Lay bread on a greased and floured baking sheet, cover with cling film and let rise for one final hour.
Bake for 30-35 minutes in an oven at 200°C or about 350°F.
Submit a Recipe Correction
Join The Conversation
A delightful bread that smells wonderful. Added about 1/4 of a chopped white onion sauteed in the bacon fat that was left over. Top was brushed with egg white and sprinkled with black sesame seeds. Braided the loaf. It is not really that much work. If I tried it again I would use green onions as they would be more distinctive in the cut bread. <br/>Bread making is so much fun!<br/>Jim in So Calif

Awesome bread! It's so packed with flavor it's fantastic by itself, but it also went very well with a bowl of hearty potato soup. I used bread flour and let the KitchenAid handle the first kneading, but kneaded the bacon and cheese in by hand. After forming the strands, I moved them to a parchment lined baking sheet to braid so I could avoid having to move the braided loaf. For me, it is easier to start braiding in the middle, working to the end, then turn it around and braid to other end. Baked about 40 minutes. I'll definitely be making this one again--thanks for posting the recipe!