Bloomin' Onion Bread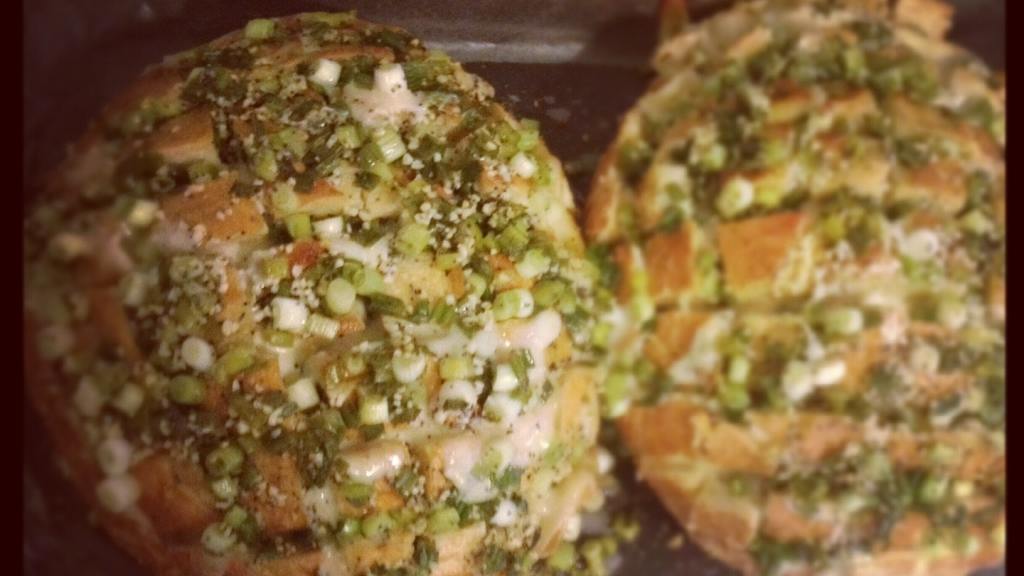 Ready In:

35mins

Ingredients:

6
directions
Preheat oven to 350 degrees Fahrenheit.
Cut the bread lengthwise and widthwise without cutting through the bottom crust. This can be a little tricky going the second way but the bread is very forgiving.
Place on a foil-lined baking sheet.
Insert cheese slices between cuts.
Combine melted butter, garlic, onion, and poppy seeds. Pour over bread.
Wrap in foil; place on a baking sheet.
Bake at 350 degrees Fahrenheit for 15 minutes.
Unwrap the bread and bake 10 more minutes, or until cheese is bubbling.
Join The Conversation
This went great with our soup tonight! I used grated cheese and added salt and pepper to the butter mix. My kids eat soup, but tonight they gobbled it up so they could eat more bread (5 mouthfuls of soup for a piece of bread). I think Italian or Greek herbs would make this into an Italian or Greek bread - the possibilites are endless. I am making this again - thanks for posting!

I made this today for my partners office pitch in. I doubled everything. I do not tend to measure. I'm an organic chef, I just throw stuff in. The butter, garlic, scallions, & poppyseeds smelled so good as I stirred them on the stove before dumping them over the top of the bread.<br/>I found it necessary to use my fingers to spread the bread and help the ingredients get down inside. Also I wrapped in wax paper and baked for about 23 minutes straight.<br/>WAS AMAZING!! The hubbies VP took it around to everyone in his office and made sure they all got a piece saying "this is too good to miss"!!!

This thing is the shizzzz! I made it for mothers day and as I was making it I was thinking- what am I going to do with all these leftovers I'm going to have? It's huge!! That thing was devoured in about 4 minutes. It is amazing. Absolutely perfect starter for a party, this will probably be in my holiday rotation from now on too.