Black Forest Cherry Cake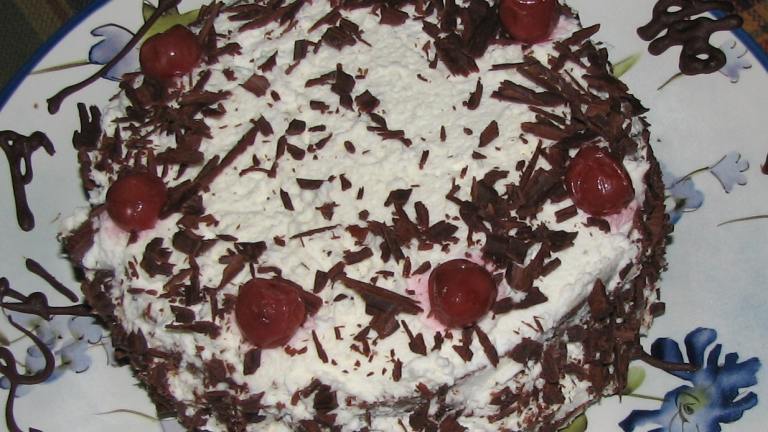 Ready In:

35mins

Serves:

Units:
directions
CAKE: Beat eggs, sugar, and vanilla together until thick and fluffy, about 10 minutes.
Alternately fold chocolate and flour into the egg mixture, ending with flour.
Pour the batter into 3 8-inch cake pans that have been well greased and floured.
Bake in a preheated 350 degree F. oven for 10 to 15 minutes or until a cake tester inserted in the center comes out clean.
Cool cakes in pans for 5 minutes; turn out on racks to cool completely.
SYRUP: Make syrup by mixing together sugar and water and boiling for 5 minutes.
When syrup has cooled, stir in kirsch.
Prick the cake layers and pour syrup over all 3 layers.
FILLING: To make the butter-cream filling, beat together sugar and butter until well blended.
Add egg yolk; beat until light and fluffy, about 3 to 5 minutes.
Fold in Kirsch.
CAKE ASSEMBLY: To assemble cake, place 1 layer on a cake plate.
Spread with butter cream filling.
Using 3/4 cup of the cherries, which have been patted dry, drop cherries evenly over cream.
Place second layer on cake.
Repeat.
Place third layer on top.
Fold 2 T confectioners' sugar into the whipped cream.
Cover the sides and top of the cake with whipped cream.
Decorate top of cake with remaining 1/2 cup cherries.
To make chocolate curls from chocolate bar, shave (at room temperature) with a vegetable peeler.
Refrigerate curls until ready to use.
Press chocolate curls on sides of cake and sprinkle a few on the top.
Chill until serving time.
Submit a Recipe Correction
I made this for my husbands birthday and it tasted horrible. I followed the directions but the cake turned out to be very thin. Less than an inch thick. There were 3 layers but it was a very short cake. And it didn't taste very good. There was too much brandy for our tastes. We ended up throwing the whole thing away.

Made this recipe for my husband's birthday. I followed the directions EXACTLY and had to make a trip to the store to pick up dutch processed cocoa and buttermilk, but it was worth it. The filling was too loose--I added too much kirschwasser, but I didn't want to thicken it up by adding more powdered sugar and making it super sweet; as a result, the innards came out the sides. Based on the fact that my husband ate one slice without even dipping his fork in for one last bite, I'm rating this a 4 star recipe. I'll probably make this recipe again and maybe not add kirschwasser to the whipped cream topping... the cake is steeped in kirschwasser and it is somewhat overwhelming. I am allergic to wheat and can't sample the cake, so my husband's comments comprise the rest of this review. "There is definitely alcohol in here." "I've had moister cake, but this is okay. The flavor is good." "What happened to the filling? It's really runny." (too much kirschwasser: my bad, not the fault of the recipe) "The whipped cream on top is good. You could have frosted the sides, too." "I like the cherries."