Bittersweet Flourless Chocolate Cake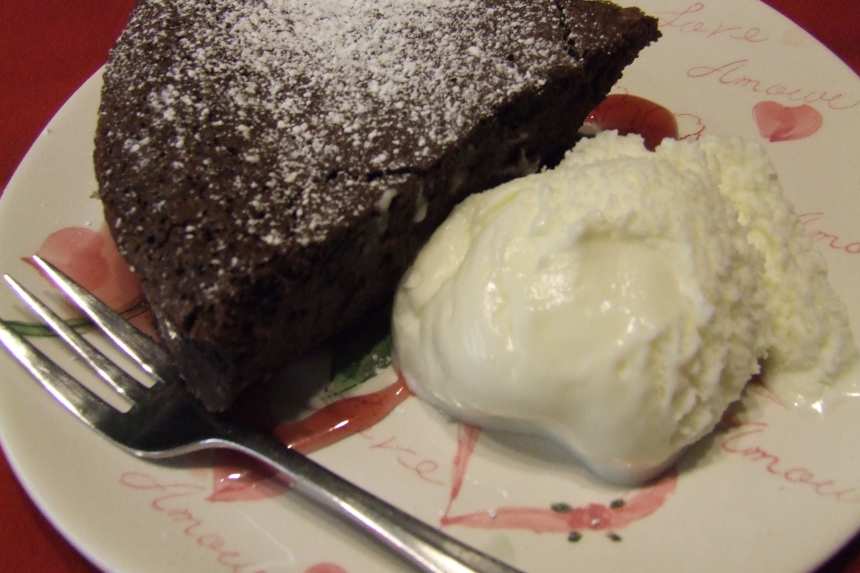 photo by CountryLady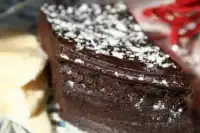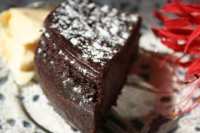 Ready In:

1hr 15mins

Ingredients:

6
directions
Preheat the oven to 350 degrees F.
Butter the sides and bottom of a 10-inch springform pan and set aside.
In the top of a double boiler, combine the butter, chocolate and coffee and melt slowly, stirring occasionally, until smooth. Remove from the heat and let cool for 5 minutes.
In a medium mixing bowl, whisk together the eggs, sugar and vanilla until frothy. Whisk the eggs into the melted chocolate until combined. Pour the mixture into the prepared pan. Bake for 1 hour and cool on a wire rack until it reaches room temperature.
Remove the sides of the pan, cover with plastic wrap and refrigerate overnight, before serving.
Reviews
OH MY ..... this was rich, creamy and so delicious!!! I used fresh coffe beans from a local specialty shop, then ground & brewed the coffee extra song; it really brought out the flavour of the chocolate. A little Cranberry-Raspberry Merlot Drizzle on the plate, a dusting of icing sugar on top & a scoop of frozen vanilla yogurt made for a great presentation and helped to cut the richness of the cake. Thanx Chia!

 

hi chia, this is "da bombe"! i chose this cake for Passover so we had to try it out! It was wonderful! We used Cuban coffee and it is stronger than Espresso and boy did it pack a wallop! We enjoyed it thoroughly! Some people served themselves seconds and ate it with french vanilla ice cream!!! I was good for once, just had a small bite. Thanks for posting such a luscious recipe, Diane :=)

 

Holy Moly, chia. I am sure we can be arrested for this. I love using specialty pans for special baking. One additional suggestion, chia, and it worked really well. Prior to assembly of the spring form pan I lined the bottom of the pan with baking paper. This facilitated cake removal by gently sliding the baked and cooled cake, from the pan base, onto an equally flat cake plate. (Then the pan can be cleaned and put away, intact, before I lose/misplace one piece or the other.) :-) Sprinkled with white icing sugar, it looked good, and was a tremendous hit at my sister's Easter feast. chia, I am not only glad you finally "found" the perfect, easy flourless cake, but delighted you shared your find with us. Thanks so much for posting this recipe.