Biscuits & Gravy & Eggs Extraordinaire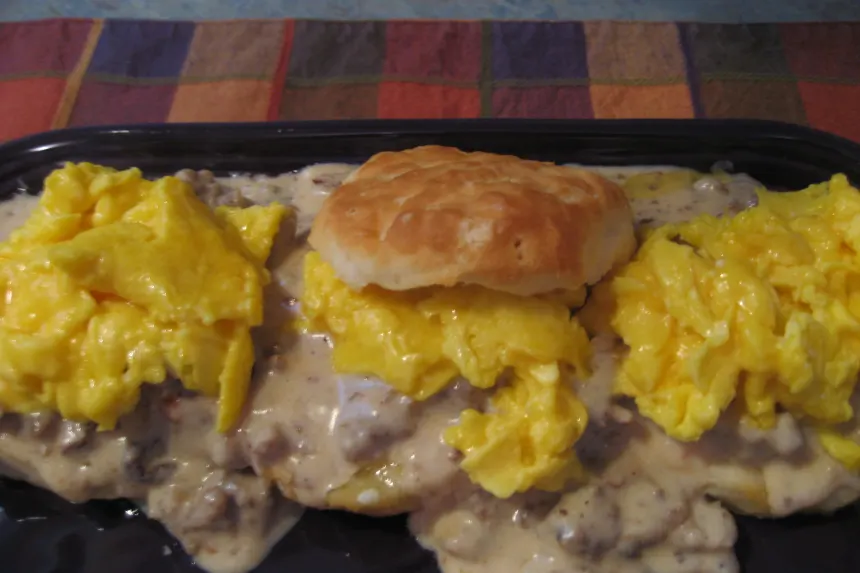 photo by Pellerin

Ready In:

50mins

Ingredients:

20

Serves:

6-8
directions
To save time, make gravy the night before, and let flavors meld. That way, all you have to do in the morning are the biscuits and eggs 8-).
GRAVY: On MEDIUM (not high) heat, crumble and sauté sausage – remove to plate.
On MEDIUM heat, gently brown bacon – remove to plate & crumble.
In same pan, keep about 3 Tablespoons of the rendered drippings from sausage & bacon. Add butter to melt.
Make roux by adding 3 Tablespoons of flour to start with, add 1-2 Tablespoons more if you feel you need it. Slowly, whisk in cream then milk. Gently bring to a simmer for several minutes to thicken. Stir in crumbled sausage and bacon. Add a little salt, and plenty of pepper, to taste. (Can put in fridge for morning now). Makes 5 cups.
BISCUITS: Preheat oven to 450°.
In a large, chilled mixing bowl, sift together the flour, baking powder, baking soda and salt. Using two knives in a scissor-like fashion (or a pastry cutter), cut in the fats into the dry ingredients. Make a well in the center and pour in the chilled buttermilk. Stir just until the dough comes together. The dough will be very sticky.
Turn dough onto floured surface, dust top with flour and gently fold dough over on itself 5 or 6 times. Press into a 1-inch thick round. Cut out biscuits with a 2- or 3-inch cutter, (I use a ½ cup measuring cup) being sure to push straight down through the dough (do not twist on the way down!).
Immediately place biscuits on a clay baking sheet, sprayed with Pam, so that they just touch, "shoulder-to-shoulder"- they'll rise better, and not get too brown. You don't want to give them a chance to rise, until they hit the oven. Gently reform scrap dough, working it as little as possible and continue cutting.
Bake until biscuits are tall and light gold on top, 15 to 20 minutes. Brush tops with melted butter. Makes about 9 two to three-inch biscuits.
EGGS: Crack the eggs into a bowl. Add the cream and whisk until the eggs look foamy and light. Heat a 10-inch non-stick skillet over medium heat. Melt the butter until it foams, and then turn the heat down to low and slowly pour in the eggs.
Using a heat resistant rubber spatula, slowly stir the eggs from the outside of the pan to the center. Once the eggs begin to set, stirring slowly will create large, cloud-like curds. Season with salt & pepper.
SERVE: Split a biscuit. Dot with butter. Either place scrambled eggs, then gravy, or - as I do, gravy first, and fluffy eggs on top.
Questions & Replies

Got a question?
Share it with the community!
Reviews
Normally, I wouldn't try a recipe with only one review. But I wasn't sure what could go wrong with this recipe, so I tried it out. SO GLAD I did! I have made several different sausage gravy recipes from this site, but this one is the BEST. Adding bacon drippings is the best idea ever. Thanks for a great recipe!

 

This was very good!. I must admit that I cheated and used Grand Biscuits. Was short on time. I used 16 oz of homemade sausage from my local grocery store and no bacon since I have a son that doesn't like bacon. Something must be wrong with that boy :) The eggs were nice and fluffy and my guys were in there sopping up the gravy out of the pan. They didn't leave a drop. Thanks for the recipe. I'm sure it will be a reqular around here.

 
RECIPE SUBMITTED BY
An event planner by profession, and a life-long foodie wanna-be who loves to make people happy by feeding them things that make their eyes light up. I'm an empty-nester who enjoys nothing more than cooking for family and friends. When those are not available, my dogs make EXCELLENT and enthusiastic Guinea pigs for testing new recipes. Not surprisingly, I've found that the German Shorthaired Pointers have much more discriminating palates than do the Goldens, who would eat anything -and I mean ANYTHING- that wasn't nailed down (and some things that were). They are all convinced that I'm a gourmet chef, however they're a pretty easy audience. FAVORITE QUOTE: "My theory is that all of Scottish cuisine is based on a dare." -- Mike Myers
View Full Profile