Big Thicket Chicken and Dumplings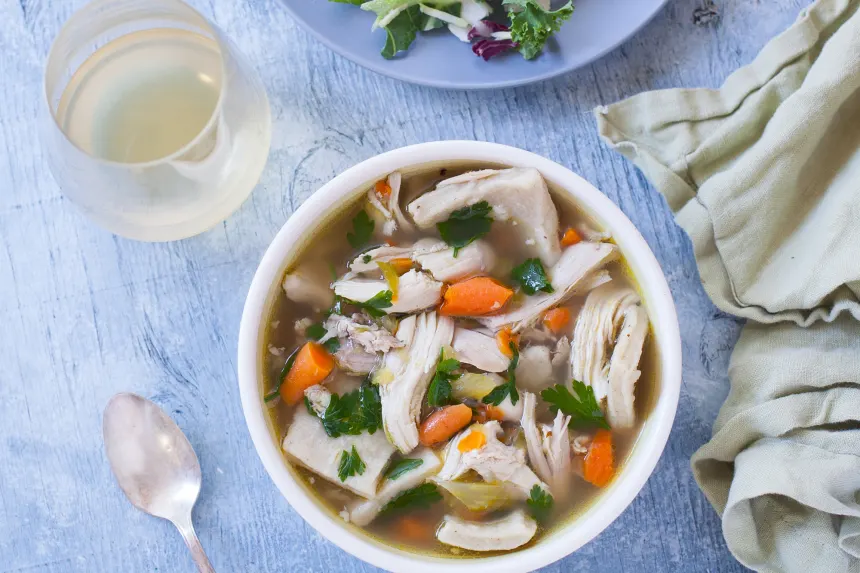 photo by DianaEatingRichly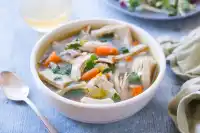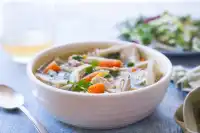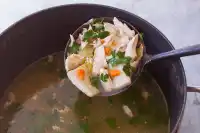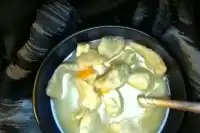 Ready In:

3hrs

Ingredients:

17
directions
Place whole chicken and water into large pot or dutch oven.
Add poultry seasoning, garlic powder& pepper.
Bring to boil and reduce heat to medium.
Cook chicken for about 1 hour or until tender.
When done, carefully remove chicken from pot; set aside to cool.
Remove 2 cups of stock and set aside to cool.
Add celery, onion, carrot and bouillon cubes to remaining stock and continue to cook on simmer.
While chicken is cooling, prepare dumplings.
Into large mixing bowl, combine flour, baking powder, poultry seasoning and salt.
Add margarine and combine until mixture is coarse and crumbly.
(use a hand mixer) Add eggs and cooled chicken stock (be sure your stock has cooled to"just barely warm") then stir by hand to form a dough.
Turn out onto floured surface and knead slightly until smooth.
You may need to divide dough in half and only roll out half at a time.
Roll out to approximately 1/8-inch thickness.
Using a sharp knife or pizza cutter, cut dough in vertical strips about an inch wide.
Then repeat the process, cutting horizontal strips, which will give you little square dumplings.
Return chicken stock to a boil; drop dumplings in, a few at a time, as quickly as possible.
Cook about 15 minutes, stirring occasionally to prevent dumplings from sticking to bottom of pan.
When done, remove from heat and cover pan.
Remove skin and debone cooled chicken.
Cut into bite size pieces then fold into hot dumplings & broth.
This recipe will serve a family of 4 two main course meals.
Leftovers can be frozen.
Reviews
very good! I felt like the dumpling ratio was perfect, and so did our guests. when making the dumplings, i added a teaspoon of powdered chicken stock into the flour mixture and thought it gave it a bit more flavor than it would have had other wise. also, I sauteed the onion, carrots, and celery in a tea of olive oil for 5-8 minutes covered in the stock pot before adding the broth back in. I chilled the broth slightly after removing the chicken to separate the fat out. don't feel it was lacking any flavor from removing the fat. we feel like it could have fed 6 adults as a main dish.

 

HOLY SMOKES BATMAN! These dumplings are crazy wonderful! It does make a huge huge amount. But I think they taste better the next day. The soup is tasty too! I have recommended this recipe to many , many. It also is my stand by for making a dish to give away. The poultry seasoning in the dumplings make the difference..I actually upped it too 2tsp. Try this recipe , you wont regret it!

 

That's what I call noodles, not dumplings. Dumplings are fat, puffy, soft things and I use biscuit dough with extra milk and just drop them on top of hot stew, cover and cook on low for 20 minutes until done and not gooey on the bottom anymore. Chicken or beef stew, works with both, and everybody loves it.

 

This was a huge success with my family. I used Wondra to prevent the dumplings sticking to each other and froze the dumplings I didn't cook on single layers of waxed paper sprinkled with Wondra. The Wondra, in addition to preventing sticking, also helps thicken the broth without changing the flavor. Tasted great!!! Thanks so much!

 
Tweaks
Came back to print this again, my other one has been worn out LOL! (need to get it laminated or framed HEHE!) This is just the most incredible recipe for chicken and dumplings we have ever made. I love the addition of poultry seasoning to the dumplings instead of just the usual flour salt baking powder. It gives them an even better flavor and you can eat more and more, thankfully this recipe makes a good bit of em! My daughter is leaving for Army boot camp in a few weeks and gets to pick our menus till then, this is on it twice and a must have the day she returns!! Thank you Susie! 5 STARS ALL THE WAY!

 

This was absolutely FABULOUS! The only change I made was to use chicken breasts instead of a whole chicken, and I cooked it for 30 minutes instead of an hour. I didn't find the poultry seasoning to be overpowering at all, it was perfect. This will be my go to recipe for chicken and dumplings. Thanks for posting this great recipe.

 

This is excellent! It's very time-consuming to make, but it's worth it. After I'd started everything I discovered that I didn't have any shortening, so I used half a cup of butter and half a cup of vegetable oil. I had to add a little extra flour, but the dumplings still turned out great. I also used a white onion instead of green ones and I added some saffron to the broth.