Big Batch Red Lentil Soup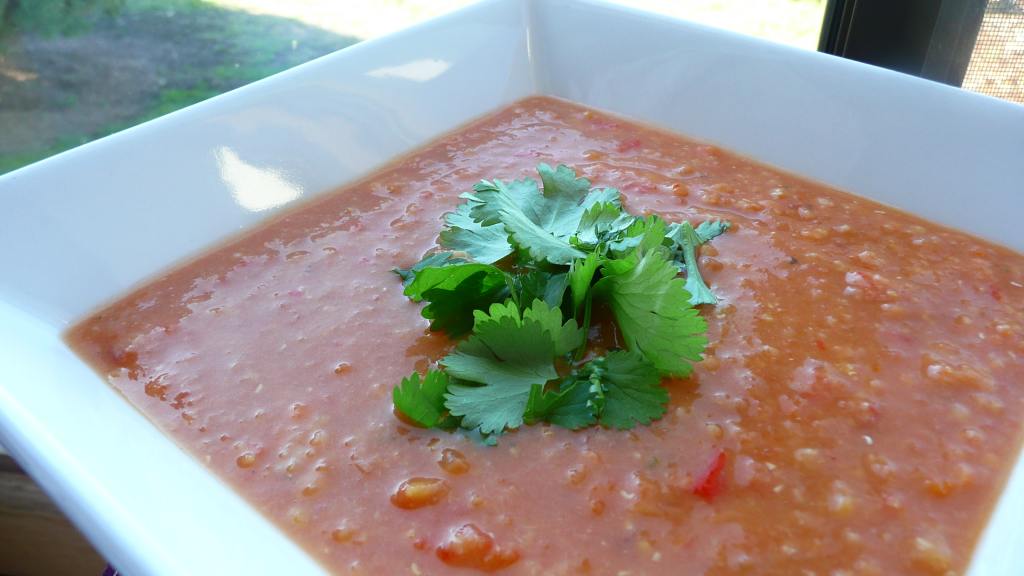 Ready In:

1hr 10mins

Ingredients:

19
ingredients
Soup ingredients

3

tablespoons olive oil

3

medium onions, chopped

3

sweet red peppers (can use yellow or orange peppers as well)

2

jalapeno peppers, chopped

6

carrots, peeled & chopped

3

garlic cloves, chopped

1

tablespoon minced fresh oregano or 1 teaspoon dried oregano

1

teaspoon cumin
1 1⁄2 teaspoons ground coriander (IMPORTANT FLAVOR)

4

cups red lentils, rinsed & picked over to remove any debris

12

cups homemade chicken stock (or 2 large cans, 2 pints 14 oz. each, chicken broth) or 12 cups homemade vegetable stock (or 2 large cans, 2 pints 14 oz. each, chicken broth)

1

(35 1/4 ounce) can plum tomatoes, chopped (very lightly cuisinarted)

2

cups water
1 1⁄4 teaspoons salt
cayenne pepper (I like it with a good kick)
3⁄4 cup coarsely chopped fresh parsley (or cilantro)

Zesty Lime Cream ingredients

1⁄3 cup sour cream

1

tablespoon fresh lime juice

1

teaspoon lime zest
directions
Warm oil in a very big pot over medium heat. Add onion & cook 3 minutes. Add sweet peppers, hot peppers, carrots, garlic, oregano, cumin & coriander, (which I cuisinart all together), and cook 10 minute or until veggies are soft, stirring often.
Add lentils, broth, tomatoes with their liquid and the water. Bring to a boil. Reduce heat and simmer 20 to 30 minutes, or until the lentils are tender, stirring occasionally. Stir in the salt and cayenne.
Remove about 1/2 of the soup and CAREFULLY puree in batches in a food processor or blender (blender works better) by pulsing off and on. (WATCH IT! VERY HOT!)
Stir puree back into soup in the pot. Taste and correct seasonings if necessary. Stir in the fresh parsley.
For the Zesty Lime Cream: Combine the sour cream, lime juice and zest in a small bowl. Stir well.
Serve soup with a dollop of the Zesty Lime Cream floating on top.
Join The Conversation
This is one of the best soups I've ever tasted. I made only a few small revisions. The first was accidental; I was on the phone while adding the ingredients and so added ginger instead of cumin, and when I realized my mistake I added the cumin as well. Then, rather than pureeing it all, I pureed half of it, especially to break up the large chunks, and re-integrated the soup. Also, I didn't have fresh limes and so used lime juice instead. Lastly, I added a bit more cayenne and some salt. This recipe is absolutely amazing, and now I've turned all the sour cream in my house into lime cream.

Wow! This soup is fantastic. I just bought a huge bag of red lentils at a farm in Eastern Washington and didn't know what to do with them. With the cold of winter coming on this will be a staple in my house. Both my husband and I are on Weight Watchers and this recipe is all "core" foods. Super use of veggies, lentils and a kick from the jalepenos!

This should really be called Healthy Healthy Soup, but it's so good, no one would believe it! The soup freezes extremely well and makes about 20 cups or so - enough, as the magazine said for "3 meals for a family of 4". NOT for our family - it's only enough for about 2 meals. We LOVE it! I found this in some now forgotten magazine long ago and have changed it (added carrots, omitted the green pepper, added different colored peppers, took out the cilantro, which I HATE, and substituted parsley) quite a bit. The original also called for half brown and half red lentils. All red makes a much better tasting soup and it's prettier, I think; no muddy color. If you use vegetable stock, it's vegetarian. Omit the Zesty Lime Cream dollop and it's vegan. Hope you all enjoy it too!!! P. S. - Cut your prep time by using a food processor to chop all the veggies. Add the herbs as well so they blend in.