Big Batch Buns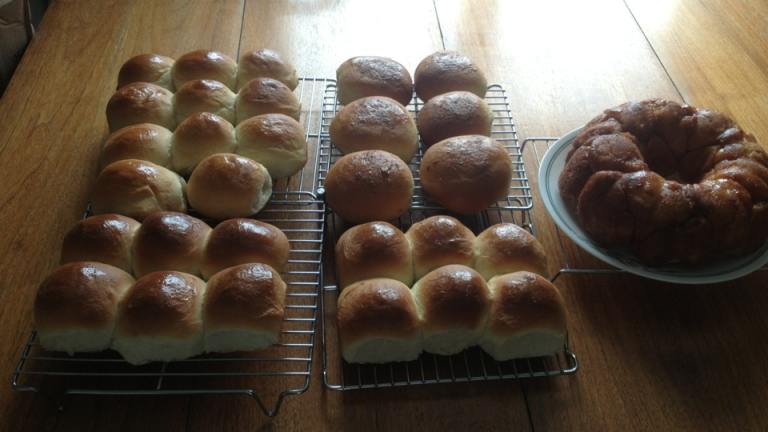 My mother and I used to whip this up and make all kinds of things: bread, cinnamon rolls, bread sticks, roll little balls of dough in cinnamon and sugar and fry them, roll little balls in melted butter then coat with cinnamon and sugar and put them in a bundt pan for coffee cake....anything we could think of. (and I mean we'd make all those things out of one recipe - that's why it's called Big Batch Buns!!) We'd get one thing baking in the oven and then ask, "what else should we make?" We'd spend all day baking. Ahhh, great memories. I honestly have to say; servings, prep and baking time are a total guess. It depends what you make and how many things you make. :-)
Ready In:

1hr 10mins

Serves:

Units:
directions
Mix the 1 3/4 cup water, sugar and yeast in a large container and let sit to raise.
Mix the 3/4 cup sugar, dry milk, salt, oil, flour and hot water.
Stir both mixtures together and add flour as needed to make dough that is not sticky. (This will be at least 8 cups, maybe more!).
Kneed for 15 minutes until dough is elastic (this is where the fun family time comes in - let each kid kneed for 5 minutes -- ) Place in a LARGE oiled bowl, cover and place in warm, draft free area to rise. (We always used the large - 32 cup - Tupperware bowl with the lid sealed on. When the lid pops off, it's ready to punch down.).
Punch down and separate, divide and create!
Basic baking instructions are to bake at 350 for 25-30 minutes.
Submit a Recipe Correction
RECIPE MADE WITH LOVE BY
"My mother and I used to whip this up and make all kinds of things: bread, cinnamon rolls, bread sticks, roll little balls of dough in cinnamon and sugar and fry them, roll little balls in melted butter then coat with cinnamon and sugar and put them in a bundt pan for coffee cake....anything we could think of. (and I mean we'd make all those things out of one recipe - that's why it's called Big Batch Buns!!) We'd get one thing baking in the oven and then ask, "what else should we make?" We'd spend all day baking. Ahhh, great memories. I honestly have to say; servings, prep and baking time are a total guess. It depends what you make and how many things you make. :-)"
My mother and I used to whip this up and make all kinds of things: bread, cinnamon rolls, bread sticks, roll little balls of dough in cinnamon and sugar and fry them, roll little balls in melted butter then coat with cinnamon and sugar and put them in a bundt pan for coffee cake....anything we could think of. (and I mean we'd make all those things out of one recipe - that's why it's called Big Batch Buns!!) We'd get one thing baking in the oven and then ask, "what else should we make?" We'd spend all day baking. Ahhh, great memories. I honestly have to say; servings, prep and baking time are a total guess. It depends what you make and how many things you make. :-)