Bette Hagman's Four Flour Pastry (Gluten Free Pie Crust)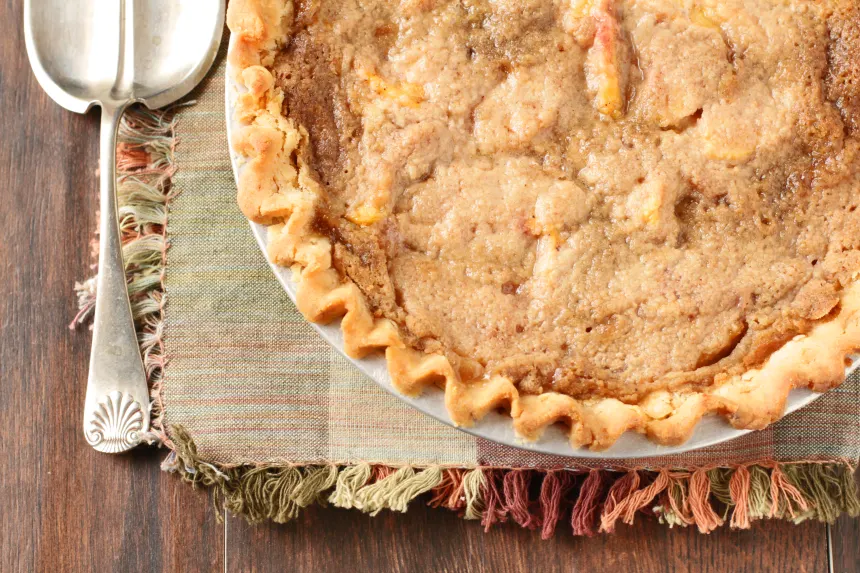 photo by DeliciousAsItLooks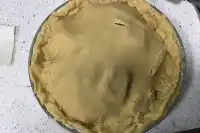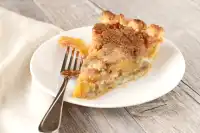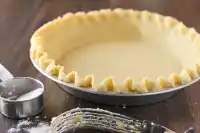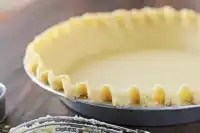 Ready In:

27mins

Ingredients:

16

Serves:

16
ingredients
Pie Crust

2

cups flour (use Four Flour Bean Mix below)
1⁄4

cup sweet rice flour

1

teaspoon xanthan gum

1

teaspoon baking powder
1⁄2 teaspoon salt

2

teaspoons sugar
1⁄3

cup Butter Flavor Crisco

3

tablespoons liquid egg substitute or 1 small egg

1

tablespoon vinegar

6 -8

tablespoons ice water (divided)

sweet rice flour, for rolling

Four flour Bean Mix (make this up and keep on hand in the pantry)

2

cups garfava bean flour

1

cup sorghum flour

3

cups cornstarch

3

cups tapioca flour
directions
In a medium bowl whisk together the flours, xanthan gum, baking powder, salt and sugar. Cut in the margarine and Crisco with a pastry cutter or two knives in small pieces until you have shortening the size of lima beans (not cornmeal).
In a separate bowl, beat together the egg, vinegar and 3 tablespoons of the ice water with a fork. Pour egg mixture into the dry ingredients and stir with your fork (about 20-30 seconds). Add 3 more tablespoons of ice water and stir for another 20-30 seconds. Continue to add water, 1 tbsp at a time, and stir until there are no crumbs left at the bottom of the bowl (I usually add 2 more tablespoons of the ice water).
Generously sprinkle your pastry cloth with sweet rice flour and rub around so it coats the area you will be working on. Roll your rolling pin through the flour on the cloth so it is fully coated as well.
Divide dough into two halves and roll the first half out so it is about ¼ of an inch thick. Put the pin at one edge of the dough, lift up your pastry cloth and roll it over the rolling pin so the dough rolls up on top of the rolling pin. Lay the pastry cloth back on the counter and continue to roll the rolling pin so the dough is wrapped around it partially (enough so that when you let go, the dough stays on top of the pin). Move your pie plate next to the rolling pin. Lift up the rolling pin, gently holding the dough on top so it does not slide off, and drag the dangling edge so that it is laying about an inch over the edge of the pie plate. Carefully unroll the crust the rest of the way into the pan.
Trim the edges of your crust so it hangs 1 inch over the edge of the pie plate. Lift the over hanging crust and fold under about 1 1/2 inch of the crust so you can see the rim of your pie plate all the way around.
Add the pie filling and roll out the second half of the dough. Either place the second crust over the filling or into another pie plate. Pinch the edges using your thumb and pointer finger on both hands to make a decorative sealed edging.
Bake as directed for the filling used. Put strips of tin foil over the edges of the crust until the last 15 minutes of baking to prevent the crust from browning too much.
For a baked pie shell, prick the pastry with a fork on the sides and bottom. Bake in a preheated 425 degree oven for about 12-14 minutes. Cool before filling. Makes one 2-crust pie or 2 pie shells.
Reviews
My mom has had Celiac disease for almost 20 years and she taught me to bake but this is one of the best gluten free pie crusts I have every made! Instead of the four bean flour blend I used Bob's Red Mill biscuit and baking flour (which has baking powder so I did not add that either) and used Bob's Red Mill rice flour blend in place of the sweet rice flour. I also did not roll it out but instead patted it down directly into the pan. Otherwise I followed every other instruction exactly. I used over half the crust mix to make a thick crust and used it for a cold berry cream pie I made for my mom. Delicious!

 

This crust turned out very well. I'm not very good at making pies, so I find it even more difficult to make gluten-free pies, but this one wasn't too bad. I used my own gluten-free flour blend and guar gum (since I am sensitive to xanthan). I don't have pastry cloth, so I just used parchment paper to roll it out on and turn into the pie plate. It worked pretty well, although I did have to do a little patchwork. I made a peach struesel pie and nobody could tell that it was gluten-free. A lovely pie crust!

 
RECIPE SUBMITTED BY
Growing up, my mom didn't keep any junk food in the house so if I wanted something sweet I had to find a way to make it (or go to a friend's house)! I loved looking through my mom's recipe books and trying to find recipes that I could make. I baked a lot of home made bread from Betty Crocker's Big Red Book, and every holiday, my mom and I would make pies together from scratch. I didn't actually get interested in cooking main courses until I got married and realized that I had to actually put dinner on the table every night. Just as I was starting to get the hang of it, I was diagnosed with Celiac Disease in May of 2007. This meant that I had to learn a whole new way of cooking - gluten free. I have accepted this as a new challenge and have fallen even more in love with cooking and baking. There is nothing like the feeling I get when I have success with creating a new recipe! My inspiration usually comes from a craving for something that I can't have because it is not gluten free. I immediately go back to my kitchen and learn how to make it myself! I also focus on creating recipes with all natural ingredients and avoiding artificial or added sugars.
View Full Profile