Best Ever BBQ Chicken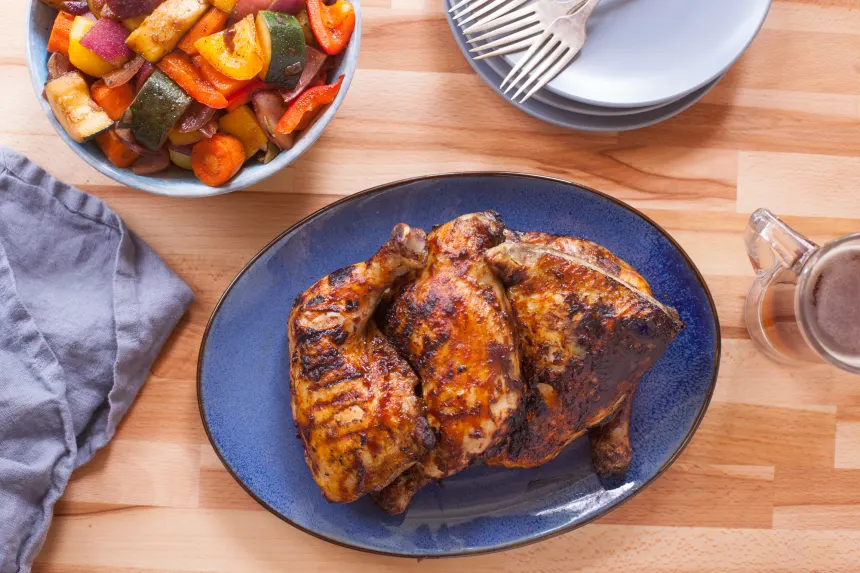 photo by DianaEatingRichly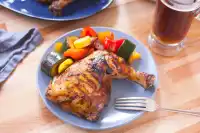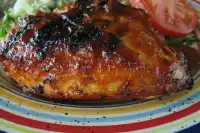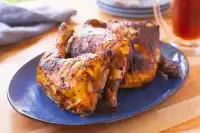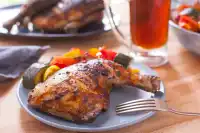 Ready In:

1hr

Ingredients:

11
directions
In a saucepan, saute the garlic in butter until tender.
Add the next 8 ingredients.
Bring to a boil, stirring constantly.
Remove from the heat and set aside.
Grill the chicken, covered over medium heat for 30 minutes, turning occasionally.
Baste with sauce.
Grill 15 minutes longer or until juices run clear.
Continue basting and turning during the last 15 minutes of cooking.
Serve with any extra sauce you set aside for dipping.
(The sauce is just that delicious!).
Questions & Replies

With this recipe, you specifically say you prefer Heinz Ketchup and Heinz chili sauce. But on prepared mustard you did not specify what brand you used. Mustards come in all different kinds and brands. If this is truly to be the BEST EVER and everyone loves it so much- then I want to make it just like you did to get an idea if my family will also love it. Did you use that bright yellow mustard, Gulden's Spicy Brown, coarse ground honey mustard...what? Please help! Thank you.

 
Reviews
We thought this sauce was indeed great. I couldn't grill the chicken so I pour the sauce over and baked slowly at 300 degrees for about 1.5 hours. The sauce is nice because it's actually thick enough to stick to the chicken. I added the full amount of celery seed but I would reduce that because it was a little stronger flavor than we wanted. Overall, a fantastic chicken recipe and once we'll make again for sure.

 

The name says it all. I made this over Memorial day weekend; it really IS that good... the sauce is super simple, but don't let that fool you, it's got PLENTY to make your taste buds dance. I did brine the chicken first (soaked in salt water for 30-45 minutes; IMO this helps keep the chicken juicy during the long grilling process). This recipe just went into the secret "things to impress my friends" with notebook. I'll be making this one again; really soon.

 

I don't recall chicken breasts looking like legs. I once carved breasts to look like lizards for a very interesting result when served on a stick. (: The sauce is here is good but certainly doesn't live up to"Best Ever" I usually bypass recipes (as well as internet videos) when titled with oversell such as Unbelievable, Incredible, You MUST try this, and the like. They never live up to the hype.

 
Tweaks
I thought it was pretty good. I think I will follow one of the reviewers and use celery salt instead of seeds. I didn't like encountering one when eating. Too strong I thought. I added some finely diced onion, only because I had some left from another recipe I was making at the same time. Turned out nice. I may try this sauce on some ribs.

 

This is an excellent recipe for bbq sauce! I had a total of 25 people from 5 different countries, and they all loved it. I made a few changes though. First, I substituted red palm sugar for the brown sugar. Second, I didn't have any hot pepper sauce like Tabasco, but since Tabasco has a lot of vinegar in it I added a few drops of 25% acetic acid vinegar to add a little tangy-ness to the flavor. Finally, after tasting the finished product it tasted a little too much like catchup and not spicy enough, so I ground up 8-10 red birds-eye chilies to a fine paste and added it into the sauce.

 
RECIPE SUBMITTED BY
<p>Hello! <br /> <br />I'm a Montana native that has made my way back after a few moves. I've been married to my high school sweetheart for 24 years and we have twin boys who are 18 years old and Freshman in College.&nbsp;&nbsp; I wasn't ready for this empty nest stuff and just want my boys back home!&nbsp; I'm doing my best to adjust.&nbsp; I have continued cooking and am learning how to scale recipes back for just the 2 of us. My husband and I are partners in our own company and own 13 Subway sandwich shops. I work from our home handling all the financial and clerical duties of the business. <br /> <br />Over the years and especially since finding Zaar, cooking has become my passion. My grandmothers were very good cooks and I have fond memories of the meals they prepared. We love entertaining and nothing pleases me more than having my family and others enjoy the food I make. I love it when the house smells good with dinner or whatever is baking. I came upon recipezaar searching for a rhubarb cake recipe one day. The recipe I chose was a 5 star and my addiction began. It took a few months before I started really utilizing the site but once I did my cooking has never been the same. My family now knows all about having to rate recipes, picking their favorite chefs, etc. It's become a family thing and they have told me that I may never let my membership to Recipezaar ever end. <br /> <br />We love to travel and try to go whenever we can. Owning our own business has helped free up time where we can travel more. We've done some Europe, Canada, and much of the U.S. In the coming years I hope to do a lot more. Eating out when we are traveling is the best. I'm trying to learn more about the restaurants and chefs in places we are visiting so we can try and visit those restaurants and enjoy some of the great places our town just doesn't have. <br /> <br />The whole family loves to ski and we look forward to the season every year - it makes winter tolerable. Renting movies or just hanging out with friends is the making of a relaxing weekend for us.</p>
View Full Profile