Best Baby Back Ribs in Town
photo by Food.com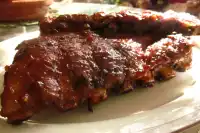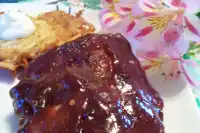 Ready In:

2hrs 30mins

Ingredients:

12

Yields:

2

9x13 casserole full of ribs

Serves:

6-8
directions
Make one recipe of Rib Sauce (above) and set aside.
Pre-cook ribs by EITHER Baking (preferred method) OR Parboiling.
MAKE-AHEAD TIP: After pre-cooking (baking or parboiling) ribs, they may be vacuum sealed and frozen for up to 3 months OR glazed with Rib Sauce and refrigerated or given their final baking immediately.
** BAKING RIBS (preferred method): Cut rack of ribs in half. Place 1 1/2 pounds ribs in each of two 9x13-inch casserole dishes.
Add 1/4 cup vinegar to each casserole. Cover with foil and bake at 350 degrees for 50 minutes. Drain all liquid.
** PAR-BOILING RIBS: Cut rack of ribs in half. Fill large pot with water; heat to boiling. Add all ribs to boiling water (should be enough to just cover top of ribs).
Simmer ribs about 45 minutes until just tender but meat is not falling off the bones. Remove ribs from boiling water. Rinse and drain.
**** RIBS (Final Baking): Cut ribs in sections. In two 9x13-inch glass casserole, place ribs in SINGLE layer in casserole.
Pour about 1/3 of Rib Sauce over one dish of ribs to glaze them.
Repeat with second half of ribs, using another 1/3 of sauce or enough of the remaining sauce to glaze all the ribs.
MAKE-AHEAD TIP: At this point you can cover them with plastic wrap and refrigerate for up to 48 hours.
If frozen, thaw before baking.
Place UNCOVERED ribs in preheated 350 degree oven.
Bake for 45-60 minutes until most of sauce has been absorbed by the ribs and meat is "melt-in-your-mouth" tender.
If you have any remaining sauce, serve it with the ribs, along with plenty of napkins.
These are finger-licking good and messy to eat-- but is there any other way to eat ribs?.
*** RIB SAUCE: Mix cornstarch and water together to make a slurry Set aside.
Mix remaining dry ingredients together.
Place in saucepan.
Mix remaining wet ingredients together.
Pour half of wet ingredients into dry ingredients, stirring to mix well.
Add remaining half of wet ingredients, stir to mix well, and simmer mixture, uncovered, for about 10-20 minutes to thicken sauce a bit.
While mixture is gently boiling, pour in slurry while stirring.
Return mixture to a slow boil and cook until sauce thickens a little.
Sauce should be thick enough to cling to ribs, yet pourable.
Cool sauce and store in air-tight glass or plastic container.
Refrigerated it keeps indefinitely.
Questions & Replies

Tweaks
Have made these 3 times, and we absolutely love them!! The sauce tastes every bit as good as the wonderful aroma that wafts from the kitchen while the ribs are baking! My only substitution is 1 Tablespoon of Bourbon in place of the liquid smoke, and we use the baking pre-cook method.By far the best ribs we've ever had! The

 
RECIPE SUBMITTED BY
I am a retired computer programmer, teacher, and cookbook author. Hubby and I have a grown daughter & SIL, son & DIL and 2 grandgirls. My favorite hobbies: cooking, Silhouette crafting, sewing, embroidery and wearable art, quilting, genealogy research, reading,
View Full Profile