Benihana Japanese Onion Soup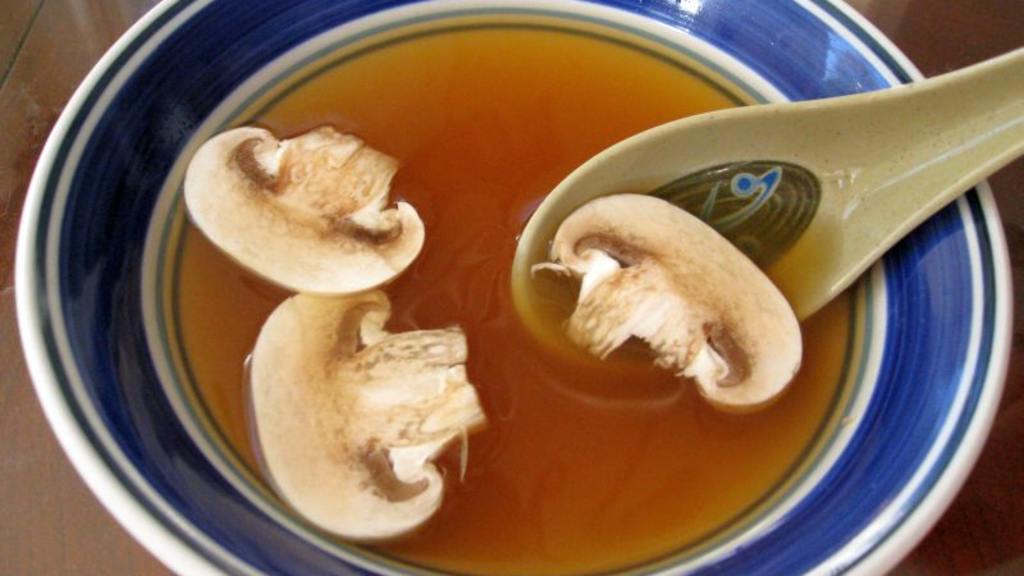 Ready In:

40mins

Ingredients:

11
directions
Combine chicken broth and water in a large saucepan over high heat.
Slice the white onion in half, then coarsely chop one half (save the other half for later).
Add coarsely chopped onion, carrot, celery and salt to the saucepan and bring to a boil. Reduce heat and simmer for 10 minutes, or until the onions start to become translucent. As the broth simmers, heat up 1 cup of vegetable oil in a small saucepan over medium heat.
Slice the remaining white onion into very thin slices. Separate the slices, dip the slices into the milk, then into the flour. Fry the breaded onions, a handful at a time in the oil until golden brown. Drain on a paper towel.
When the soup has simmered for 10 minutes, strain the vegetables out of the broth and toss them out. Pour the broth back into the pan and keep it hot over low heat.
To serve soup, ladle about 1 cup of broth into a bowl.
Drop a few pieces of fried onion into the soup, followed by 6 to 8 mushroom slices (about 1 mushroom each) and a couple pinches of diced green onion. When the fried onions sink to the bottom of the bowl (a couple of minutes), serve the soup.
Join The Conversation
This is delicious! I did tweak the recipe though. I followed the suggestions and added beef bouillon and ginger. I eyeballed it but I will add a little more next time as I do think they pulled the recipe together. I used fresh grated ginger - I noticed other users weren't specific on that. I also decided I liked the vegetables in the soup and opted not to take them out - you don't have to do this that's just what I did. I also did not have mushrooms on hand so unfortunately I had to leave that out. I'll def make sure I have it next time. I also added salt and pepper to taste and I didn't want fried onions so I left that out too. Other than that, I followed the directions but like the other user I wanted to make sure the flavors all incorporated with each other so I let it simmer for at least 30 minutes. Will make again!

Definitely add the beef bullion cube and ginger! I've made this the last 3 nights straight in the crock pot. Let it all cook on high for 4-5 hours and it's perfect. Tastes great with store bought fried onions if you don't want to fry your own or some ramen noodles if you want something more filling!

I don't know what I did wrong, but somehow my soup looks and taste a bit oily despite me not using any oil. I followed the suggestions by other reviews and I did my own little fix (adding a bit more water to try to counteract the oily appearance it was taking on) and still didn't work. Tastes good, so that's something. Any suggestions?