Belizean Style Habanero Sauce - Hot Sauce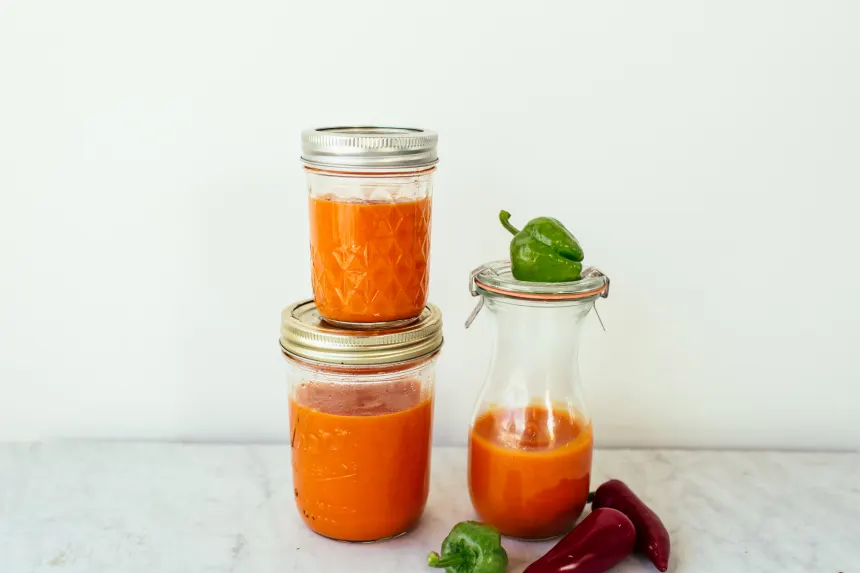 photo by Izy Hossack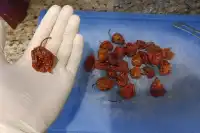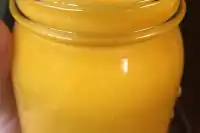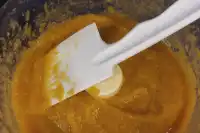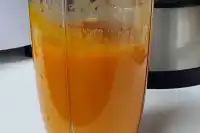 Ready In:

25mins

Ingredients:

9
directions
Sauté garlic in coated sauce pan.
Once the garlic starts to give off it's aroma, add the onion, carrots, and water. Bring to boil, reduce heat and simmer until the carrots are soft.
Remove from heat .
Add habaneros, optional fruits, lime juice and salt to the carrot mixture.
Place in a blender and puree until it reaches a smooth consistency.
Pour into sterilized bottles or jars and seal. Keep refrigerated.
Questions & Replies

Reviews
This sauce is a marvel ! Hot, not overly hot and extremely tasty. I do not agree with some people here when they say the sauce is too watery. Let your carrot-garlic-onion mixture simmer until it boils down to a liquid sirup. On low heat this takes between 15 to 30 minutes. (Note : I used two medium sized onions instead of one, and 3 large crushed garlic cloves.) In my humble opinion, the fruit is not optional, it is essential to this recipe (I used an entire fresh and ripe mango). It balances the taste. Thank you so much for this recipe! You made my culinary day!

 

Great recipe! Like others, I made modifications. I took what I had in my garden - 5 habaneros, 3 seranos, 2 pasillas, one half pumpkin, one tomato, 1 plum, 1 tablespoon of maple syrup, and the rest of the ingredients in the recipe. Fantastic! And it does remind me of Marie Sharps! I think maybe she uses pumpkin!

 

This sauce is so awesome... I am eating it by the spoonful like it's soup! I used a fresh ripe white peach instead of mango. I also did not seed the habeneros peppers -- just put them all in the mini processor. The flavor is incredible and highly addictive. It's the perfect combo of hot and sweet and the lime, carrot, onion and garlic play nicely off each other as well as with the unique taste and heat of the peppers. I plan to make it next time with a few more peppers (I love very hot), although as is, the recipe is perfect! Thanks so much for sharing this one - much appreciated!!!

 
Tweaks
I wanted a much hotter version. Instead of 12 habaneros, I used 24 Carolina Reapers (if you choose to use this tweak, I highly recommend using gloves). I also used the mango juice -I got around 1/4 cup- in place of 1/4 cup of the water. I added the mango pulp in with the peppers and carrot mixture. The result was a very sweet "Mango Reaper" sauce, it is delicious. P.s. If you haven't had Carolina reapers before, you should definitely use either 1/4-1/2 the peppers that I did. This is not my first time making a Carolina reaper sauce, but this is by far the hottest hot sauce I have ever made. (For those that are curious, this filled three 5 ounce bottles)

 

I used a peeled lime and only 1/8 cup of water. The peppers came from the garden this morning. they were really juicy. it came out a little thicker than the store bought stuff. I might go with half a lime next batch. and I dont think the mango was not as ripe as it could have been like the ones I used to buy from the vendors in the Philippine Islands. They were really sweet. If I cant find a really ripe one next time Ill add a table spoon of sugar. The lime punch is really good.

 

Great recipe. I did 1/2 the standard ingredients (wasn't sure how much it would make) and I am disappointed I didn't do the full batch. It tasted great, though I added some espresso balsamic vinegar, ground pepper and instead of mango I used pineapple and some of its juice. Blended with an immersion blender and put in an old whiskey container. Perfect. Next time I will try adding some bourbon to it and see how that is.