Beer-Braised Rabbit (Or Chicken) for the Crock Pot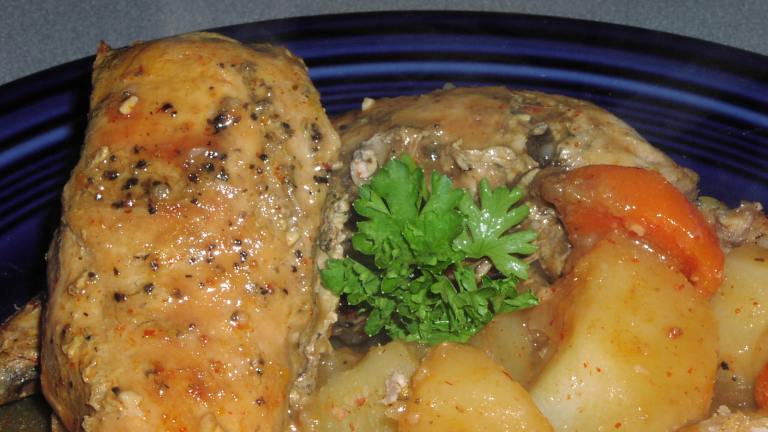 Tasty, tangy recipe for rabbit or chicken. Hey, it all tastes like chicken, right?
Ready In:

4hrs 15mins

Serves:

Units:
directions
In a crock-pot, place potatoes, carrots and onion.
Season meat with salt and pepper; brown in oil on all sides and place in crock pot on top of vegetables.
Combine beer, chili sauce,, brown sugar, and garlic; pour over meat.
Cover and cook on high heat setting for 3 1/2- 4 hours.
Remove meat and drain vegetables.
Measure cooking liquid and add beer, water, or broth to make 1 1/2 cups.
Put reserved cooking liquid in a saucepan, and return meat and vegetables to the crock pot.
Mix 1/3 cup water with 3 tbs flour in a gravy shaker or jar and shake until smooth.
Stir into reserved liquid; cook, stirring constantly until thickened.
Serve sauce over meat and vegetables, sprinkle with paprika and garnish with parsley if desired.
Note: This can be baked in an oven-proof casserole rather than a crock-pot.
Bake at 350°F for approx 1 1/2 hours, or until meat and vegetables are tender.
Submit a Recipe Correction
RECIPE MADE WITH LOVE BY
"Tasty, tangy recipe for rabbit or chicken. Hey, it all tastes like chicken, right?"
I made this today and I never had rabbit before. Lemme tell you, it was good. I've been wanting to try rabbit for a long time but the closest Asian market near me was always sold out. Two weeks ago, I'm back again at the market pushing my cart along with my goodies when In my idle curiosity looked to see if the frozen section of rabbit was empty once more. But lo and behold! There were frozen rabbits available. In my glee I yoinked one so fast and fleed like a bandit to the checkout. (Not without cringing at the price omg it was expensive!) When I arrived home, I hid it away in the back of the freezer from my family's eyes as a surprise. I chose early in the week to defrost my prize to create a palatable dish for my hungry family and to appease my curiosity of the taste of rabbit. I chose this recipe since I had most of the ingredients. The only I had to do was to "dress" the rabbit or have it cut up. I did find a video on how to cut it up right. Otherwise I would have messed it up big time or put a whole browned corpse into the pot. I did a double portion of the sauce for braising in the slow cooker cuz o couldn't see the liquid at all. But anyway the results were actually really great. The only thing I didn't like was how spicy it was. For me it was very spicy. It made me wished I cooked some rice to curb the spice. (The potatoes did nothing) The meat was good though a little dry but I was expecting that. The flavor was still heckin tasty. Would I eat rabbit again? Yes. Would I use this recipe again? Probably not without rice. Good job ppl's.

I have made this multiple times using rabbit and chicken and we find it delightful. I did not have regular chili sauce on hand the first time I made it but had Thai chili sauce and it gave it a little zip that was a nice change of pace so I have continued to use the Thai chili sauce everytime. I would highly recommend this recipe. It always comes out delicious and tender and is a great one pot meal.