Beer, Bacon (!) Potato Soup- Aka 'Man Soup'
photo by Marysdottir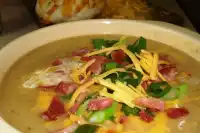 Ready In:

2hrs

Ingredients:

14
directions
Bake the 4 potatoes. To do this, scrub clean, coat lightly with oil and salt them (Kosher salt strongly preferred) (nay a requirement!). Preheat oven to 400 and bake for 45 minutes. Adjust cooking time to make sure they pierce easily with a fork.
As the potatoes cook, chop onion and celery and start the bacon.
Bacon needs to be cut into 1" pieces and cook in a heavy bottom soup pot. Cook on medium heat and take it out when done (I like it crispy).
Once bacon is done, take out with slotted spoon and set on a plate with paper towel underneath and on top to absorb grease. I must note this is not for health, but for flavor and texture!
In the grease of the bacon, put in the chopped onion and celery.
Sautee until translucent, about 5 minutes.
Add the 4 T butter and stir until it melts. Yes, at first this seems like a lot of grease!
Sprinkle the flour (sifted if possible) onto the onion/celery mix. Add at least 1/2 cup, up to one full cup. Stirring continuously, this makes a paste.
You are now basically making a roux with the vegetables- called singering if you want to throw french cuisine words around!
Stir this until all of the flour and fats are combined smoothly. Keep stirring it another 5 minutes until it becomes a 'blonde' roux (a light tan color).
Slowly at first (about 1/4 cup at a time) add the chicken broth. Continue to add broth to keep the now paste-like roux softened. Add more and more at a time to get the roux into a creamy texture. It should continue to accept more liquid.
After about half the broth has been added you can just dump in the rest. However use common sense here. Keep stirring. You never want to let it get too watery.
Once all the broth has been added, bring in the two 12 oz bottles of beer. Please use a local microbrwery. I use 'winter ale'. Add this a little at a time and continue to stir. Your loving stirring is what is going to make this an awesome soup. I think I already said this, but this soup is to be used for good only. If you are planning on a nefarious use of the soup then go ahead and throw all of the ingredients in at once.
You (if you are good) will now have a thickly flowing base.
Cut the baked potatoes into 1" chunks, skins and all.
Add these to the pot and stir in to incorporate.
Using an immersion blender (or put batches into a stand up blender), mix the entire mixture into a thick stew. Add water to thin if necessaary. Don't add too much liquid until the blending is done.
Add 1 Cup sour cream to the soup.
Add 1 bag of shredded sharp cheese to the soup.
Let soup cook 10-20 minutes on memdium-low to blend.
Serve with bacon crumbled on top, some shredded cheese, sour cream and the chopped green onions.(and the pun was soouper bowl in case you did not get it!).
Reviews
Wow, this really is something pretty special!!!! Although I made it just for DH and I (and so he gets to enjoy it for a day or two :) and we are having wonderful rainy weather, perfect soup weather :) ), it was so worth the effort --- I made this on a wet Saturday afternoon, took my time and stirred diligently, I felt very at ease with myself and the world and could hardly believe it when I realised that I was ready to serve, the time had just flown by but so peacefully. I'm generally not a fan of soup but this hardly qualifies as soup, liquid decadence, and VERY filling, dont expect to go back for more!!! Dantana, a winner, I'm very glad I tried it, thank you for sharing!!! Made and enjoyed for PRMR tag game

 

Great soup. I was scared after I poured the beer into the chicken stock- roux it was too bitter but the potatoes salt and cheese balanced it out..I used a lager beer...put cubed (uncooked/peeled) russet potatoes in and let them cook in the liquid and it was fine no need for pre-baking...then come to find out.. I didn't have sour cream so I just added some whipped cream cheese...my husband devoured it...really really good soup!!!

 

Really wonderful soup. This might be the thickest soup I've ever made - add another potato or two and you would have some amazing mashed potatoes. I used Granville Island Lion's Gate Winter Ale and it leaves a nice taste of ale at the back of the mouth. I think it's important to make sure you like the beer you use because the soup does retain the beer flavour. Before I added the sour cream and cheese, I thought the taste of the ale might have been too much but I was wrong. It is beautifully balanced. I agree with Karen Elizabeth's review - "this hardly qualifies as soup, liquid decadence". <br/><br/>Thanks for posting this one. It is a definite keeper.

 
RECIPE SUBMITTED BY
<p>I love to cook!&nbsp; But I don't do the weekday cooking, that is done by my awesome wife.&nbsp; I cook on the weekends and especially on our 'cheat day'- meaning every Sunday as we adapt to this low carb life.&nbsp; We have been doing this for a while and we really love to get those heart-stopping, brain-freezing receipes that low carbers crave throught the week.&nbsp;</p> <p>Since the start of the year, I've lost 25 pounds and I'm hoping to lose more, but along the way I want to learn how to cheat really, REALLY good.&nbsp; Most of my cheat receipies come from here!</p>
View Full Profile