Beef Taquitos (Oamc)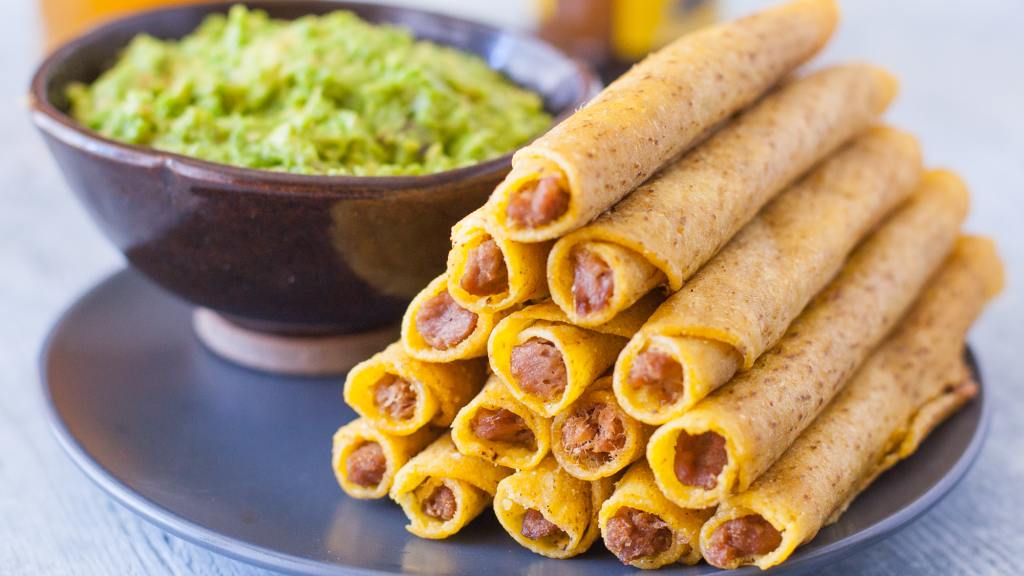 Ready In:

3hrs 30mins

Ingredients:

12
directions
Cook roast in roasting pan (or slow cooker), pouring onion soup mix, dissolved in 1 cup water, over it.
Cook at 325F for 34-38 minutes per pound.
Let cool thoroughly overnight in fridge.
Finely chop (or shred) roast beef and mix with cheddar cheese, garlic and onion powder, salt and pepper, picante sauce and onion in a large bowl.
Portion 1/4 cup mixture onto each corn tortilla in the lower 1/3 of the tortilla.
Roll up tortilla.
To soften tortillas, microwave between two damp paper towels for a few seconds.
To freeze for later, simply put seam side down on cookie sheets and freeze.
Flash freeze on wax papered covered cookie sheets.
When firm, transfer to ziplock freezer bags.
To Re-heat: Thaw, then lightly fry in hot oil until brown and crispy.
To eat them now, continue with directions for frying below.
Heat electric skillet to 300°F covering bottom with oil.
Fry taquitos with open edge down to seal.
Turn over fry other side.
Serve hot with condiments.
RECIPE SUBMITTED BY
I live in Las Vegas. I was lucky enough to run into Recipezaar around Nov. 2000 and got hooked quickly. I am a cookbook collector and have been collecting recipes for as long as I can remember. My DH had to build in shelves for all my cookbooks! I like to dabble with OAMC and for a few years hosted the Budget/OAMC forum with some great people over there. Even though I don't work in the forum any longer I've set up a lot of cookbooks for the purpose of OAMC and stretching food that might be helpful. Please feel free to check them out! I go on food jags and cooking jags! Please come say hi to me and chat on facebook. I currently host a blog for saving money through finding deals and coupons if you are interested. Most of the time I try to cook and have a good dinner on the table but I'll be honest enough to say there is still fast food occasionally in the budget! I have had such wonderful support here whenever I need it. Thank you all for being here! Just a quick note on how I rate recipes: ? 5 stars - This recipe is perfect. (My DH is truly a critic and doesn't give 5's unless it's amazing) I would recommend it to others and would definitely make again. ? 4 stars - This recipe was good but I would change something in it next time. ? 3 stars - This is a recipe I would not make again but it was OK ? 2 stars - This recipe I would not make again and we didn't like it at all ? 1 star - This recipes did not work out/taste was unappealing and wouldn't make again
View Full Profile