Beef Stew in Berbere Sauce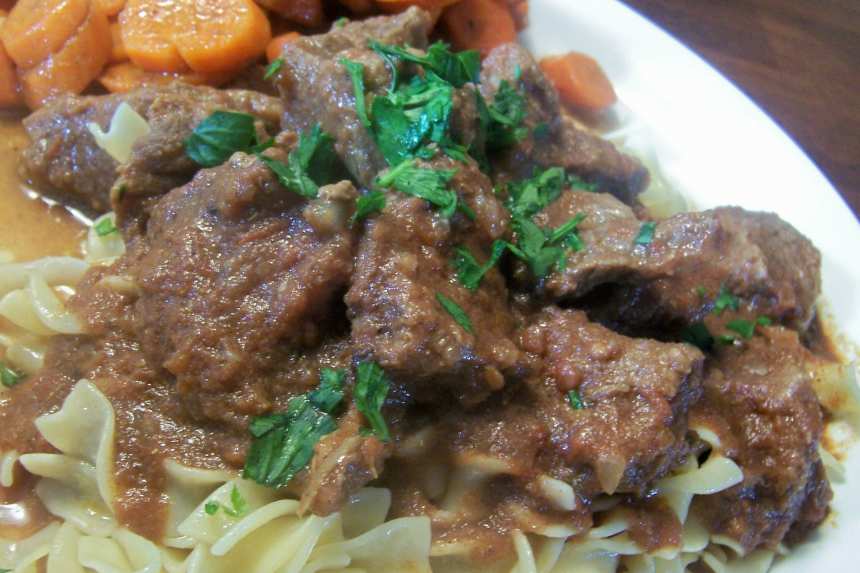 photo by *Parsley*

Ready In:

2hrs 20mins

Ingredients:

16
directions
Preheat oven to 325 degrees.
Pulse the onion in a mini-chopper or blender until almost pureed.
Melt butter in a heat proof Dutch oven and brown the stew meat, for about 10 minutes. Add the onion the last few minutes.
Add the fresh ginger, paprika, cayenne, cumin, fenugreek, turmeric, cinnamon, cardamom, cloves, and allspice. Stir mixture until fragrant, approximately 1 more minute.
Add the tomatoes and wine. Cover, bring to a "medium" simmer and place in oven for approximately 2 hours. If stew looks like it may be drying out, add a little bit of water or broth, about 1/2 cup at a time. Stew is done when meat can be easily pierced with a fork.
Just before serving, season with salt and pepper.
Questions & Replies

Got a question?
Share it with the community!
Reviews
Yes, my house DOES smell heavenly! I made this in the crockpot and it turned out wonderfully. I only used 2 tsp cayenne because that's all I had left. For those that shy away from recipes with a long list of "odd spices", you need to try this! The spices just marry perfectly and make this sauce so flavorful. It was not too spicy for my kids. The beef was super tender, too. Thanx for posting this. I'm making this one again and again!

 

Don't let the ingredient list stop you from trying this marvelous stew because it's very simple to make. Just have the spices all on the counter so your not trotting back and forth and it goes quickly. I didn't use any cayenne but added some to my serving. The cooking aroma is outstanding and mouthwatering. For the meat I cut a small sirloin tip roast into stew pieces. A very enjoyable meal served with: http://www.justapinch.com/recipes/bread/bread-flatbread/marrakech-tagine-bread.html.

 

As my dinner guests entered my home, the unanimous reaction was "Oooh - that smells delicious!" And it tasted just as good as it smelled, those warm, earthy spices giving an aromatic glow in the mouth. One of my guests can't stand too much chilli (cayenne pepper) - as we discovered when I made "Fire and Ice" soup a few years ago - so I used only 1 teaspoon. Another slight variation: I used several brown cardamom pods, broken slightly open instead of ground cardamom as they are more easily obtainable in multicultural Birmingham UK. Otherwise, I stuck to the recipe which was delightfully simple to cook despite the daunting list of spices. It was enjoyed by all 4 of us, great recipe Cookgirl!<br/><br/>I have a portion left in the pot and intend to experiment by reheating it slowly with some Tamarind extract, to see how a bit of sour fruitiness affects the taste.

 

Yum!! This is good spicing with a drastic reduction of the cayenne pepper to taste, for us. The beef was tender and flavourful. I used sweet (unsalted) butter, sweet paprika, it was my first time using fenugreek seeds, I didn't like the bitter flavour, was I supposed to grind them?, freshly ground cardamom, extra canned crushed tomatoes, no wine for religious reasons, sea salt, plus the rest of the ingredients. I may make this again without fenugreek seeds & wine.