Beef Enchilada Soup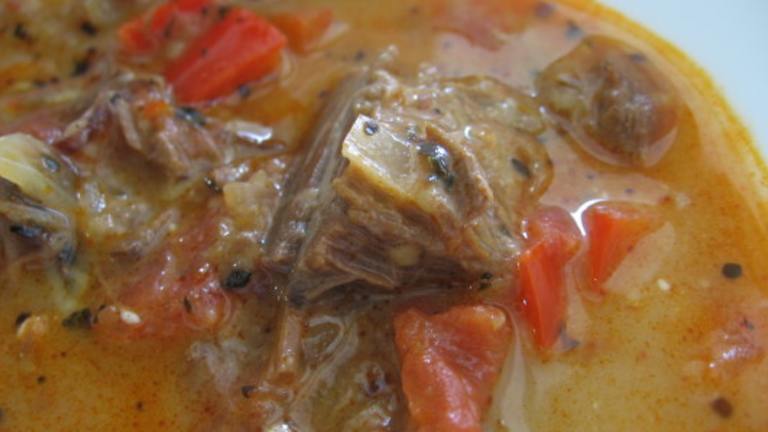 I wanted to put together a soup for a small group of people and this just kind of came together.
Ready In:

5hrs 30mins

Serves:

Units:
Nutrition Information
directions
Heat olive oil and add garlic, onion, bell peppers, and jalapeno.
Saute until onions are clear.
Place beef in crock pot with enchilada sauce and beef broth. Add sauteed vegetables.
Cook on low for 4-5 hours (on high if steak is frozen). Add herbs, pepper, and tomatoes. Add cream cheese and pepper jack cheese. Cook on low for one hour.
Serve with shredded cheese and sour cream.
Submit a Recipe Correction
RECIPE MADE WITH LOVE BY
"I wanted to put together a soup for a small group of people and this just kind of came together."
Join The Conversation
If you want traditional Mexican enchilada sauce such as that served in many Mexican restaurants leave out the tomato products completely. We live in Texas but for our Mexican family to have authentic traditional Mexican food, I have to make it at home or end up with Tex-Mex food in our small town. When we go to the larger cities we can more easily find traditional Mexican food. Texas is an anomaly because Tex-Mex food was created for the Texas palate. Large corporations started canning their version of enchilada sauce and added tomatoes primarily for bulk. There is not a single brand of canned enchilada sauce that is traditional style. Once you make your own at home you will never go back to canned. It is so easy.<br/>New Mexico has a completely different style of "Mexican" food as well. Personally, I love it too.<br/><br/>Traditional Mexican Enchilada Sauce<br/><br/>Start with 1/2 large onion chopped and cooked until transparent in 4 Tbs coconut oil (or oil of choice)<br/>While the onion is cooking assemble your spices in a small bowl:<br/>1/8 tsp oregano (Greek or Mexican) Mexican is very strong<br/>1/8 to 1/4 tsp cumin<br/>1/8 tsp garlic salt<br/>4 heaping Tbs of mild chile powder<br/>1/4 tsp Kashmiri chile powder or other hot chile powder to taste (cayenne is good)<br/>4 Tbs flour or masa (Add more flour if you want a thicker sauce)<br/>1 tsp cocoa powder (secret)<br/>Add mixture to cooked onions and mix well to create a roux and fry for 3 to 4 minutes to release flavors<br/>Add 6 cups of water or broth<br/>Unsalted Chicken broth or (I use Better Than Broth) 1 tsp per cup of water or to taste<br/>Stir well to blend<br/>Bring to a slow boil and stir until a little thickened<br/>Cook covered on very low heat for 30 minutes<br/>Salt to taste after the sauce is cooked<br/>Agave to taste<br/><br/>Other chicken broths are too salty so use caution<br/><br/>Use your own tweaks to create your own recipe to your families' taste<br/><br/>I hope you enjoy our heirloom recipe handed down from our family to yours.

So i made this recipe 2 times, the 1st time i followed it and i didnt really care for it. Im a southern girl so i like a lot of spices! Well i decided to make my own texas enchilada sauce and then added that recipe to this one using 6 oz of sour cream and 1/4 teaspoon extra of cayanne perrpe instead of jalep. I think the homemade enchilada sauce made the biggest difference and only took 20 minutes. Also i didnt use a slow cooker, i cooked it on the stove top on med high heat for 2 hours and it wasnt as watery as the slow cooker. This recipe isnt for everyone, but my family loved it! Below is the recipe for the homemade enchilada sauce i made. i just threw everything together and simmered it.<br/><br/>Texas Enchilada Sauce<br/>2 (6.5 ounce) cans tomato sauce<br/>1 (28 ounce) can crushed tomatoes<br/>1/3 cup chili powder<br/>1 tablespoon dried oregano<br/>1 teaspoon paprika<br/>2 teaspoons ground cumin<br/>2 teaspoons ground black pepper<br/>1/4 teaspoon salt<br/>1 clove garlic, minced<br/>1 tablespoon butter<br/>1 onion, minced<br/>1 green bell pepper, chopped

Yum! Both my husband and I give this recipe thumbs up! I didn't read the recipe carefully, so didn't add the pepper jack cheese along with the cream cheese. It was still fabulous. I opted to save calories as well and omitted the extra cheese and sour cream. It was still absolutely delicious! To incorporate the cream cheese into the soup, I treated it as though I was mixing in cornstarch. I took about 1/2 cup of the hot soup, and put it into a medium sized bowl. Then, I put small pieces of the cream cheese into the bowl and mashed it up with a fork until it was combined. If it didn't mix well, I added a bit more soup. It made a smooth mix that I could then add into the soup. Thanks for a fabulous recipe!