Bay Scallops With Capers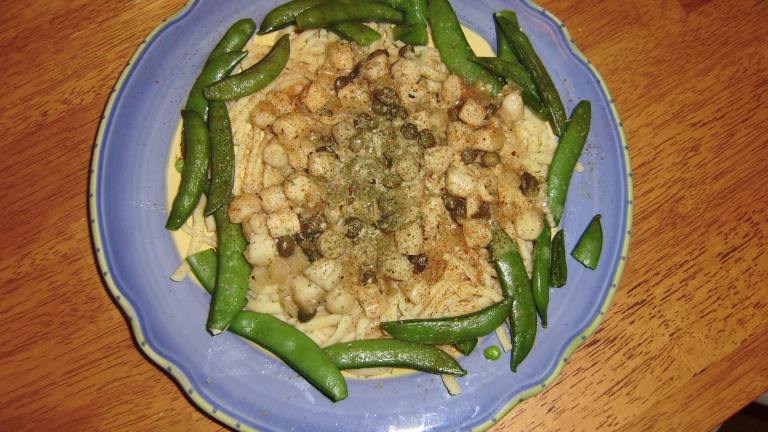 Ready In:

30mins

Serves:

Units:
directions
Sauté onions in oil until transparent.
Add garlic and continue cooking until onions start browning.
Add sugar and continue cooking until onions are caramelized.
Add sherry, capers, Dijon mustard, lemon juice, broth, bay leaf, thyme, and fresh dill bring to a simmer and simmer 10-15 minutes.
Add scallops and cook until done. Be careful not to overcook.
Remove scallops and set aside.
Add cream and continue cooking until hot.
To thicken mix cornstarch in a bit of water then add to sauce, cooking until desired thickness is reached.
To serve. Ladle sauce over noodles and top with scallops. Sprinkle the top of the scallops with parsley and paprika.
Submit a Recipe Correction
I am sorry for only giving this recipe 3 stars but since it is a contest recipe, (RSC #10) I have to give it an honest rating. I think with some tweaking, it can be a great recipe. Flavorwise it could be a 5 star recipe. Here are my thoughts on this recipe and how it could be tweaked. 1)Since the name of the recipe is Bay Scallops and Capers, it should have more capers in it. I couldn't even taste them unless I bit into one of them. With the chicken broth and cream added to the recipe, they kind of dominate the flavor of the capers. 2)After adding the broth mixture to the onions and garlic, I would simmer it for about 10 monutes before adding the scallops, to give the broth mixture a chance to give it's flavors a chance to come out and become more flavorful. I noticed that the longer the broth mixture cooked, the better it tasted. But, by then I had already added the scallops. Since scallops don't take long to cook, the flavor ot the broth couldn't come out as well as it would have, if it simmered a short time...as I said, about 10 minutes, before adding the scallops. 3) The recipe does not give ingredients or directions for thicking the broth/cream mixture. Unless it is thickend, it's too thin to pour on noodles. It would be more like a creamy, noodle soup, rather than a sauce over noodles. I thickened mine with a water and corn starch mixture (I cut the recipe in half and used 2 tablespoons corn starch, and about 1/4 cup water. If you make the full recipe you might need to use more corn starch and water.) to make it more like a sauce so that I could serve it on top of noodles. Maybe this is an oversight on the chefs part? I don't know. The only thing I omitted in the recipe was the cooking sherry. I am allergic to wine/sulfites so I omitted it and substited it with chicken broth. I think the sauce would be great with other types of fish, and even some meats and poultry. It is basically a very good sauce. Chef, if you do tweak this recipe, I will try it again and change my rating. It has a lot of very good potential. I hope you do well in the contest.