Battenburg Cake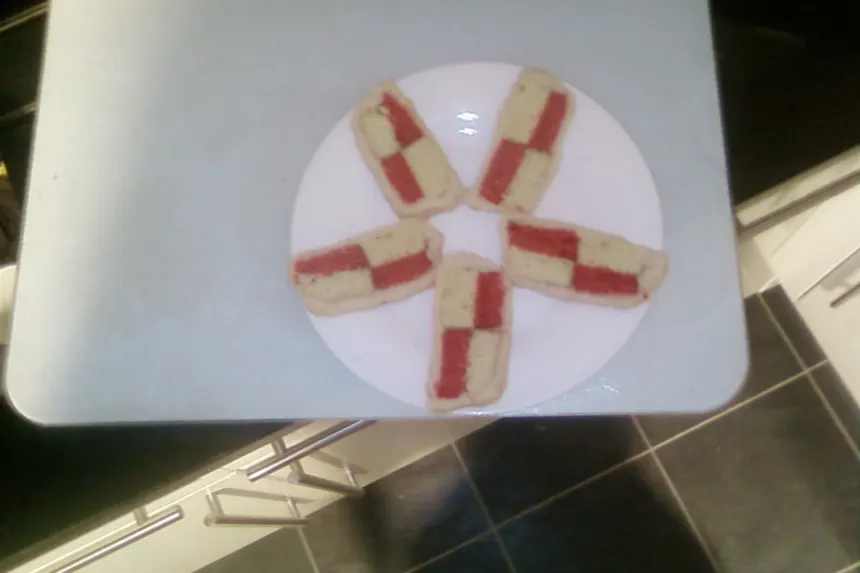 photo by Dani3758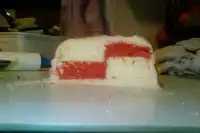 Ready In:

50mins

Ingredients:

18

Serves:

12
directions
Cream butter and 1 cup sugar together.
Beat in 3 eggs, one at a time. Mix in vanilla.
Stir in flour, baking powder and salt gently.
Add milk if needed.
Divide batter into 2 equal parts.
Add food coloring to 1 part to make a deep pink color.
Grease two 7-inch square pans.
Spread batters into pans.
Bake at 350°F until an inserted wooden pick comes out clean, about 25-30 minutes.
Let stand in pans 5 minutes.
Turn out on racks to cool.
Trim edges from both cakes.
Cut each cake lengthwise into 4 strips as wide as the cake is thick.
Trim to make strips match.
Heat jam slightly.
Spread on sides to glue 2 pink and 2 white strips together checkerboard fashion.
Spread all 4 sides of completed cake with jam.
Repeat with remaining pink and white stripes.
Makes 2 cakes.
To make almond paste: Mix almonds, confectioners' sugar, egg, lemon juice and almond extract together.
Knead until smooth, adding a bit of lemon juice or water if too dry to roll.
Add only 1/2 teaspoon at a time. It will be stiff.
Divide into 2 equal parts.
Roll 1/2 of paste 1/8 inch thick on a surface lightly dusted with confectioners' sugar.
Cut to fit length of cake and long enough to cover 4 sides leaving ends uncovered.
Lay cake on one end of paste. Wrap completely to enclose all 4 sides of cake pinching paste to seal.
Roll in granulated sugar.
Place with seal underneath on serving plate, or store in plastic bag.
repeat for second cake. Chill.
Slice thinly to serve.
Questions & Replies

Got a question?
Share it with the community!
Reviews
My husband's family are from England, and he always begs his mom for Battenburg Cake for special events. When I made this one, even SHE was impressed! I actually made 1 cake with 9 sections instead of the 2 cakes with 6 and it turned out great. It made for some leftover cake, but somehow no one seemed to mind helping me "take care" of that. :) By the way, this cake is solid enough that it mails fairly well!

 

I have wanted to make a Battenburg since I read about the cake in the Thursday Next novels by Jasper Fford. (Thursday's mother Mrs. Next is famous for her Battenburg.) I just made this recipe and found the directions easy to follow, and the cake delicious. It did not take as much time to make as I thought: 15 minutes to mix cake ingredients, 15 minutes to mix almond paste, 25 minutes to bake cake, I allowed cake to cool to room temperature, actual construction with jam and rolling almond paste, which has a thick marzipan consistency, was about 30 minutes. The cake tastes very similar to pound cake. I followed the recipe exactly. I heated the apricot jam in small amounts as I used it, in the microwave on low for one minute. I ended up using about 4 or 5 tablespoons of lemon juice in the paste to give it a consistency i could work with. I had a bag of sliced almonds which I put in my small food processor to grind to a fine mealy consistency, and I used electric mixer to mix first the cake, then the paste. I did end up having to knead the almond paste by hand as it became thicker consistency. I used LOTS of confectioners/ caster sugar on my counter and on top of the almond paste to roll it and had no trouble with it sticking to the surface. I refrigerated the cakes after construction, and will try freezing the extra cake. I did it! I think Mrs. Next would be proud!

 

Hmmmmm it's very hard to decide what to rate stars wise as a battenburg has a lot more then 5 things needing to be judged. Let me start by saving i made half the amount as the recipe states it makes 2 cakes. The cake: No fault of recipe or instructions but because i made half it was hard to judge half so I made far more white cake then pink, if making full amount would be quite easy just do half amount in one bowl half in other.Was surprisingly eggy; surprisingly because I have very small eggs, other then that it tasted fine - if making battenburg it mite be wise to make your fave maderia or sponge cake instead of the recipe suggested ( although prepare like instructions, half with red food coloring) unless someone works out how much egg should be used instead as it would be very nice if it wasn't so eggy. The jamming together was easy - i used rasberry jam because that was what I had. The almond paste - or marzipan was delicious and tasted like brought marzipan but this was ware I had the trouble I forgot to but caster suagr on my surface before I attempted to roll it out and it stuck to the rolling pin so I used my hands to smooth it and cover the cake - it made just the rite amount and you really must put the caster sugar on top to make absolutely delicious marzipan turn into wonder marzipan, maybe it's because it has egg yolk in it, my mum makes it for passover but only uses egg whites hmmm... So my Battenburg is stuck to the surface i made it on and it doesn't look so good because hands don't work as well as rolling pins unfortunately but other then that very good. Hmmm actually had a slice now, before I tasted the cake separate to the marzipan but together the marzipan takes away the cakes eggy taste. My dad just had a piece and really liked it as well although he was disappointed to find out the pink and white cake were not different flavors, also when sliced, marzipan went with slice which is good and it looks good slices - despite my very poor efforts on rolling marzipan. Thankyou for the recipe Nancy Van Ess! maybe with time I will be a bit more competent and find out how to make the marzipan not stick to rolling pan - definitely going to try again!