Bartlett Pear Tart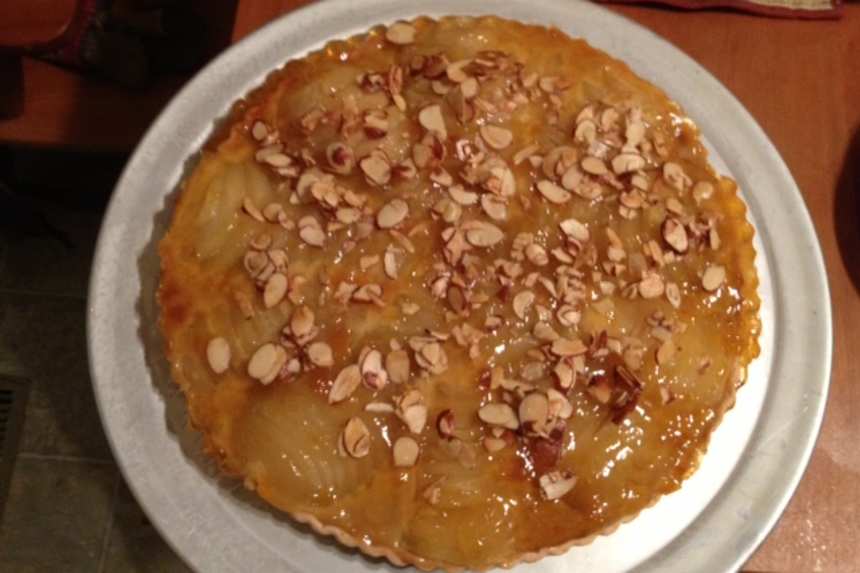 photo by French Terrine

Ready In:

1hr 40mins

Ingredients:

13
directions
Preheat oven to 425. Using your favorite pastry recipe for 9 inch pie or one that has been commercially prepared, line a 10 inch tart pan with pie crust, molding to sides of pan. Prick bottom and sides with a fork and bake in preheated oven for 10 - 12 minutes.
Prepare poached pears: Place pears, wine, sugar, and cloves in a large skillet. Bring to boil, then simmer pears uncovered until they are crisp - tender. Depending on the ripeness of your pears, this can take 10 - 15 minutes, or even up to 45 minutes. Remove the pears with a slotted spoon and continue to reduce the poaching liquid to 1/3 cup, creating a thick syrup. Discard the cloves. Bosc pears would probably work nicely, too. But the D'Anjou pear supposedly is not the best pear to cook with, even though it is delicious on its own.
Prepare custard: Simmer Half & Half in a small sauce pan. In a bowl, whisk together egg yolks, flour, and brown sugar until smooth. Temper the egg yolk mixture by pouring some of the simmering Half & Half into it, then whisk mixture back into simmering cream. Bring to a boil over medium heat, stirring constantly. Reduce heat to simmer and continue stirring constantly until custard is thick and smooth, a few minutes more. Pour hot custard into a clean bowl, and whisk in the almond extract, butter, and the syrup that was created from the reduced poaching liquid.
Preheat oven to 375 degrees F. Spread the custard evenly in the partially baked crust. Using a large kitchen knife, slice pear halves thinly, about 1/8 inch, and carefully fan out, keeping shape of pear intact. Using the knife, scoop fanned-out pear half up and gently slide onto custard, keeping the shape intact. (Chef Sarah uses a method of slicing the pear half ALMOST to the bottom, but leaving it intact, transferring it to the custard and then fanning the pear out. But this didn't work for me.) Repeat until the crust is filled with thinly sliced pears. If your pears are smaller, you will need to place a pear half in the center.
Bake for 30 - 40 minutes until custard is set and lightly browned.
Melt a pat of butter in a small skillet and toast sliced almonds lightly. Brush the warm tart with the melted apricot preserves to glaze, then sprinkle with toasted almonds. In the original recipe, the tart is topped with toasted chopped hazelnuts -- probably a better choice if using the hazelnut crust. Serve tart warm or at room temperature, topped with whipped cream.
*****************************************************************.
If you would like to prepare the hazelnut crust used in the original recipe: Preheat oven to 375 degrees F. Combine 1 cup of lightly toasted and skinned hazelnuts, 1/4 cup of sugar, 1 1/4 cups of four, 1/2 teaspoon of ground cinnamon and pinch of salt in a food processor and mix thoroughly. Add 1/2 cup (1 stick) butter and 1 large egg yolk and process until the dough forms a ball. Press the dough over the bottom and up side of fluted tart pan. Place shell in freezer for 15 minutes. Prick the chilled tart shell on the bottom with a fork in several places. Bake 12 - 15 minutes until just lightly browned. Remove from oven and set aside to cool. Proceed with recipe as above. If using the hazelnut crust, then top finished glazed tart with additional chopped hazelnuts.
Questions & Replies

Got a question?
Share it with the community!
Reviews
Have any thoughts about this recipe?
Share it with the community!