Banana Nut Bread for the Bread Machine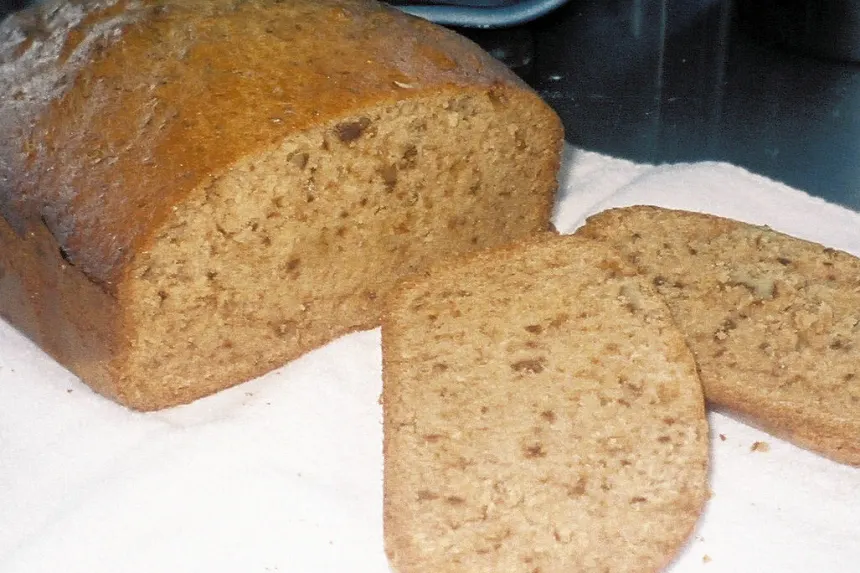 photo by Julie Bs Hive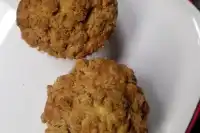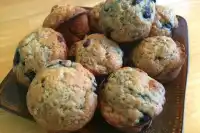 Ready In:

1hr 5mins

Ingredients:

11

Serves:

1
directions
Into baking pan measure flour, sugar, baking powder, soda, and salt.
Add oil, eggs, sour cream, and vanilla.
**(follow your machine's instructions).
Insert pan securely into unit; close lid.
Select"Cake" setting; press"Start."**.
When beep sounds after about 5 minutes, add mashed banana and nuts.
Press"Start" again.
The"Complete" light will flash when cake is done.
Using hotpads, remove pan from unit.
Turn bread out onto cooling rack.
Cool; slice thinly to serve.
Makes 1 5x4-inch loaf.
Banana-Chocolate Chip Bread: Prepare bread as above through"Cake" setting.
When beep sounds, add mashed banana and 1/3 cup chopped chocolate chips.
Omit nuts.
Continue as directed.
**If Bread machine on "Cake Setting" does not mix ingredients follow these steps.
Place ingredients in pan of bread machine.
Select Dough setting, and press Start. Mix bread for 3 to 5 minutes until bananas are mashed and all ingredients are thoroughly combined. If necessary, use a rubber spatula to push dough from sides of bread pan. When 3 to 5 minutes have passed on clock display, press Stop. Do not continue mixing.
Select "Cake" setting, and press Start. Cake cycle time may vary with machines, but should be about "50 minutes". Test bread for doneness, insert a toothpick into center top. Remove toothpick. If bread is done, toothpick will come out clean. If there is dough on toothpick, reset machine on "Cake" setting and continue to bake an additional 10 to 15 minutes. Test again with toothpick to assure the bread is completely baked.
Remove pan from machine, but allow bread to remain in pan for 10 minutes. Remove bread to cool completely on a wire rack.
Questions & Replies

I had some bananas that were going bad so I figured I'd try a banana bread recipe. and let me just say this that it worked so beautifully and soeasy could do it as long as they follow directions I loved it and so did my husband (he really loved it) we finished it in less than an hour so my question is this can I double the ingredients because I want to make a bigger loaf but I'm not sure if it's made this size or cook all the way through my came out perfect I loved it but I'd like to make it a little bit bigger because again like I said we both loved it! Thank you very much for sharing this amazing recipe!

 
Reviews
This is a super easy recipe. I even messed up and added the banana too early, and it turned out just fine. My bread machine wanted to let the dough rise, but there's no yeast in it, so i skipped ahead and told it to mix and bake. I let it bake for sixty mins in the bread machine. (I imagine, you could do this in a mixing bowl & oven just as easy). The bread is moist and delicious. About to make a second loaf with some chocolate chips!

 

1st off...16 Packets of Splenda = 2/3 Cup of Sugar<br/>2nd off...Use the 1lb setting on your Bread Machine<br/><br/>Here is my version of this recipe: <br/>1 1/2 cup Bread Flour (Can use All Purpose Flour)<br/>16 packets Splenda (or 2/3 cup Sugar or ½ Sugar & Brown Sugar)<br/>1 teaspoon baking powder<br/>1/2 teaspoon baking soda<br/>1/2 teaspoon salt<br/>1/3 cup Applesauce (or vegetable oil)<br/>3 Large Eggs (or 2 Extra Large Eggs)<br/>1/4 cup Reg or Vanilla Yogurt (or Sour Cream)<br/>1 teaspoon vanilla Extract<br/>2/3 cup mashed banana (or 2-3 bananas)<br/>1/3 cup chopped walnuts<br/><br/>Overall: I love this Banana Bread, it has a got to get another and another slice taste for sure! I would have to say that this is some of the best Banana Bread I have ever had. Moist and light tasting makes this a favorite for yourself and others. I guarantee if you take this Banana Bread to work, it will be gone within minutes if not seconds :-)

 

Moist, favorable, and beautiful. Comes out perfect. The first time I made this, some flour hid under the bead machine's paddle and was left on the end of the loaf, so now I mix it in a bowl then transfer to machine. Problem solved. My Breadman doesn't have a "cake" setting. Instead, use "batter breads" setting and add bananas and nuts after first mix cycle. Thanks for the recipe.

 

I adjusted the recipe a bit after reading some of the reviews. I did 1 cp. of sugar (1/2 lt. brown & 1/2 white) instead of 2/3 cp. I also did 3 large eggs because I never buy extra large eggs. I added about 1tsp of cinnamon, and 1/2 tsp of nutmeg. I also did both nuts (1/3 cp. chopped pecans) and 1/4 cp. of mini chocolate chip morsels. I baked it on the "Sweet Cycle" because my breadmaker does not have a "cake" cycle. It was so good!!! Initially it was a little gooey in the center, but I just left it sitting in the breadmaker after it beeped to cook it a little longer. Definitely will make this again!!!

 
Tweaks
I got a bread machine for Christmas and had messed up about every thing that I tried to do. This was the most delicious Bread that I made and it was so easy. I did tweak the recipie a bit by using a prior suggestion. I did not have sour cream so I used dry buttermilk in its place. I also used bread flour instead of all purpose flour. Loved this recipie.