Banana Muffins
photo by True Texas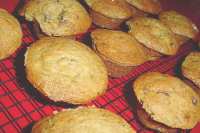 Ready In:

30mins

Ingredients:

11
directions
Preheat oven to Gas Mark 4/350F/180°C.
Line a 12-cup muffin pan with muffin cases or grease the insides very well with butter if not using the liners.
In a large bowl sift the flour, baking powder, baking soda and salt.
Add in both sugars and chopped chocolate pieces and set aside.
In a medium-sized bowl, combine the mashed bananas, eggs, melted butter and vanilla.
With a rubber spatula or wooden spoon, lightly fold in the banana mixture into the dry ingredients until just combined and batter is thick and chunky (you should finish folding in 15 seconds and ignore the lumps in the mixture - DO NOT OVERMIX).
Spoon the batter into the prepared muffin tin.
Bake in the middle shelf of the oven for about 20-25 minutes or until a toothpick inserted in the center comes out clean.
If you have lined the tin with muffin cases, then remove the muffins from the pan and place on wire rack to cool, otherwise let it cool in the pan for about 5 minutes and then transfer onto a wire rack to cool!
Serve warm or at room temperature.
Questions & Replies

Got a question?
Share it with the community!
Reviews
I didn't do one thing to change this recipe. I added in the optional chocolate chips and for the nuts I added in chopped hazelnuts. 1/2 cup of each. I sprayed a non-stick muffin tin with no-stick spray to be on the safe side (no paper liners in the house today) and used a standard size ice cream scoop to fill the cups. They came out of the oven perfectly cooked in 20 minutes, as directed. Our verdict: Amazing! So very tasty, with an amazingly light texture; so very easy and quick to assemble. Definitely a keeper. Thank you!

 

I had a bunch of spoiling bananas at the office and couldn't bare to see them go to waste. So i looked on food.com for a simple but delicious recipe for banana muffins. i found this one and its amazing. I followed the recipe to a T and they came out great. My co-workers exact words" these are the best muffins i have ever had. they are perfect. you should open your own muffin store." He is french and knows a thing or two about pastries. Great recipe!!!!

 
RECIPE SUBMITTED BY
<p style=margin: 0.0px 0.0px 0.0px 0.0px; font: 12.0px Helvetica;><span style=font-family: Arial, Helvetica, sans-serif; font-size: 13px;><img src=file:///Users/aishayusaf/Library/Caches/TemporaryItems/moz-screenshot.png alt= /><img src=http://i166.photobucket.com/albums/u82/aaliyahsmum_album/bill3.jpg alt= width=402 height=507 /></span></p> <p><img src=http://i166.photobucket.com/albums/u82/aaliyahsmum_album/Untitled-11.jpg alt= /><br />Today, give a stranger one of your smiles. <br />It might be the only sunshine he sees all day. <br />- H. Jackson Brown, Jr. <img src=http://i166.photobucket.com/albums/u82/aaliyahsmum_album/images.jpg alt= /> <br /> <img src=http://i166.photobucket.com/albums/u82/aaliyahsmum_album/Untitled-11.jpg alt= /> <br /> <br />For a hobby, I'm into photography. I thoroughly enjoy baking, but have to admit, I have two left hands when it comes to decorating cakes! I also do a bit of knitting (beginner's stage) and reading. Stephen King and Dean Koontz are my all time favourite authors, and, of course, LOVE Calvin and Hobbes (does it show??!!) <br /> <br /> <img src=http://i166.photobucket.com/albums/u82/aaliyahsmum_album/chch-atheist.gif alt= /> <br /> <br /> <img src=http://i166.photobucket.com/albums/u82/aaliyahsmum_album/Untitled-1-1.jpg alt= /></p> <p>I search for recipes that carry ingredients I can get hold of locally (or I have stocked in my cupboard!). Recipes I have posted are ALL tried and tested and have been enjoyed by all! So, I hope you and your family will enjoy as well! <br /> <br />My rating system is fairly simple. Since I only pick recipes that I know my family will enjoy (looking at the list of ingredients), it's either 5 or 4 stars, I do not go any lower. I may sometimes do a bit of tweaking but that is only due to my family's tastes. If I do have problems with a recipe or if it didn't turn out the way it should have done, then I just leave a comment without any rating. <br /> <br /><img src=http://i166.photobucket.com/albums/u82/aaliyahsmum_album/Untitled-12.jpg alt= /></p>
View Full Profile