Banana Bread Brownies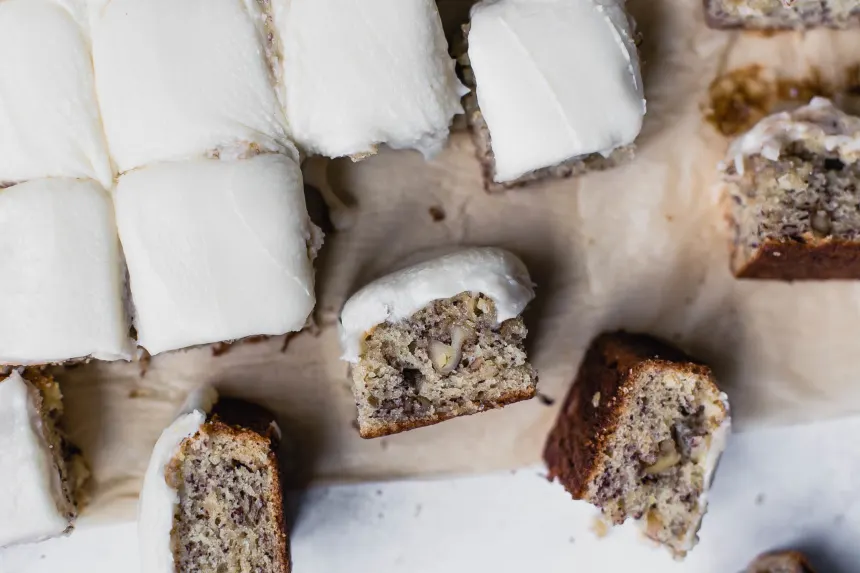 photo by Ashley Cuoco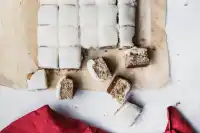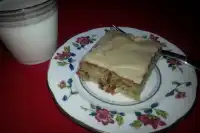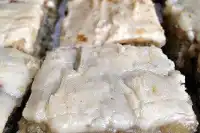 Ready In:

40mins

Ingredients:

14

Serves:

15
directions
Heat oven to 375°F Grease and flour 15x10-inch jelly roll pan. For the bars, in a large bowl, beat together sugar, sour cream, butter, and eggs until creamy. Blend in bananas and vanilla extract. Add flour, baking soda, salt, and blend for 1 minute. Stir in walnuts.
Spread batter evenly into pan. Bake 20 to 25 minutes or until golden brown.
Meanwhile, for frosting, heat butter in a large saucepan over medium heat until boiling. Let the butter turn a delicate brown and remove from heat immediately.
Add powdered sugar, vanilla extract and milk. Whisk together until smooth (it should be thicker than a glaze but thinner than frosting). Using a spatula, spread the brown butter frosting over the warm bars (the frosting will be easier to spread while the bars are still warm).
Questions & Replies

Reviews
This is the best banana bread recipe I've ever used. Serves a ton! Occasionally they come out like brownies occasionally they come out like cake. Either way it's still amazingly delicious. That being said I've had occasion to make substitutions. One of the substitutions was I was out of sour cream and used a cup of Miracle Whip instead. Surprise surprise even better! Also pecans instead of walnuts always tasty. I've also added chocolate chips that was good too. This is a very versatile recipe. I would never change the brown butter frosting... I have made this with canned pumpkin instead of bananas. And a little bit of pumpkin pie spice. Really really good too! Important to know you should always grease and flour the pan. I've use spray and it just doesn't work as well.

 

I saw this posted on FB this morning and I made the recipe this afternoon...it looked THAT good! Yes, it tastes as good as it looks, too. I'm not the biggest fan of banana tastes but this banana bread brownie is truly amazing. It's moist, sweet, flavorful and memorable. Both my kids and my husband had 3 helpings tonight for dessert! I will definitely be making these again for dessert and for parties. Yum!!

 

This recipe is AWESOME! I made it with a few slight variations, and got some seriously delicious results. First, I made the "brownies" in a 9x13 cake pan, because I wanted them to be a bit thicker (if you do this, you MUST add on some extra bake time - I did about 10 minutes). I also halved the icing recipe (less surface area to cover...also I'm not an icing girl, so a thinner coat is desirable to me). Finally, I chopped some extra walnuts and sprinkled them in the icing. I got rave reviews from everyone who tasted...even my tough to impress mother! Will definitely be making this again! YUM!!!

 
Tweaks
I made this recipe the way it was written, and yes very yummy! I read several reviews commenting that they were more like cake, or just banana bread frosted. So I made them again, this time using a more traditional brownie making method.... and they turned out AWESOME! More dense like a brownie would be. Cut the sugar to 1 cup Melt the butter in a sauce pan, added the sour cream, sugar, and vanilla and let cool slightly Lightly beat the eggs, then added to the melted butter mixture Added the dry ingredients and mixed until just combined, then added the smashed bananas, and I used nuts. baked in same size pan as recipe called for, same oven temp, and baked 30-35 minutes Also like a brownie recipe, I only greased the bottom of the baking pan, and when I took them out of the oven, ran knife gently around the sides to loosen. Let cool slightly, then made frosting as directed and frosted while warm. then refrigerated until completely cool. They were even better the next day! Hope this helps anyone looking for a more "brownie" like bar. And... they freeze well too, either way you make them. I separated each bar, placed on a cookie sheet, froze overnight, then put into a freezable container with a piece of waxed paper on top. To defrost, just take out of freezer, remove the waxed paper let come to room temperature and serve. So YUMMY! Thanks to the recipe contributor!

 

I really like this recipe, but I have a few things I changed: - in the brownies, I add cinnamon - I find the brown butter icing bland, compared to the brownie, so I use a sour cream icing, to match the sour cream in the brownie - I don't have a jelly roll pan, and also don't like how thin the resulting product is, so I use a 9x9 pan, and adjust the temperature to about 365 - 370, and the cooking time to 25 min, then testing, and baking longer, if needed.

 
RECIPE SUBMITTED BY
I'm 49 and have lived in western Oklahoma my entire life. We began keeping kosher a few years ago, and we've enjoyed adapting our favorite recipes to comply. Not that difficult, really, with substitutions of turkey products for pork. My hubby likes to ad-lib and uses lots of spices creatively (especially the hot ones!) I prefer to stick to recipes.
View Full Profile