Balsamic-roasted Baby Potatoes & Carrots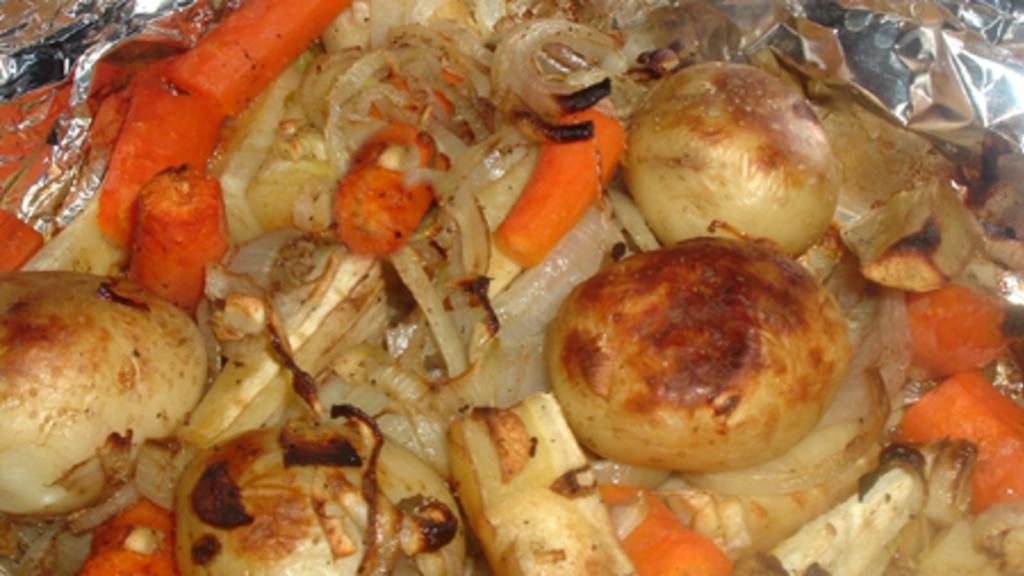 Ready In:

1hr 25mins

Ingredients:

9
directions
Line a large rimmed baking sheet with heavy duty foil.
Combine all ingredients in a large bowl.
Place on baking dish in a single layer& cover with foil.
Roast in a preheated 425F oven for 45 minutes, shaking the pan a few times.
Remove foil& roast, uncovered, for another 30 minutes, stirring occasionally, or until veggies are tender& golden.
Join The Conversation
Warning: These are quite sour. The balsamic vinegar fumes fill the house, and the smell/flavor does NOT bake out of these taters. My Dad who likes hot German potato salad might like these, but he'll never know if he does or not, because I'm not going to make them again. We threw most of these away, and I'm not usually one to toss anything. But I didn't want to mess up a soup or anything by using these sour guys up...

 

I made this for the first time today, and as usual...there a few things I'll do differently next time. Overall this is a delicious, fragrant dish...my whole house smelled wonderful. I used non-stick aluminum foil and had no sticking problems at all. I used a red onion, and added a tbs. of rosemary along with the thyme. My initial fear that the dish would be dry proved to be unfounded...the potatoes and carrots were moist. I do think that 425 is a bit high...my onions were black after just 30 minutes! Also, my carrots were a bit skinny and didn't hold up well in the high heat. Next time I will use fatter carrots and add the onions later in the baking process. And maybe start at 400 degrees. I will definitely be making this again. Thank you for the wonderful recipe!

 

Loved this recipe! Quick and easy to prepare and I didn't have any issues with the veggies sticking like previous reviewers reported. I used a glass 9x13 pan lined with aluminum foil and applied a liberal amount of non-stick spray prior to adding the mix. I made sure to shake the veggies periodically in the pan to prevent the sticking as the recipe suggested. The only changes I made were that I cut the recipe in half, and I reduce the temp of the oven to 400 for the first hour of cooking, then raised it to 450 for the last 15 mins as I really needed the veggies to be done. It could have stood to be cooked for a bit longer as some of the carrots weren't done to my liking. I also used fingerling potatoes and would probably just leave the veggies covered the whole time to avoid having them dry out next time as they weren't creamy like they usually are. This recipe is a nice change from the typical side and has great flavor! A definite keeper!