Balloon Wine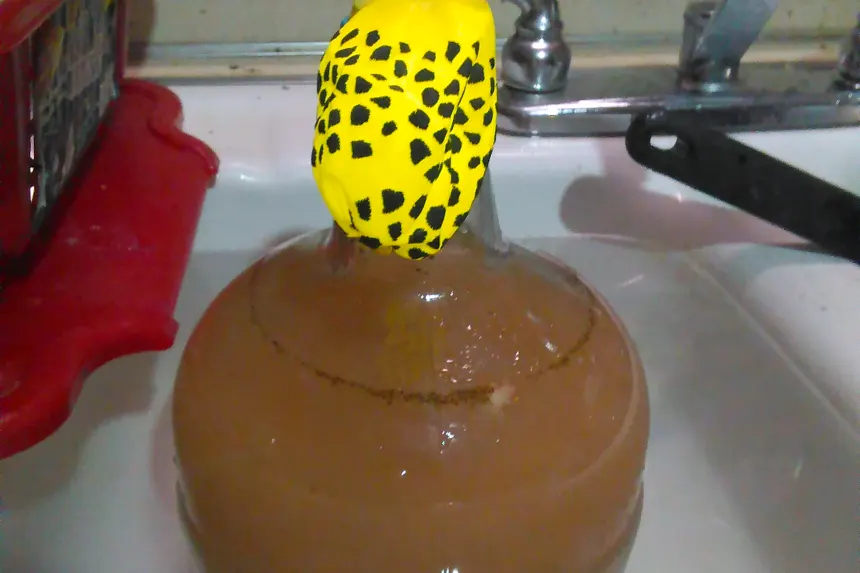 photo by Anthony B.
Ready In:

1008hrs 15mins

Ingredients:

4
directions
You will also need: 1 gallon glass jug (I guess you can use plastic, but I never did); 1 extra large latex balloon and a sturdy rubber band; 1-2 empty wine bottles or bottles of choice.
Combine the yeast, sugar and juice in a gallon jug.
Fill the jug the rest of the way with cold water.
Rinse out the balloon, and fit it over the opening of the jug.
Secure the balloon with a rubber band.
Place jug in a cool dark place.
Within a day you will notice the balloon starting to expand.
As the sugar turns to alcohol, the released gas will fill up the balloon.
When the balloon is deflated, the wine is ready to drink.
It takes about 6-weeks total.
Carefully pour wine into empty bottles without disturbing the sediment.
Discard the sediment.
Cork and tape the bottles closed.
The wine can be drunk now or aged, bottles on their side, for a year if you like.
But the younger it is, the yeastier it'll taste.
Questions & Replies

Reviews
I've made this in the past. I made the mistake of using the artificially sweetened juice concentrate plus the four cups of sugar. Let's just say that I had 17% alcohol by volume. Normal wine is around 12% I think. Anyway, I wanted to say NEVER use plastic bottles. They can explode. Did that making mead once, and my parents thought someone was shooting a gun in the house. Live and learn.

 

Help!!! I made this the 2nd of May, it's now the 11th of September and my balloons still haven't went down. Also I made 4 gallons and have strained 2, both have left a nasty mess on the bottom of the bottle after being strained over 8 times through coffee filters. I've made this before and never had these problems. Any ideas what is wrong? I only used 1 cup of sugar.

 

So yummy and easy!!! I made mine from homemade grape juice:) Only fermented for 5 weeks, but still a perfect alcohol level (it was surprisingly strong!). This next bit is really weird, but each to their own. So i had a problem with my balloons popping and couldn't get an air lock. So I rinsed a condom and used that instead, they stretch to insane levels, they don't degrade and worked perfectly (despite people laughing at the odd display in my garage). Definitely recommend if your struggling with balloons popping and dont have airlock.

 
RECIPE SUBMITTED BY
<P>Hello. I live in NE Ohio in a suburb about&nbsp;20 miles from Lake Erie, and the Rock and Roll Hall of Fame.</P> <P>Should I neglect to send you a thank-you if you review or photograph one of my recipes - please know that I am honored and truly appreciate your choosing one of my recipes. I hope you enjoyed it. <BR><BR>Thanks so much! <BR>k</P>
View Full Profile