Baker's Angel Flake Coconut Macaroons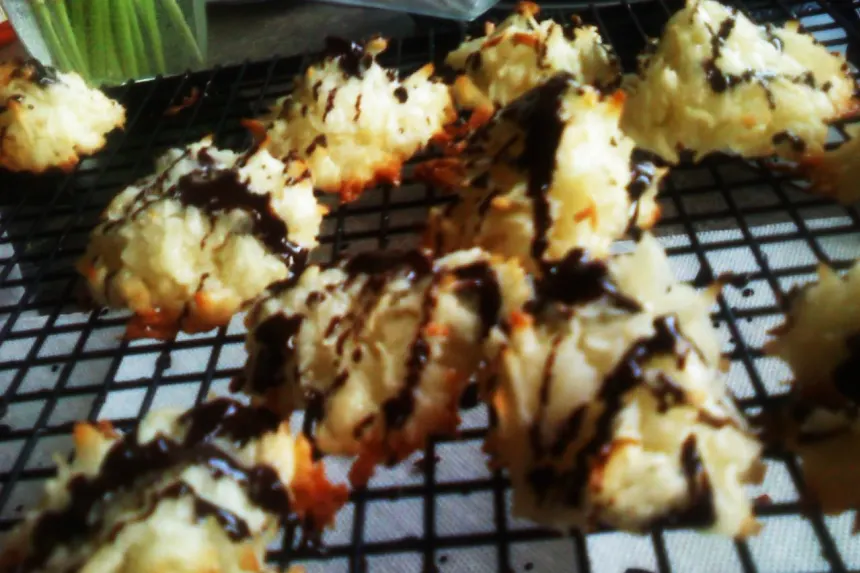 photo by Toni-Ann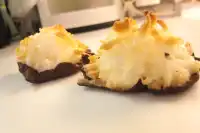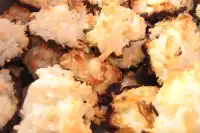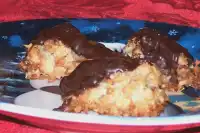 Ready In:

30mins

Ingredients:

6
directions
Mix coconut, sugar, flour and salt in a large bowl. Stir in egg whites (not whipped) and almond extract until well blended. Drop by tablespoonful onto greased and floured cookie sheets.
Bake 325F for 20 minutes or until edges of cookies are golden brown. Immediately remove from cookie sheets to wire racks. Cool completely.
Reviews
This recipe makes great macaroons! I did use 1 tsp vanilla and 1/2 tsp almond for the extracts and I do have a few additions to the directions: When making the macaroons: I let the mixture sit while I heated the oven--the sugar drew out moisture from the coconut and made forming the cookies easier. I also took the Tbs portions and squeezed them tightly to form the cookies rather than using the spoon as I usually would with drop cookies. I used parchment paper on the cookie sheet to bake them (Life-saver! The other reviews are definitely right!) and after they were cooled, stored them in an airtight container overnight--the outsides soften and the flavor really develops (as others have said). Thanks!

 

Very good, to simple to prepare, tastes wonderfully of coconut. Definitely use parchment paper to line your pans and macs will lift off easily. I have been making this recipe for years (it is on the back of the bag of coconut). Quality improves when kept in a tight fitting tin. The cookie tends to soften just a bit and is even more delish if that is possible. <br/> Great recipe for little children to make, because of its ease and short list of ingredients<br/> To make these cookies even more special, top with marishino cherry before baking.

 

These are wonderful. I toyed with a few other recipes - thinking that the one on the back of the bag was so passe - but these are the best! The only thing I do differently is whip the egg whites first. I don't do it until they're stiff - just enough to make them a bit fluffy. I'm not sure if that really does anything or not, but hey...seemed like a good idea. I also dip mine in chocolate (instructions for this are also on the back of the bag - 8 squares of semi-sweet Baker's chocolate - that's 8 ounces so I'm sure you could just substitute whatever you want). **One more note: I bake mine on parchment ... I find it really hard to get them to not stick to the pan - even when well greased/floured.

 

I had never made macaroons before and wasn't sure if I should try this recipe from the coconut package or if I should try one of the other recipe's I'd seen that used sweetened condensed milk. I decided to go with this one, and the results turned out pretty good. Instead of dipping mine in chocolate, I added semi-sweet chocolate chips to the batter before shaping into balls. I did find that the cookies where I greased the pans but <b>did not</b> flour ended up tasting a little better for me (the greased and floured ones tasted a little too floury after they came out of the oven). All in all, I'm happy I tried them. Next time I'll try the other version with sweetened condensed milk to see which ones I like better...I was kind of hoping for a slightly moister texture than these ended up being. Thanks for posting! These are on my cookie trays this year...