Baked Turnip 'taters, Low Carb Diabetic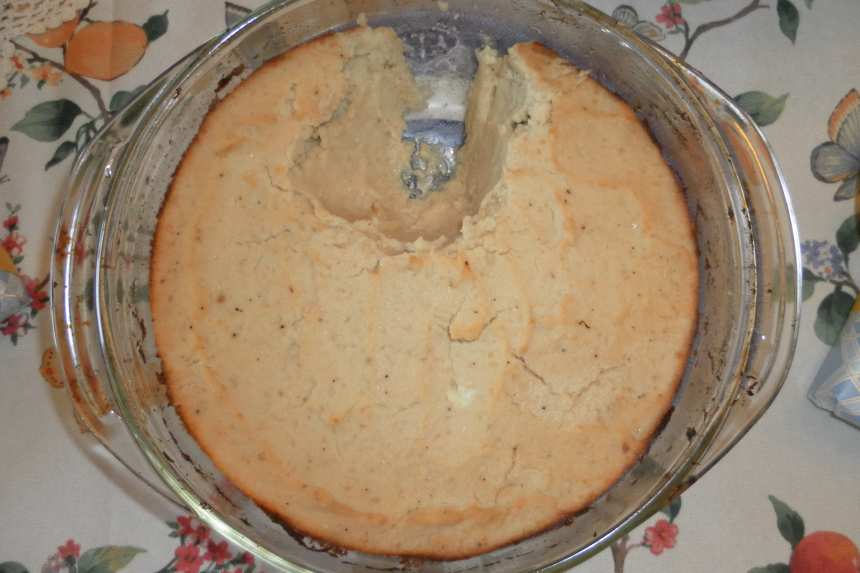 photo by Garden Gate Kate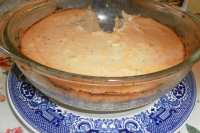 Ready In:

20mins

Ingredients:

7
directions
Peel turnips, making sure to remove the tough top bits; place in a saucepan.
Cover with water and bring to a boil.
Cover with pan lid, lower heat and simmer for about an hour until tender.
Drain then cut into chunks small enough to fit in your food processor.
Place chunked veggies, butter, and sour cream in a food processor and puree.
Add beaten eggs and cheese and whir some more until ingredients are well-mixed (it won't take long).
Pour into casserole dish and bake for about 20 minutes at 350°F until it's a little brown on top and edges (or you can nuke it for about 7-10 minutes).
You might want to experiment the first couple of times you make it to see how brown you like the top.
You can sprinkle a little more cheese on the top before baking, if you like.
(You can also cube the turnips ahead of time then simmer and it doesn't take so long to cook, but some turnips are so hard to cut when raw that I've given up on that technique and just boil them whole.) Optional: add a garlic clove to the cooking veggies and puree along with everything else; adds.
25 carbs to each serving.
Other options: 1/4 tsp dill, crumbled bacon, etc.
Fluffier than other mashed-potato substitutes, because of the egg baked inches.
Mmmm!
The carb count on these might be a bit off, but they wouldn't be much more.
Turnips are pretty low.
Questions & Replies

Got a question?
Share it with the community!
Reviews
I agree that raw turnips are so difficult to cut. After badly cutting my thumb the last time that I peeled raw turnips, I am wary of doing that again. I avoided both cutting and peeling by baking the whole, unpeeled, scrubbed turnips at 400F degrees for one hour in a covered Corningware dish. There is no need to add water or oil because turnips naturally have a high water content. After allowing them to cool, I easily slipped their skin right off and squeezed out the excess juices. A surprisingly huge amount of liquid rendered. I added four cloves of roasted garlic to mimic the garlic mashed potatoes that I adore. Beating the eggs until very frothy is the key to achieving a fluffy soufflé texture. Baked Turnip 'taters rose high into a golden brown delight. Thank you, Julesong, for this creamy, smooth, and delicious side dish.

 

Because my turnips weren't tennis ball size, I added another turnip to have the needed amount of turnips and added 2cloves of garlic when I boiled them. I followed the recipe. I did add some salt and pepper when I put them in the processor. The result after the processor seemed too thin. I added 2 Tbs bread crumbs and 1 minced scallion. After baked, it was fantastic, in texture and taste. However, the next time I make it I will only use one one egg. (Won't need the breadcrumbs-which I would prefer not to do.) It was great to have with the gravy I had and I was able to skip the potatoe.

 
Tweaks
Was a little doubty about this recipie! Well it turned out great! My hubby and son loved it as well! Nice way to replace the patatoes and what a delicious taste and texture. I will be making this again for sure. Oh! I replaced the parmesan with mozarella cheese and added baby speenachs cut finely. <br/>thanks <br/>Shannon :-)

 
RECIPE SUBMITTED BY
<p>It's simply this: I love to cook! :) <br /><br />I've been hanging out on the internet since the early days and have collected loads of recipes. I've tried to keep the best of them (and often the more unusual) and look forward to sharing them with you, here. <br /><br />I am proud to say that I have several family members who are also on RecipeZaar! <br /><br />My husband, here as <a href=http://www.recipezaar.com/member/39857>Steingrim</a>, is an excellent cook. He rarely uses recipes, though, so often after he's made dinner I sit down at the computer and talk him through how he made the dishes so that I can get it down on paper. Some of these recipes are in his account, some of them in mine - he rarely uses his account, though, so we'll probably usually post them to mine in the future. <br /><br />My sister <a href=http://www.recipezaar.com/member/65957>Cathy is here as cxstitcher</a> and <a href=http://www.recipezaar.com/member/62727>my mom is Juliesmom</a> - say hi to them, eh? <br /><br />Our <a href=http://www.recipezaar.com/member/379862>friend Darrell is here as Uncle Dobo</a>, too! I've been typing in his recipes for him and entering them on R'Zaar. We're hoping that his sisters will soon show up with their own accounts, as well. :) <br /><br />I collect cookbooks (to slow myself down I've limited myself to purchasing them at thrift stores, although I occasionally buy an especially good one at full price), and - yes, I admit it - I love FoodTV. My favorite chefs on the Food Network are Alton Brown, Rachel Ray, Mario Batali, and Giada De Laurentiis. I'm not fond over fakey, over-enthusiastic performance chefs... Emeril drives me up the wall. I appreciate honesty. Of non-celebrity chefs, I've gotta say that that the greatest influences on my cooking have been my mother, Julia Child, and my cooking instructor Chef Gabriel Claycamp at Seattle's Culinary Communion. <br /><br />In the last couple of years I've been typing up all the recipes my grandparents and my mother collected over the years, and am posting them here. Some of them are quite nostalgic and are higher in fat and processed ingredients than recipes I normally collect, but it's really neat to see the different kinds of foods they were interested in... to see them either typewritten oh-so-carefully by my grandfather, in my grandmother's spidery handwriting, or - in some cases - written by my mother years ago in fountain pen ink. It's like time travel. <br /><br />Cooking peeve: food/cooking snobbery. <br /><br />Regarding my black and white icon (which may or may not be the one I'm currently using): it the sea-dragon tattoo that is on the inside of my right ankle. It's also my personal logo.</p>
View Full Profile