Baked Texas Jalapeño Peppers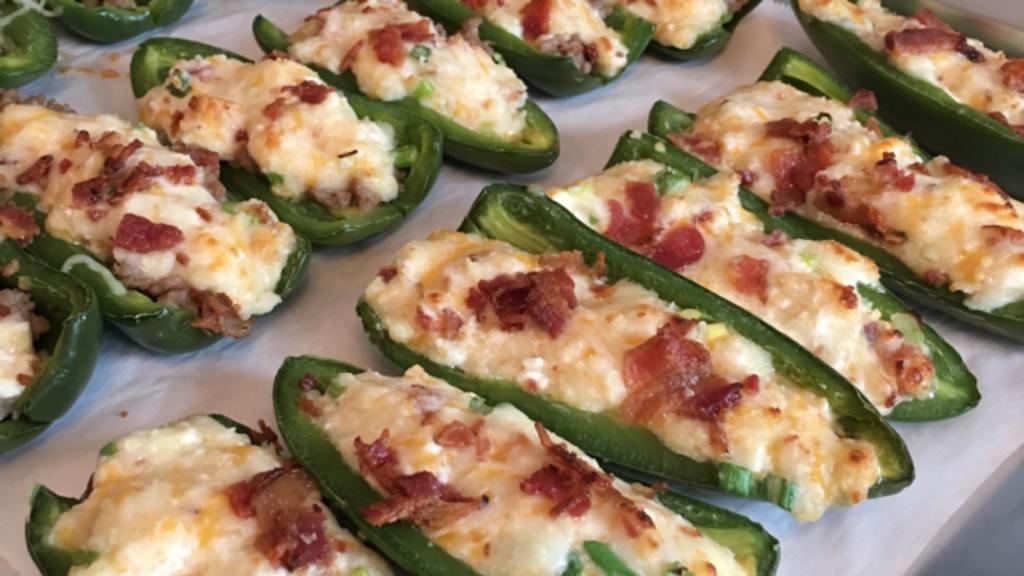 Ready In:

25mins

Ingredients:

5
directions
Cut jalapeño peppers in half lengthwise; remove seeds. Place peppers in boiling water for 5 minutes. Drain well.
Combine cream cheese, cheddar cheese and Worcestershire sauce; stir well.
Place one heaping teaspoon cheese mixture on each pepper half. Sprinkle with bacon; Place on a baking sheet.
Bake at 400°F for 5 minutes or until cheese is melted.
Join The Conversation
With so many great reviews the only things that might help others are what I have discovered making these "Great Stuffed Jalapeno Peppers" many many times. DH, family, friends and I love stuffed jalapenos. While I have many good recipes for the grill, I can make these year round. (good weather and bad). This recipe is great for my bumper crop each Summer. I stuff them and freeze them. I thaw and bake them when I want. Always perfect. I never boil or steam the peppers. Before stuffing, I just microwave the pepper halves for 4 min. (You might only need 3 min. in a newer model). - I usually have cooked sliced bacon in my freezer. There are times I put some bacon in my Cuisinart and pulse a few times then add it to the cheese mix. In the Summer I might dice some of my garden chives and add it to the mix. My peppers always look like the pictures posted and taste awesome no matter what I do. Thank you JustCher. Sorry I didn't post a review sooner. :( PS: We had some last night and I have another batch in the freezer.