Baked Salmon Roll With a Sweet Ponzu Sauce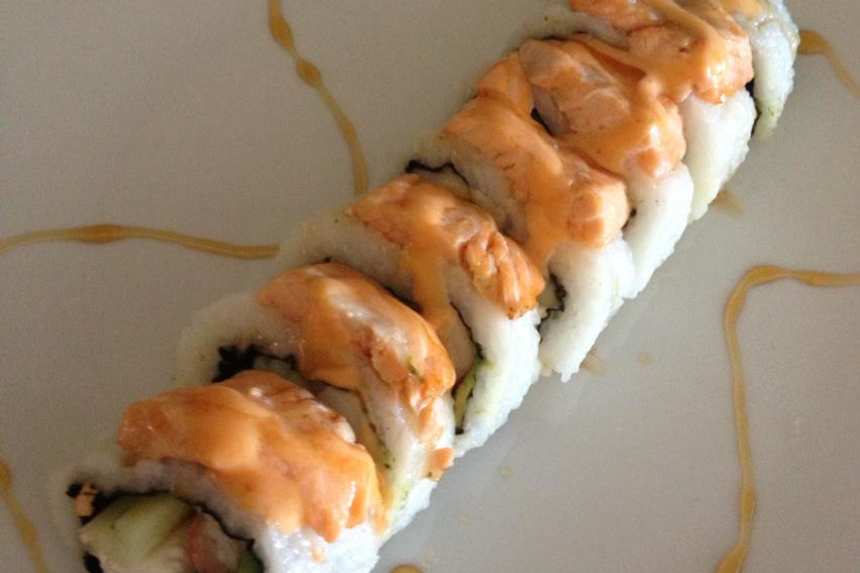 photo by chiccheeks

Ready In:

45mins

Ingredients:

15

Serves:

2
ingredients
1⁄2 lb salmon (skin removed a plus)

nori sushi sheet

filling ingredients

1

cucumber (peeled )

8

ounces cream cheese (block variety)
1⁄3

lb of shredded imitation crabmeat or 1/3 fresh lump crab

sushi rice ingredients

2

cups sushi grade rice
1⁄4 cup mirin
1⁄4 cup rice vinegar, unseasoned
1⁄4 cup sugar

sweet sauce ingredients

1⁄4 cup ponzu sauce
1⁄2 cup mirin
1⁄2 cup sugar
1⁄2

cup chicken stock

garnish ingredients

green onion, sliced

optional ingredients

chili sauce, for spicy taste buds
directions
Wash rice before cooking to remove as much of the starch as possible. water should run clear.cook your rice first i use my hand to measure the water but you can also just follow the direction on the package. after rice is done add 1/4 cup mirin, 1/4 cup sugar, 1/4 cup rice vinegar to the rice. mix well set aside to cool till touchable. while rice is cooling prep your filling and start your sauce.
combine all sauce ingredients in small sauce pan. simmer till the liquid is reduce by half. remove from heat and place aside to cool.sauce should thicken while cooling.
cut your cream cheese into strips generally i use half of a 8oz block cut into 4 1/2 inch strips. i usually keep the cream cheese strips in the fridge till ready to use.
peel and deseed your cucumber. cut into long slices. i feed the extra to my kids or make a asian cucumber salad.
shredd your crab and set aside.
it is a plus to have a sushi mat most can be bought at any asian market . i got mine for $2.99 very inexpensive. if you don't have one though use saran wrap.
i take my sushi mat and place a piece of saran wrap on top of it. now take 1 sheet of your nori and place it one the saran wrap.
place a handfull of rice on to of your nori. make sure to keep some cool water running to keep the rice from sticking to your hand. smooth rice all over your wrap just enough to cover try to make it as even as possible. now pick up your rice covered nori and flip it so the rice is now on the saran wrap. on the side closest to you place your filling. i generally start with the cream cheese 2 slices, then cucumbers 4 - 6 slices and enough crab to line the roll. for a person who likes spicy i sometimes add a few drops of a chili sauce.
now its time to roll. the sushi mat does help to make a seamless roll but you can cheat with the saran wrap it just not as perfect.
pull the mat or saran wrap to cover the filling. give it s slight squeeze to make sure everything is tighly sealed. continue rolling the roll and squeeze again when you get to the end. make you the seam side is down. repeat with your second roll. make sure not to removed the saran wrap yet set your rolls aside. preheat oven to broil.
make sure your salmon has no skin on it. i have my local store remove the skin i suggested a whole foods store if you have one. your fish monger will also tell you the best cuts he has currenly if you ask. cut into 1 1/2 to 2 inch strips.
remove the top of your saran wrap on the roll but don't remove.
place your salmon on top of the roll. place your saran wrap bake on the roll. squeeze the roll with your sushi mat or squeeze your saran wrap. this is the help the salmon form to the roll.
using a very sharp knife with the saran wrap cut the pieces in the roll but still maintain its shape.
spray a cookie sheet with pam. transfer roll to cookie sheet with saran wrap on to maintain shape.
remove saran wrap it should come off easy after slicing through it.
place cookie sheet in oven and broil for 3 to 5 mins to cook salmon and melt cream cheese.
remove from oven and immediatly transfer to a plate or serving dish to not brown the bottom of the roll.
pour sauce over the roll to your liking.
you may want to wait a couple of minutes to eat as filling maybe very hot.
garnish with some thinly sliced green onions if you like.
sit back and enjoy
don't forget your chopsticks.
Questions & Replies

Got a question?
Share it with the community!
Reviews
This was soooo good! The sauce is so awesome. I always crave baked salmon roll but always driving to a sushi place is such a hassle and then paying for it as many times as I like to eat it weekly starts to get expensive! This hits the spot every time. (If anyone has a hard time getting an idea of how to roll the sushi youtube a tutorial, that's how I first learned)